Cairns charity 'fight nights' slammed for unsafe conduct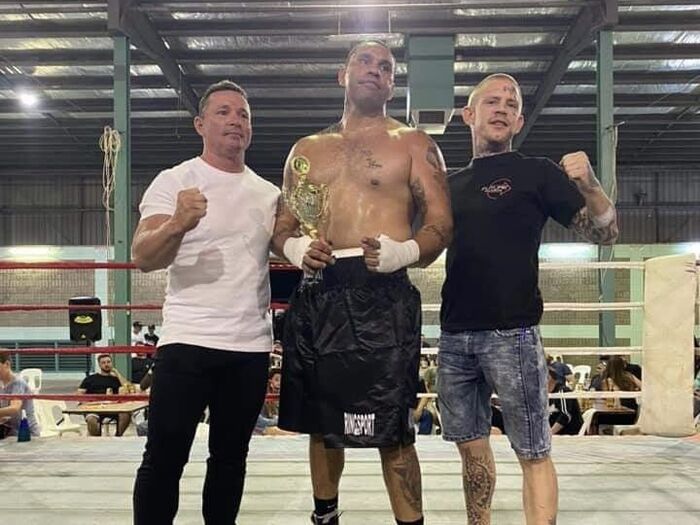 ---
A series of 'fight nights' has come under fire by local and state boxing organisations who say the unsanctioned events are bringing the sport "into disrepute".
Cairns Charity Fight Nights has held three events at the Cairns Showgrounds since early last year, with many of its entrants formally competing for the first time.
Ken Dalton, owner of Redlynch Boxing Fitness, says the event's plans to host 'Baddest Motherf$cker' (BMF) belts across just two weight divisions would dangerously mismatch boxers.
---
---
The last Cairns Charity Fight Night, held in late February at Fred Moule Pavilion, drew 40 fighters – 32 of whom were formally competing for the first time.
Mr Dalton alleges the event was not sanctioned by any boxing association, nor did competitors undergo adequate training or medical checks, including drug and alcohol clearances.
Ahead of the next fight night, set to take place in late May, event organiser Rodney Little promoted BMF belts for two divisions – 80kg and over and 80kg and under – with a maximum of four competitors per division.
Mr Dalton said Mr Little's plans to mismatch boxers was "dangerous".
"There are weight divisions in boxing for a reason, to keep people safe," Mr Dalton said.
"In standard boxing matches there aren't more than three to four kilos differences between boxers.
"You can't mismatch fighters, you can't go across weights.
"In this set up, a 60kg lad can fight an 79kg lad and get pummelled.
"The weight difference is phenomenal."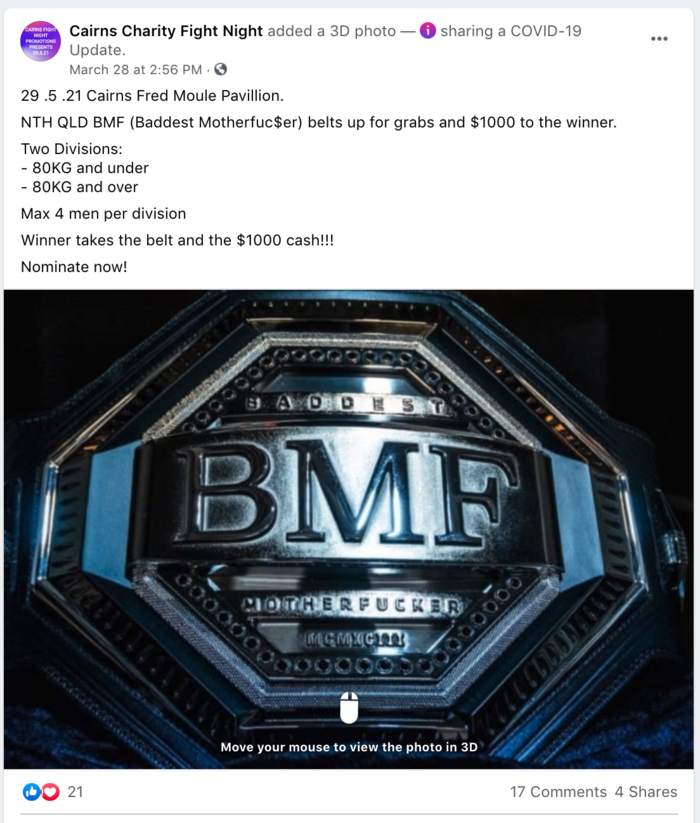 Mr Little said his plans to host the BMF belts at an upcoming event in May would be pulled.
He also confirmed the last event was not sanctioned by any boxing association, but told Tropic Now he was in confidential discussions with an organisation to sanction the May event.
Mr Little denied that competitors had inadequate training or that they failed to undergo drug and alcohol clearances.
"They see a doctor on the day of the event and are passed fit by the doctor of any alcohol or drugs," Mr Little said.
"The people participating in the charity events have all trained with clubs for up to eight weeks prior to the event."
In the last event, entrants were asked to raise $500 each, with Beyond Blue, the Heart Foundation and Mareeba Animal Refuge among the chosen charities.
General ticket sales to the event sold for $35 per person.
"SPITTING IN THE FACE" OF LOCAL BOXING COMMUNITY
Tropic Now understands Mr Little lost his blue card certification in 2018 after he was convicted of drug possession and sentenced to nearly three years in prison.
Boxing Queensland's Secretary Sam O'Malley confirmed that Mr Little is not sanctioned by the state's governing body.
Mr O'Malley said events like Cairns Charity Fight Nights place inexperienced boxers at risk, as well as the broader boxing community.
"I know Rodney and he's been doing his own thing for some time now," Mr O'Malley told Tropic Now.
"We've had multiple complaints about the Cairns Charity Fight Nights.
"We're concerned that if something does go wrong, the light will shine on Boxing Queensland and we'll get questioned.
"We can't walk into somewhere and shut them down … these competitions are not illegal.
"But if something does go wrong, the government will step in and force a combat sports authority, like they have in New South Wales.
"It would basically destroy the sport of boxing in Queensland."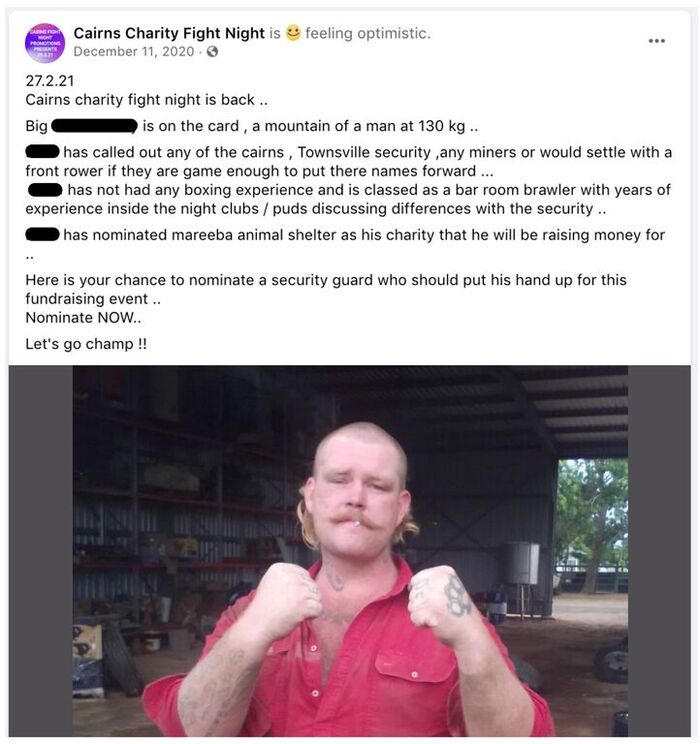 Mr Dalton said the fight nights portray a poor image of boxing in the region.
"It brings the boxing community into disrepute across North Queensland and Australia," Mr Dalton said.
"If one kid gets hurt the AMA (Australian Medical Association) will come down hard on boxing in Queensland.
"It's spitting in the face of boxing coaches all around Cairns and Queensland.
"We work really hard to rehabilitate kids off drugs and crime, and these events, promoting it as 'Baddest Motherf*cker', sends the wrong message."
news alert
sign up for your free weekly guide