Council cash raffle to draw patrons to the CBD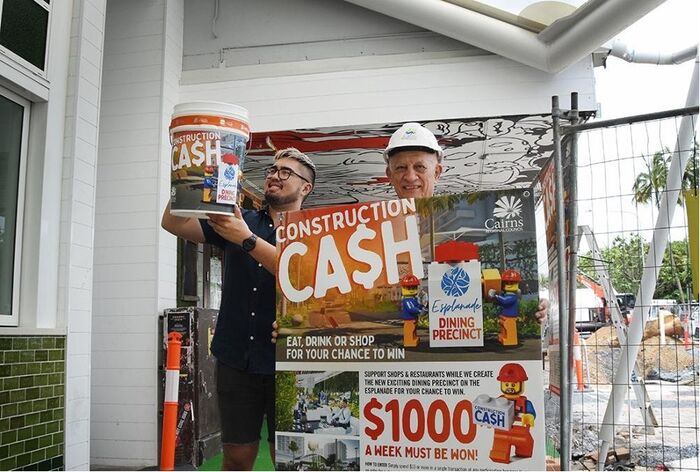 ---
Who's spent a tenner in the CBD recently?
The Council's recently launched its Construction Cash campaign – a weekly cash prize draw to bring shoppers to traders impacted by the ongoing redevelopment of the Esplanade.
Every $10 spent at a participating business on the Esplanade or Shield Street earns a ticket in the weekly draw of $1000 (two $500 prizes).
There's $15,000 on offer until the campaign's end in early May.
---
---
Local business manager Benjamin Power, from The Courtyard, welcomed the campaign and urged residents to come down to the area while the works continue.
"It's great to see Council launching a promotion that will encourage locals to come in, and who wouldn't want the chance to win $500 in cash," he said.
"The completed Dining Precinct is really going to be fantastic, something really special that residents and visitors will enjoy, but at the moment we really need the support of locals."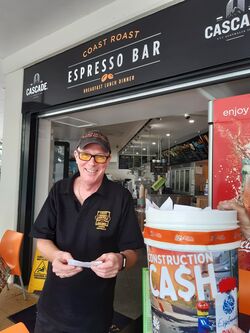 Residents from the Cairns, Mareeba, Tablelands, Cassowary Coast, Douglas and Yarrabah local government areas are eligible to enter the Construction Cash draw.
People must enter each week to be part of the weekly draw on Fridays. Tickets are not carried over from previous weeks.
The final prize draw will be on 7 May.
Go to cairns.qld.gov.au for T&Cs.
CONSTRUCTION DELAYS
The $28 million Esplanade Dining Precinct, as well as works on Shield Street, were originally due to be completed in April, ahead of the dry season.
However, the Council has since revised its completion date to May and June.
Bruce Gardiner, CRC's General Manager Infrastructure Services, attributed the setback to delivery delays, a construction break over Christmas, and poor weather.
"There's been a slight delay in the installation of the awning structures, in part because of the two-week closedown over Christmas that was requested by the traders, and partly due to some minor delays with delivery," Mr Gardiner said.
"Timelines can also be impacted by inclement weather, like the rainfall associated with Cyclone Kimi in January."
Mr Gardiner said the civil works – road, awnings, footpath, and dining areas – is expected to be finished by May, while works on the landscaping and street furniture in the parklands will move into June.