Sobering stats on international visitation to TNQ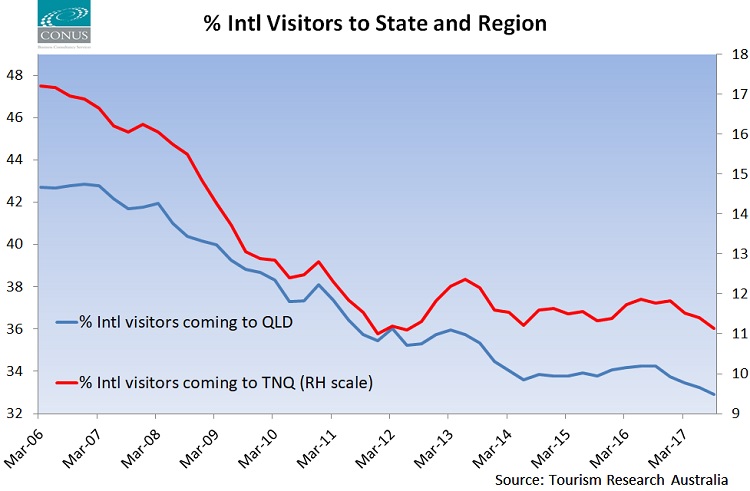 ---
It's been a disappointing 12 months for the Tropical North's international tourism market.
According to today's release of International Visitor Survey the region welcomed a small increase in the number of visitors in the year to September, but our growth rate of just 1.5% is far below the solid growth seen on a national scale of 7.3%.
That 1.5% local growth translates to 890,000 international travellers over the past year, up from 877,000 in the previous 12 month period.
But they stayed for fewer nights and spent less, with TNQ being one of just two destinations in the top 10 to record a drop in both categories.
In the year ending September 2017, international visitors stayed for a total of 6,433,000 visitor nights, down from 6,613,000 in the previous 12 months.
And their spending came in at $1.085 billion, a still impressive total despite slipping on the previous period's spend of $1.1 billion.
This is despite national growth in both categories.
According to analysis by Conus economist Pete Faulkner, trip expenditures rose 9.8% for the nation as a whole, but only 2.5% in Queensland. In TNQ, the expenditure rate dropped by 1.3%.
"The Sept 2017 International Visitor Survey from Tourism Research Australia makes for unhappy reading for Queensland and the TNQ region in particular," Mr Faulkner said.
"With the Sunshine State losing market share we now see just 32.9% of all international visitors coming to Queensland, which is the lowest level ever recorded.
"TNQ's share has fallen to 11.1%, which is the lowest since December 2011, before the flood of Chinese visitors really took off."