Spectacular Cairns sunset and phallic TC Penny map light up social media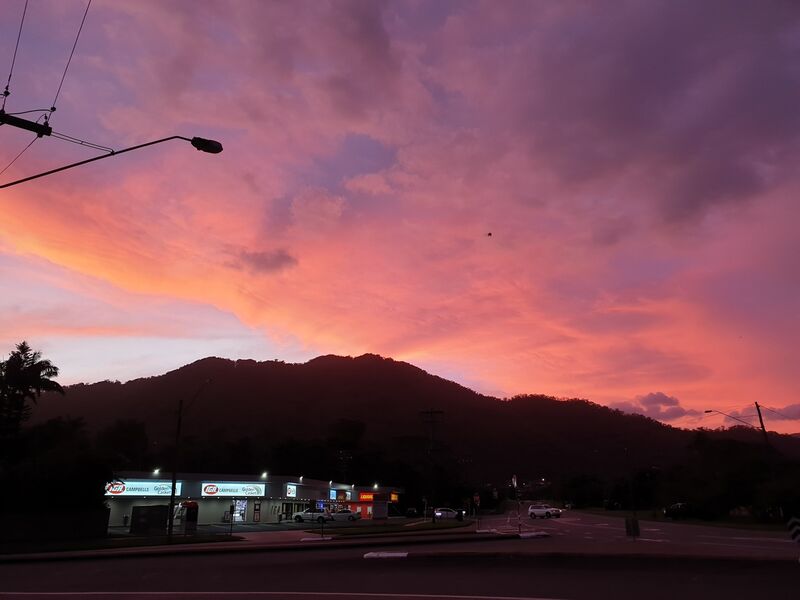 ---
Skies of orange and purple had cameras pointing upwards across Cairns last night as another upward formation sent social media sites into fits of giggles.
The Bureau of Meteorology's cyclone tracking map, released yesterday, had people questioning TC Penny's gender.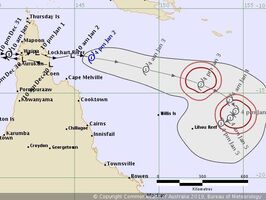 One person wrote, "Obviously the work experience boy had unsupervised access to the BOM site today.
"Is that a cyclone in the ocean or is it just happy to see me?" asked another.
Meteorologist Michael Knepp says it was drawn up by one of the most experienced forecasters at the weather bureau.
"The person who did that map is really professional and wouldn't have thought about it," he said.
"But when those maps come out the meteorologists do notice it and we did notice that one and yes, we did have a bit of a chuckle."
He said the weather system off the coast and how it's tracking had no bearing on yesterday's spectacular sunset, though.
"There's no relation to TC Penny and you get very colourful sunsets anytime of year and in any conditions"
"Typically you need a bit of clear sky between the sun setting and the cloud, so that's probably what you had and you just get that scattering of the light."
"You need a bit of cloud for those really brilliant colours but you can't have a solid block cloud."
The forecaster said it's unlikely we'll get a similar show tonight.
"We are seeing just a little bit of cloud but not a lot and it's mostly in inland areas, not near the coast.
"Plus, it's low lying and the mid-level cloud is the best for scattering that light, so it won't be as spectacular," he said.
SUNSET VIDEO: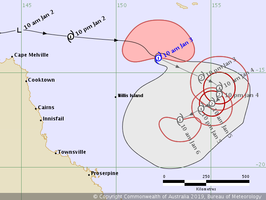 And as for Penny?
The tracking map is now looking distinctively less phallic.
"It's moving rapidly to the east but as we go into late tomorrow and Saturday the movement becomes more uncertain and that's why you now see that big circle of grey," said Michael Knepp.
"That's because we really don't know yet exactly which areas could be affected."