interest
From katabatic winds to a cracker of a thunderstorm – what's going on with the weather?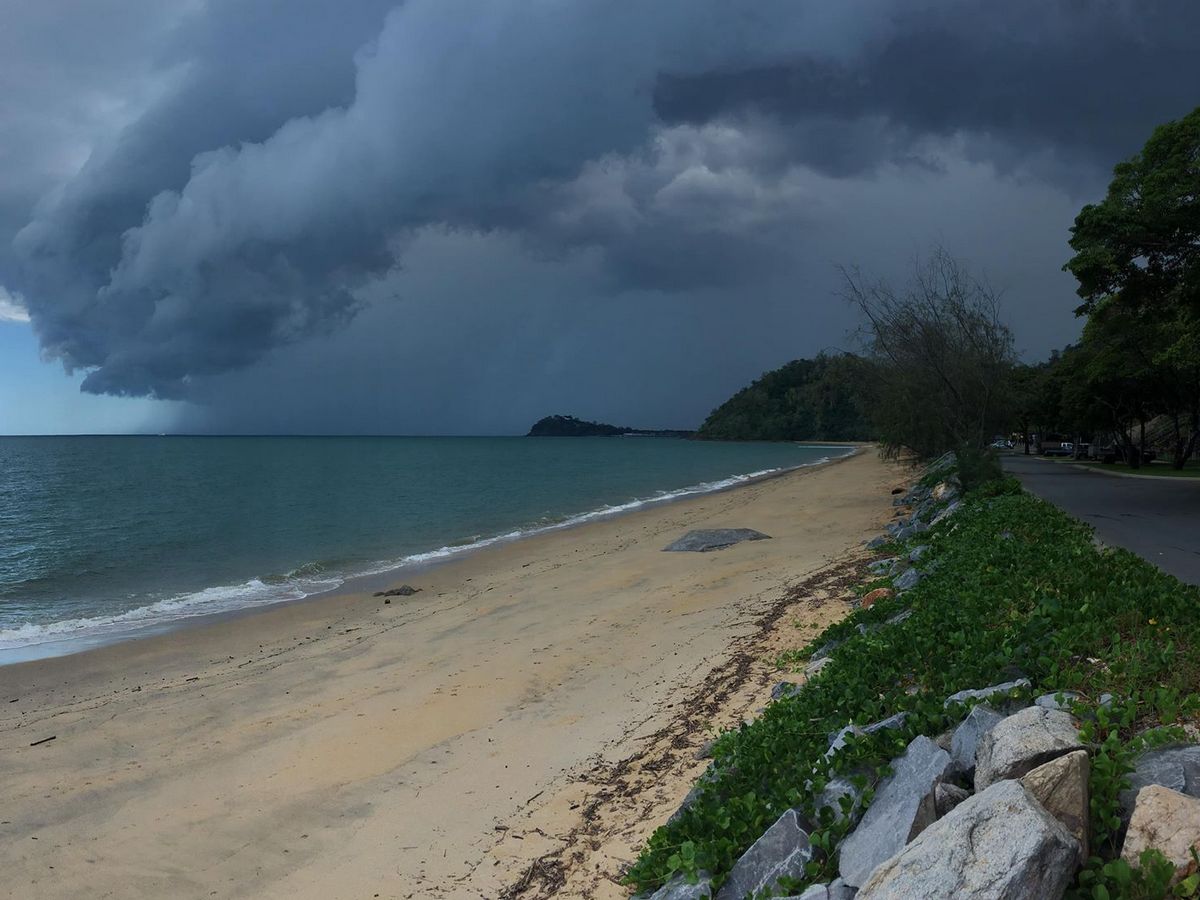 5,000 homes and businesses lost power again today across Cairns, as wild weather conditions continue to pummel electricity lines.
Yesterday, around 7,000 lost power when a sudden, wild storm hit the city.
A 9-AM update from Ergon Energy said electricity had been restored to everyone, however less than an hour later, as the temperature was rising, powerlines at Manoora were brought down by downslope gusts, known as katabatic winds.
Bureau of Meteorology forecaster Emile Janson told Tropic Now it's the result of low-level westerlies, which have also delivered above average temperatures.
"So at the moment we've got westerly winds below 3,000 feet," he said.
"In Europe they're known as foehn winds, which is a German word that means hairdryer, so it's a warm downslope wind that occurs and that's why we've got these really hot temperatures.
WATCH THE WINDS:
Video Courtesy Kirsty Cawdell
---
"As they come down from the Tablelands, they accelerate over the hill and they're quite strong at the ridge-top and there's the combination of the downslope and the more cooler night air, which creates a drainage flow, so it comes quicker down the slope."
He said the strongest gusts occurred around 4-AM this morning, in suburbs close to the mountain ranges, including the northern beaches, Caravonica, Redlynch and Kanimbla, however the exact strength of the gusts aren't known, because there are no observation points in those areas.

Throughout the day, the westerly winds have not only continued but picked up, leading to more power lines coming down at Redlynch.
Along with electricity, residents have reported losing shade sails, fences, trampolines and washing.
Palm Cove resident Rachel Barham told Tropic Now her backyard looks like a disaster area.
"There are palm fronds everywhere and some still green.
"The mini tramp and safety mats are blowing across the yard, too," she said.
Forecaster Emile Janson said while the winds are unusually strong, they are common for this time of year and residents can expect more of the same.
"Thursday morning is a similar set-up, just a little bit less intense and then they'll disappear," he said.
The meteorologist said predicting the weather at the moment is challenging.
"At this time of the year trying to guess the weather is like trying to guess where the bubbles will come up in boiling water, so for instance one storm can put out a gust front which kicks off another storm in front."
"Yesterday's storm essentially built straight over Gordonvale and within half an hour of formation it was a very intense storm.
"But that location is quite unusual.
"We were assessing that the chance of a storm would be quite low because it would have to form over Gordonvale and that's exactly what it did."
---