The Power of Pallets gears up for gala auction and fundraising event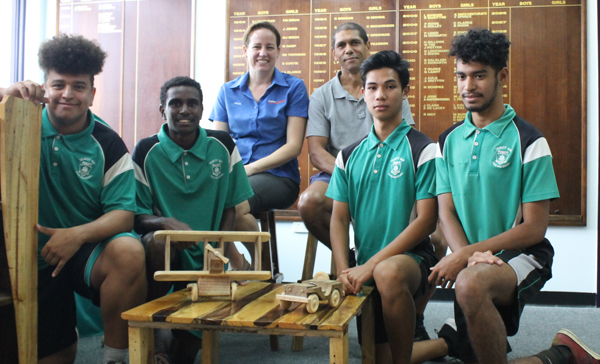 ---
This year's The Power of Pallets auction and gala night is almost here and a group of high school students have been working hard to create pieces to help improve health services in TNQ.
The Year 11 manual arts students from Trinity Bay High School have made a number of pallet pieces to be auctioned at this year's The Power of Pallets fundraiser for the Far North Queensland Hospital Foundation.
International gardening guru Jamie Durie is returning for this year's auction and gala dinner on November 17 at The Tanks.
It is the third time students from Trinity Bay High School have taken part in the event, with design and technology teacher Rob Wales saying they all got a kick out of knowing they were making a difference.
"It really is wonderful for them to put their new skills to good use for the community," Mr Wales said.
"We find this project is great motivation for the students to try to create their best work, knowing it is going to such a good cause.
"What they love too is afterwards, finding out how much their piece sold for at auction."
The Power of Pallets founder Kate Fern inspected some of the pieces and was astounded with the quality of workmanship.
"These students do such a great job with their pieces and it's quite inspirational to see how motivated they are to make a difference in their community," Ms Fern said.
She started the event four years ago as a way to do something tangible and productive for the community with items that would otherwise go to landfill.
This year's The Power of Pallets presented by The Property Shop, will contribute towards a second cardiac catheter laboratory at Cairns Hospital.
"We move the funds around different areas of the hospital that needs it and this year as the cardiac catheter lab is the Foundation's major fundraising push, that's what we're going to put the funds towards," she said.
"Jamie's really excited and he had some input into the changes we instigated this year – we do have a few tickets left but people should jump onto the website and grab them before they all go."
For further information, click here.
---