Fall in part-time work pushes jobless rate to 6.6%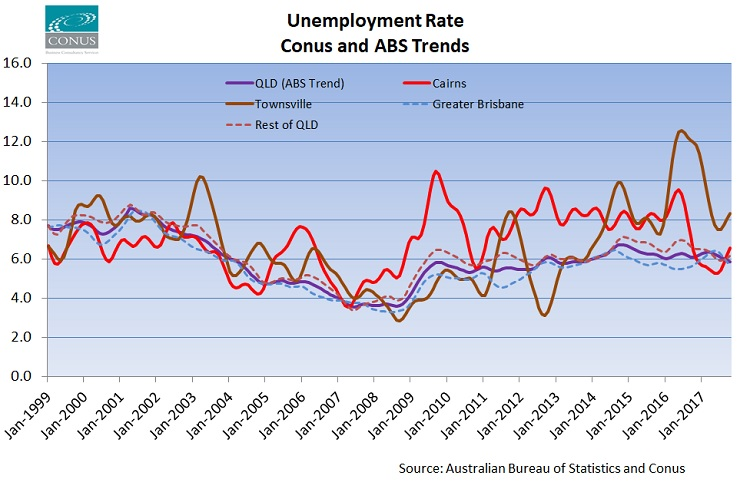 ---
Has the unemployment rate in TNQ dropped as low as it's going to?
The region has been buoyed with the release of a series of official data in recent months that have all shown significant improvement on the jobs front.
The latest regional labour market data suggests that after a significant recovery the unemployment rate is starting to rise again, to 6.6% in October after September was revised sharply higher to 6.2%.
Putting the data through the Conus Trend, local economist Pete Faulkner from Conus Business Consultancy says the turnaround is not surprising given the dramatic recovery in recent times and can be mostly put down to falls in part-time work.
"The fact that some of this reversal has now been in place for about three or four months would certainly suggest that the large declines in unemployment rates in both Cairns and Townsville may have already hit their lows," he said.
"In the Cairns region, the October data shows the Conus Trend employment level fell by 700, after September's decline was revised from 500 to 100.
"This brings employment reduction over the past four months to 1,400, although over the past 12 months employment remains up 5,400 (which represents a 4.9% rate of annual growth).
"Despite a minor decline in the Trend Participation Rate this drop in employment has seen the Trend unemployment rate in Cairns increase to 6.6%."
The state-wide trend is 5.9%.
"It remains the case that the employment growth seen in Cairns in the past year is heavily skewed to full-time employment, up 8,900," he said.
"Part-time employment is down and all the declines in October were also due to part-time employment reductions."
There has also been a reversal in Townsville.
"Trend employment fell by 400, all full-time jobs," he said.
"Nevertheless Trend employment is still up 14,000 from a year ago; a growth rate of 14.4% (the fastest pace of growth in Queensland).
"Trend Participation has fallen somewhat and this has allowed the Trend unemployment rate to only edge up slightly to 8.3% (after the revisions in September saw the Trend unemployment rate fall to 8.1%).
The Trend youth unemployment rates in Cairns and Townsville have now moved much closer together with the rate in Cairns going up to 16.2% (after September was revised up to 14.9%) while Townsville has fallen to 16.5% (after September was revised sharply down to 16.8%).
Regional Queensland is also slipping backwards on employment when compared with the latest data for Greater Brisbane.
"While the Rest of Queensland employment growth at 5.1% year on year still exceeds that in Greater Brisbane (4.1%)," he said.
"In October, the Trend unemployment rate for the Rest of Queensland was down 0.4% from a year ago while that in Greater Brisbane is now unchanged (having been up in previous months).
"The largest difference between the two areas remains the fact that full-time employment accounts for 76.6% of annual employment growth in the Rest of Queensland, but just 10.1% in Greater Brisbane."
The full set of Conus Trends can be seen here.
---