Awards recognise people who go above and beyond in TNQ workplaces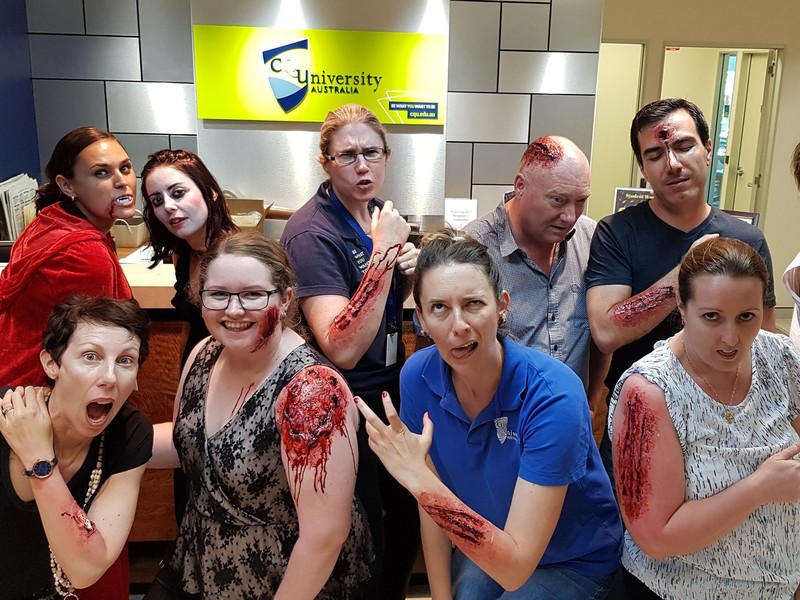 ---
People who work with Glenn Dutton often end up looking like they've survived a run in with a horror movie character or just escaped the clutches of hordes of zombies in a post apocalyptic world.
It's not as scary as it sounds and it's all in a day's work for Glenn, who has spent years perfecting the art of moulage, where he applies mock and realistic injuries to people to help train Paramedic Science students at CQUniversity in Cairns.
The application of realistic wounds and injuries gives students a superior learning experience and earned Glenn one of the inaugural "Pride of Workmanship Awards" presented by the Rotary Club of Cairns.
The CQUni technical officer has had a wide range of jobs in his life, with Glenn saying he was always striving to do his best.
"I have always had pride in my work and try to do the best I can at what I apply myself to," he said.
"CQUniversity is a dynamic working environment that is brimming with talented, enthusiastic and supportive people.
"I am fortunate to work with the Paramedic Science team.
"Everyone in the team drives to deliver a superior quality learning experience to the students and this is outstanding and infectious."
Away from CQUni, Glenn's voluntary emergency service roles with the SES have earned him medals, citations and achievement awards, including at a national level.
CQUniversity's Associate Vice-Chancellor (Cairns and Far North Region) Jodie Duignan-George said the uni became a corporate member of Rotary earlier this year.
"Our Corporate membership with the Cairns Rotary Club offers mutual benefits," she said.
"Our staff participate in meetings and volunteer at some of Rotary's signature events and they, in turn, have assisted us with events such as Busk at Dusk, for which Rotary members provided the marshalling services.
"The Club does great work in the Cairns community and the Pride of Workmanship Awards are just one example of the myriad of initiatives they implement each year."

Ms Duignan-George said the Pride of Workmanship Awards was a great initiative and she was happy to see two CQUni staff members recognised.
Other recipients for 2017 included:
Ben Hornabrook from Dunwoody's Tavern
Sonja and Chris Aderman; Shop3 Coffee & Tea owners
Duane Anderson; Trinity Pools owner
Shafali Sharda from Bunnings Cairns Central
Virgina Kruger ; CQUni Cairns Associate Lecturer (known for her support of STEPS
preparatory students)
Jen Malone; Apres Beach Bar & Grill co-owner
---