Try this Tropic recipe from our friends at NOA
---
How much local produce do you use in your menus?
The majority of our fruit and vegetables are sourced locally. We deal directly with a number of local producers like Shaylee Strawberry farm, Della Bosca Limes and Cairns Microgreens as well as sourcing produce from local distributors who deal directly with the farms.
We have made a commitment to source the majority of our seafood within a 250km radius of our restaurant. This ensures supreme freshness of product and supports sustainable fishing practices in FNQ. In saying that, we are biased towards a good Tassie oyster and the smoked fish products from down there are some of the best in the world.
Why is it important to use local produce?
Utilising seasonal produce is paramount to what we do here at NOA and, therefore, sourcing our produce locally makes sense. When it comes to food, fresh is always best. It is also important to support the community that supports us and that includes all of the growers and suppliers that make FNQ such a diverse foodie destination.
What are the challenges facing local chefs trying to use local produce?
The availability and consistency of produce is always a challenge, especially during the wet season here in Cairns. Building and developing relationships with local producers also takes time, which is hard in an industry were chefs tend to be extremely time poor.
Are there any items of produce you were surprised to discover is grown in FNQ?
The amount of quality coffee that is now grown on the Tablelands. As well as the vanilla and cocoa farms in the Daintree are making some delicious products that we use in some of our desserts.
Do you have a favourite local product or food item?
The seafood we have at our doorstep is world class. People don't fully comprehend nor appreciate the variety and quality of seafood we have in FNQ. We are blessed and spoilt with choice whether it be a tasty mud crab or delicate coral trout, the reef is a fish market that chefs dreams are made of.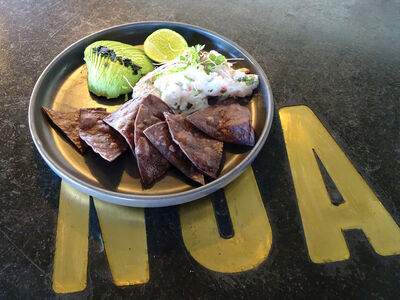 ---
CORAL TROUT CIVECHE WITH BLUE CORN CHIPS AND FRESH AVO
Serves 4 people
Ingredients
500gm coral trout
4 limes juiced
1 red onion finely dice
3 red chillies deseeded and finely diced
100ml coconut cream
2tbs fish sauce
6 x Blue corn tortillas
2 avocados
½ bunch coriander leaves thinly shredded
Method
Slice the coral trout thinly and lay on a plate and cover with the lime juice and refrigerate for around 3 hours.
Drain off the juice and add remaining ingredients. Be careful with the fish sauce and only add a little at a time.
Serve with the avocado and blue corn chips on the side and fresh lime cheek.
---