Andrew Jamieson crosses finish line in gruelling Ironman event in 11 hours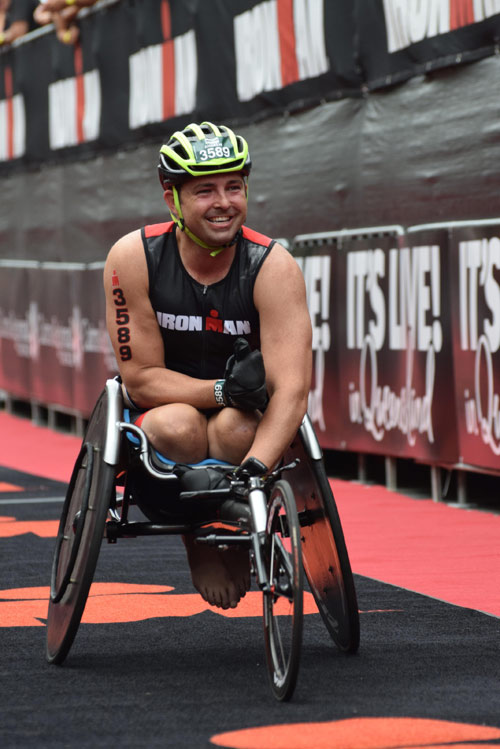 ---
He did it!
Cairns para-athlete Andrew Jamieson is officially an Ironman after completing the gruelling Ironman World Championships in Kona, Hawaii on October 14, crossing the finish line to finish third in the hand cycle division in a little more than 11 hours.
After tackling the 3.8km swim, 180km cycle and 42km run in his first crack at the full distance event, Andrew is now enjoying some much needed R&R in Hawaii.
His physio Megan Thomas from PhyxMe, who helped him prepare for the event and overcome a shoulder injury after the Cairns Ironman, is over the moon with his efforts, saying she live streamed the event and messaged Andrew's wife Kristy throughout the race.
"It is amazing and so exciting," she said.
"He finished much earlier than we anticipated. We were expecting 13 or 13.5 hours.
"I got a message from his Kristy that he was about to finish and saw him cross the line. There were tears in my eyes and tears in a lot of eyes.
"He came second in the bike leg and I am really proud of him.
"Kona is just so horrific, what they have to go through on the course."
Speaking to TropicNow before leaving TNQ, Andrew admitted to being nervous about the challenge ahead.
Reports from team Jamieson after the event is that he is a little ginger and his shoulders are "cactus" but he is thrilled to have completed the event.
A visit with Megan will be high on the agenda when he gets back home, to check on his shoulder and any other issues that may have come up as a result of completing the epic event.
"With all my athletes, I like to touch base after a big event to see what bothered them, where they had pain and problems and anything that came up," she said.
"It's pretty good to catch up soon after the event so it is fresh in their mind."
---