Young Archies shine alongside Archibald Prize in Cairns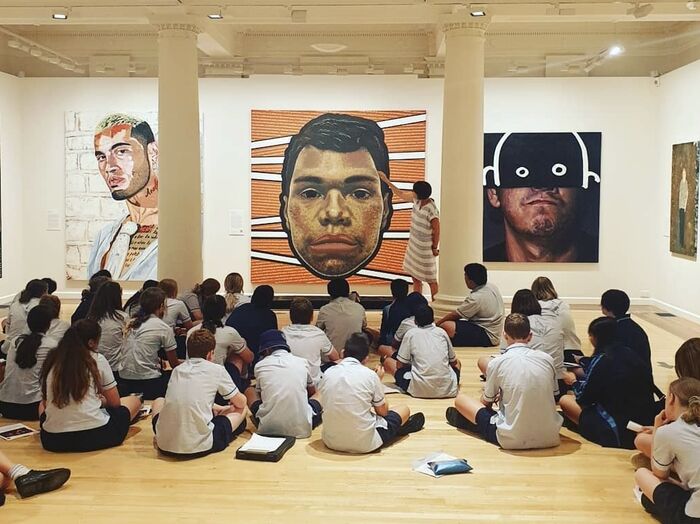 ---
While the 2020 Archibald Prize at Cairns Art Gallery (CAG) is drawing thousands of visitors, there's something equally unique on display next door.
In the Court House Gallery you'll find the Young Archies, featuring 24 finalist works by Cairns' best budding portraitists.
The talent of local young artists, alongside Australia's most prestigious art exhibition, will be on display until 1 May.
---
---
This year's Young Archies, which invited artists aged five to 18 to paint a portrait of someone significant to them, drew over 180 entries.
Andrew Bonneau, a Cairns-based artist and past Archibald finalist, was invited judge the entries alongside CAG Director Andrea May Churcher.
Mr Bonneau said he was pretty impressed with the quality of works throughout all age groups.
"It was interesting to see how different ages approach portrait painting differently," he said.
"The 13-15 age group had a lot of emphasis on realism, while the older age group generally had more striking images without the skill of realism.
"The youngest group were more symbolic, drawing the nose like a triangle, the eyes in almond shapes.
"They had a fresh naivety about them which was nice.
"The works say a lot about the psychology of different age groups and what they think about art."
Check out the full list of finalists and entrants here.
5-8 age winner Nathan Tan for his self portrait 'The Man in the Hat'.
(Click image to open gallery)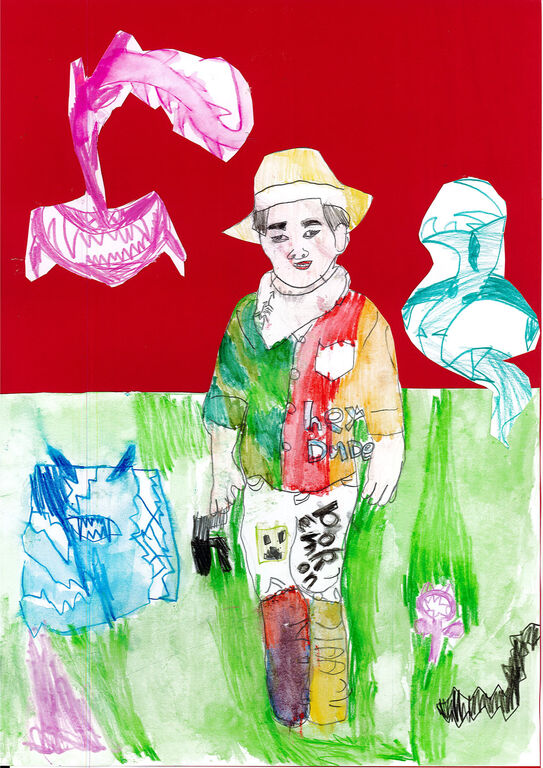 Meanwhile, CAG has welcomed over 15,500 visitors to the Archibald Prize.
Gallery staff say locals make up almost two-thirds of visitors, including a number of school classes and corporate groups.
"We've had nine school groups visit before the holidays and have a number of schools booked for after the holidays," Gallery Manager Kelly Jaunzems said.
"We have a group coming through as part of their vacation care activities too.
"We've also been holding events and tours during the Archibald for corporate groups who have had a tour and then enjoyed canapés and drinks on the balcony after hours."
CAG has also hosted artist talks by two of the collection's finalists – Nick Stathopoulos and Wendy Sharpe – as well as a number of sold-out school holiday art classes for kids.
Gallery Director Andrea May Churcher said Cairns' selection as the first Queensland venue in history to host the Archibald Prize took years to negotiate.
"Our strong national reputation for presenting outstanding exhibitions and attracting audiences from across Australia enabled us to secure the Archibald Prize for Cairns," she said.
"I think this year really captures how artists are broadening our understanding of portraiture by going beyond a 'likeness' of a person to reveal ideas around personal, cultural and national identity.
"Our region has a rich artistic heritage and having access to art and ideas from other places and other cultures will further enrich our own."
Young Archies will be on show at the Court House until 1 May. Free entry between 10am and 4pm, Tuesday to Saturday.
The 2020 Archibald Prize at Cairns Art Gallery runs until 2 May. Free entry 9am to 6pm weekdays, 9am to 5pm weekends.