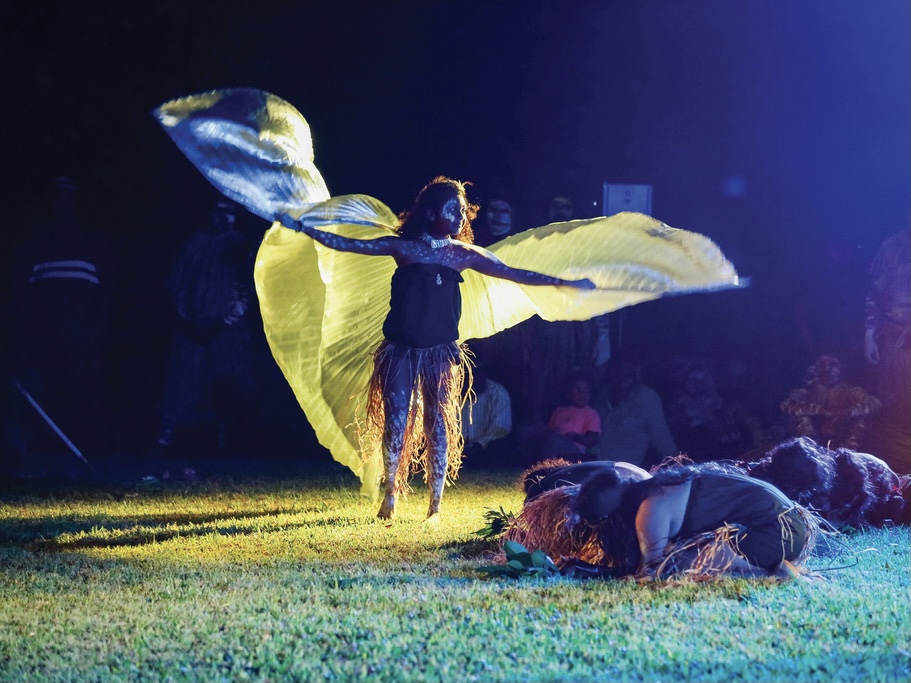 ##MP##
A ten-day fusion of music, traditional dance, food, history and nature is coming to Cooktown this week.
The inaugural Cooktown & Cape York Expo – The Rising Tide is by far the biggest event the region's ever hosted, with thousands of visitors expected to attend over the ten-day program.
Stretching across two weekends in June, the festival will showcase the rich local cultures through every means imaginable.
From an abundance of free entertainment like performances, fireworks, film nights, garden tours and craft workshops, to ticketed live music and river cruises, there's certainly no shortage of things to do.
Tropic Now's put together a taste of the expo's enormous schedule of events.
##BA##
Reconciliation Rocks Festival
Enjoy the blues and roots of Australian duo Busby Marou as they join local and national music artists on the banks of the Endeavour River.
Country superstar Troy Cassar-Daley, local favourites Black Image and Cape York's king of rap, Mau Power, will also be gracing the stage.
The mini-festival signs off with a free fireworks show on Sunday night.
From 11-13 June, with the free concert on 12 June.
The Warrma
Children from across Cape York Peninsula will bring to life the traditional Endeavour River creation story in a multimedia production called Warrma.
Sacred Creations Dance Troupe choreographer Tamara Pearson has travelled the region to teach local children the story passed down by her late grandfather.
Free event, Sunday 13 & Sunday 20 June at 5pm.
Beauty Rich & Rare
An immersive sound and light experience capturing the natural beauty of Australia through the eyes of botanist Joseph Banks will make its regional debut at Cooktown.
Showcasing the botanical illustrations Banks and his naturalists made 250 years ago, Beauty Rich & Rare features the drawings completed while the Endeavour was being repaired in Cooktown.
Free entry, Nature's Powerhouse in Cooktown's Botanic Gardens. 11 June to 6 July.
Ngutha-Ngutha Indigenous Precinct
Ngutha-Ngutha' in the Guugu Yimithirr language translates to 'back in time'.
The Precinct showcases traditional cultural heritage and daily lives of the First People in the region, including a traditional village with workshops, demonstrations and food.
Free attendance, 12-18 June.
Coral Trekker Sailing
Who's up for seeing an untouched part of the reef?
##PQ##
The Coral Trekker takes passengers to a spot where commercial snorkelling tours do not operate, providing a once in a lifetime chance to see a different part of the world's largest reef.
You may even get the opportunity to climb the mast!
Morning tea, lunch and afternoon tea included on the day trip.
Tickets are $149 per adult or $99 per child.
Endeavour Ball
As the sun goes down, guests on the banks of the Endeavour River will enjoy an evening of live music, dance and entertainment to close out 10 days of reconciliation and commemoration.
Dress is strictly period costume or black tie to this 18+ event.
Saturday 19 June, tickets are $125.
Tent City
There's plenty of turf to pitch your tent or park your RV at the Cooktown Race Course.
Or, you can bring nothing but a suitcase and enjoy a customised glamping experience just minutes from the town centre.
Book at tentcity.com.au
If you're into art and culture, there's live music and village markets every day, as well as glass fusing, traditional weaving and Mau Power dance workshops!
Foodies may also relish in the Cooktown Long Lunch seafood extravaganza on Friday 18 June.
For a little peace and quiet, the expo will also host open garden tours, scenic bushwalks and a river cruise to learn about the local plants on Saturday 19 June.
History buffs can get amongst the re-enactment of Australia's first recorded act of reconciliation on Friday 11 June, or join a paranormal tour.
Children will also love all the rides at the fun fair and a lantern parade on Friday June 18.
Find the full program at cooktownexpo.com.au
events
arts
entertainment
Main points
Cooktown & Cape York Expo – The Rising Tide runs across June 11-20
The inaugural festival is expected to be the largest event the region's ever held
Cooktown is home to the first ever recorded act of reconciliation (in 1770)
As James Cook discovered, Cooktown is the closest mainland to the Great Barrier Reef.