Lessons from a local entrepreneur making it big in street fashion
From humble beginnings as a Tablelands tradie to a brief stint as a telemarketer, Paul Byrnes is now a street fashion guru with global plans
---
We've all been there.

That moment when your heart skips a beat, you lose your breath and all of a sudden you're crashing back into reality in slow motion.

Your chest is pounding, your breath heightened as you look back in time trying to grasp at that moment when the switch flicked.

When everything that was became everything that is.
You gaze back in silent wonderment knowing you're here now because of sheer determination, your disregard of all limitations and willingness to take a giant leap all whilst embracing the free fall.
In this very moment you are well and truly Spent.
An adequate descriptor for all that it emanates, Spent is a lifestyle clothing label driven by the very real feelings described above and the desire to keep reliving them over and over again.

It encapsulates the premise that life's too short to catch your breath and, in order to survive, you need to maintain momentum and keep that heart of yours racing.

Ready, with bated breath, for your next collision with life's experiences that await. On and on, Spent is what you are when you're never too far from your own limits and when you're embracing the struggles that will ultimately give way to your success.
Established in 2012, Spent is the brainchild of a once bored tradesman with a bold idea and big dreams.
From humble beginnings in the Atherton Tablelands, Paul Byrnes left school in year 10 to pursue an apprenticeship as a carpenter.
Despite his early successes - including building his own home by the age of 20 - Paul's desire to break away from the ordinary, his longing for an exciting challenge and his love for extreme sports and living dangerously led him into the world of clothing and fashion.
Paul saw a gap in the market for a more fashionable and high class extreme sports label that evokes drive, passion, breaking down barriers and achieving goals and from there he dreamt up the essence of a brand that would become Spent.
Like most other startup founders, Paul's journey has been one of ups and downs but it has also been just as he imagined.
He knew from day one exactly where he wanted to take Spent and was just as committed and serious about his idea then as he is today.
He attributes his success to his unrelenting passion for his brand and his advice to a younger version of himself is "trust in yourself, it will take time, you'll be let down and feel disappointed, just know that this is all part of the journey".
You might find it hard to believe that this daredevil motocross rider who thrives on living life on the edge cites his grandfather as his inspiration and his mother as his rock and go-to-woman for all and any advice.
They say "teamwork makes the dream work" and Paul attributes much of his early success to the support he received from his family, especially his mother Terri, and his strong network of early followers.
Wise words from his father Owen also resonated with Paul and kept him going.
"Dad always said it'll take five years to build your business and ten years to reap the benefits, and I think he's absolutely right".

When quizzed about some of his challenges, Paul coyly admits to his realisation that passion alone won't convert sales and convincing others to buy into your vision is a tough gig.
"Early on, I realised I wasn't the best at pitching my product and closing sales," Paul admits.
So in order to master the art of selling ice to eskimos, Paul concedes to having joined the dark-side as a telemarketer for a few months.
Although this was not the highlight of his journey with Spent, it was a strategic move on his behalf to refine his sales skills whilst also providing cash-flow as he continued to build the business pipeline.
"When building a startup, sometimes you just do what you have to do," he said.
Spent has been taken on more than a few roadshows with Paul visiting hundreds of potential stockists and retailers, each time building greater awareness of the Spent brand.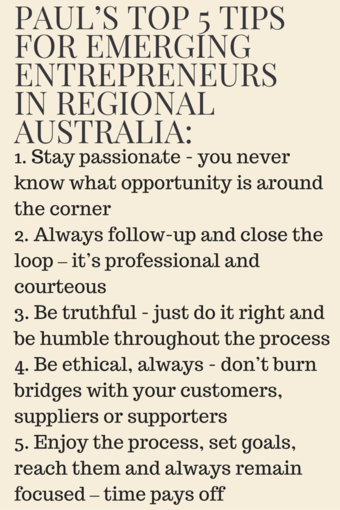 He cites his greatest lessons from this as the need to be overly prepared and ready to deal with rejection.
"It may be your one and only opportunity to get your label stocked and if you're not prepared it will be to your own detriment," he says.
"Retail is a cut throat game and if you can't bounce back from rejection, you'll never make it," he added.
After three years of pouring in sweat, blood and every spare dollar into Spent in late 2015 Paul took the leap to work full-time on the business.
He also brought on board a business partner - Cairns local Matt Rogers - to share the load.
On this decision, Paul described Matt as one the of most generous people he knows and said: "I knew it was the right decision when I saw how he (Matt) treated and respected the brand as his own even before he was brought on as a partner".
Now approaching the five year mark, Spent has gone from strength to strength.
Their decision to relocate to Brisbane in 2015 was driven by their increasing need to access bigger markets, be closer to suppliers, minimise postage and handling costs and as an overall part of their growth strategy.
Although not their main source of sales, their online store is also progressing forward whilst their focus is on the domestic market they are currently processing orders from the USA, UK and Germany.
Since relocating, they have been approached by investors but at this stage are seeking to stabilise the brand's presence in the south east corner and look for long-term growth partners.
Not at all bad for a country kid with a big dream.
---
---