Here are 5 spots in Cairns where you'll find some insane food treats
Tropic Now gathers the top 5 most insane food treats featured right now on menus across Cairns.
---
Cairns is home to some awesome cafes and small restaurants serving up crazy delicious treats, often for a limited time.
To celebrate their creativity - and insanely indulgent menu items - Tropic Now gathered five of the best available right now in Cairns.
But you may have to hurry: some of these treats are only available for a limited time.
---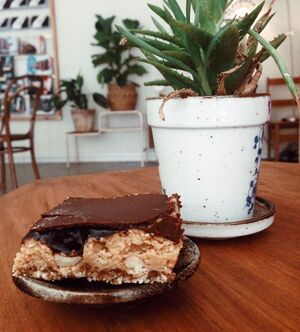 1. VEGAN RAW SNICKERS BAR AT SING SING
One of our favourite CBD cafes Sing Sing Espresso just gave us yet another reason to pay them a visit down The Walk laneway off Lake St.
They've just unleashed their Vegan raw Snickers bar on the world, and it looks almost too good to eat.
We said almost.
Grab a coffee to accompany this tasty treat and we guarantee your day will be awesome. How could it not be after eating something called a raw Snickers bar?
Sing Sing is at 82C Lake St, down the laneway next to Woolies.
---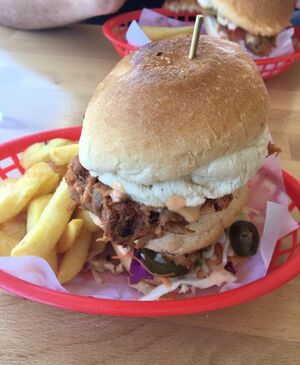 2. J&P SPECIAL AT APEX MILK BAR
This burger looks positively dangerous. And we want one. Right now.
Designed by two of Apex Milk Bar's loyal customers - Jimmy and Paul - this monster of a meal features pulled pork, Sriracha slaw, grilled pineapple, jalapeños and crumbed chicken breast.
All together. In one burger.
Apex describes the burger's creators Jimmy and Paul as "two culinary astronauts on a never ending mission to seek out new delights and taste things that no person has tasted before."
We sincerely thank them for their brave adventurous spirit. You've got to hurry if you want to devour the J&P Special though - it's only on the menu until June 25.
Apex Milk Bar is at 24 Hoare St, Manunda.
---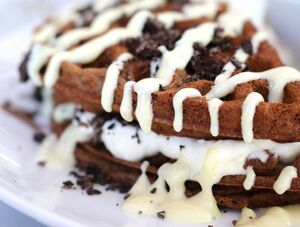 3. COOKIE MONSTER AT WAFFLE ON
This new waffle cafe on Shields St is proving insanely popular, which kind of fits nicely with the insanely delicious new addition to their menu.
Made with a perfect chocolate storm including crushed Oreo cookies, cream, and liquid Belgian white chocolate all sandwiched between two Chocolate Waffles, this is one monster we're happy to dine with.
Check them out at 64 Shields St in the city.
---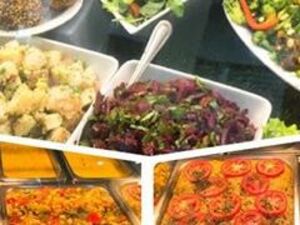 4. SALAD BAR AT SNOOGIES
After all of that chocolatey, beefy, burgery, over-indulgent goodness, you may want to consider the insanely healthy and tasty range of salads at Snoogies.
On any given day, you'll find everything from vegan frittatas and chickpea curries to a colourful array of salads like pumpkin broccoli, sweet potato and feta, green paw paw, beetroot pecan and - last but not least - potato salad!
Their juices are fairly awesome as well.
And just remember: the more salad you eat, the less guilty you'll feel about all those chocolate treats and burgers. Because a balanced diet is a good thing, right?
Snoogies is 82 Grafton St, inside the Main St Arcade.
---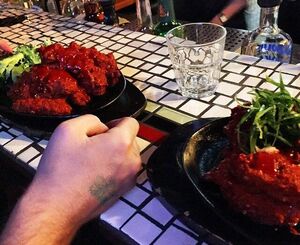 5. WINGS OF DEATH AT GREEN ANT CANTINA
OK, now we're not sure if this one is insanely delicious or just purely insane.
If you're crazy/brave enough, you probably should try Green Ant's infamous Wings of Death at least once before you, well, die.
These chicken wings are so ridiculously hot there has only been one - we repeat ONE - person who has successfully eaten an entire dish of the wings in 2016.
Try it, if you're insane. And let us know the result. If you're still capable of speaking in coherent sentences.
Green Ant Cantina is at 183 Bunda St. (Cairns Hospital is located on the Esplanade, just FYI).
---