Multi-million dollar sale of Reef Magic sends TNQ tourism sector soaring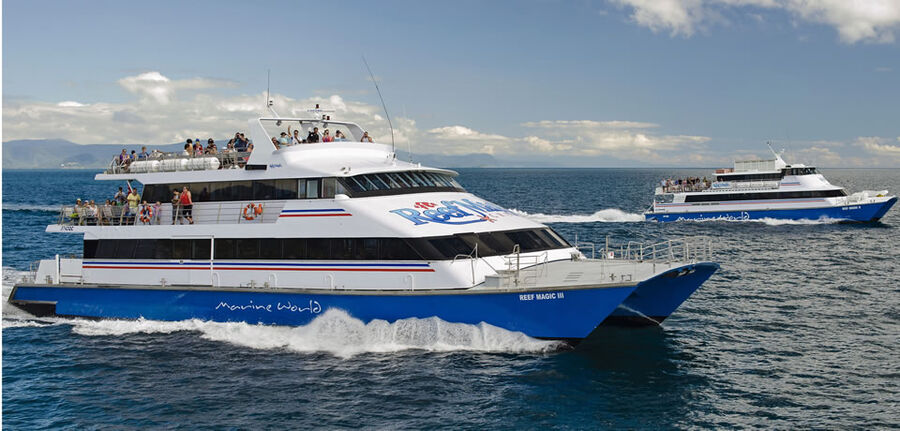 ---
The tourism industry in TNQ is firmly in boom mode, with the multi-million dollar sale of Reef Magic Cruises to Australia's largest adventure company.
Skydive the Beach today announced the $15 million acquisition of the company, which has been locally-owned since its establishment in 1997.
The acquisition of Reef Magic is expected to be completed by May 1.
It's the second local large-scale acquisition in less than six months for the Skydive Group, who snatched up Raging Thunder in September last year for more than $15 million.
The announcement comes weeks after the sale of the Cairns Coconut Holiday Resort for $50 million to ASX-listed Ingenia Communities Group.
Skydive, established in 1999 in Wollongong, is a publicly-listed company with a portfolio that includes multiple skydiving companies and other adventure operators across Australia and New Zealand.
"Reef Magic Cruises is one of the best tourism operators in Australia and we're delighted to be associated with this thriving business," Skydive managing director Anthony Boucaut said.
"The Great Barrier Reef is one of the true magic places of the world and adds to our growing list of assets in Far North Queensland.
"It's our vision to be the world's largest and most respected adventure tourism operator and the acquisition of RMC will help us achieve that goal."
Skydive CEO Anthony Ritter said his group had expanded significantly over the past two years to offer far more than tandem parachuting.
"Within the group, we now have businesses offering a range of adventure sports and experiences such as white water rafting, hot air ballooning and canyoning.
"We're planning to add to that as we grow the group across Australia and the world."