Tropic Now's ultimate guide to the best fried chicken in Cairns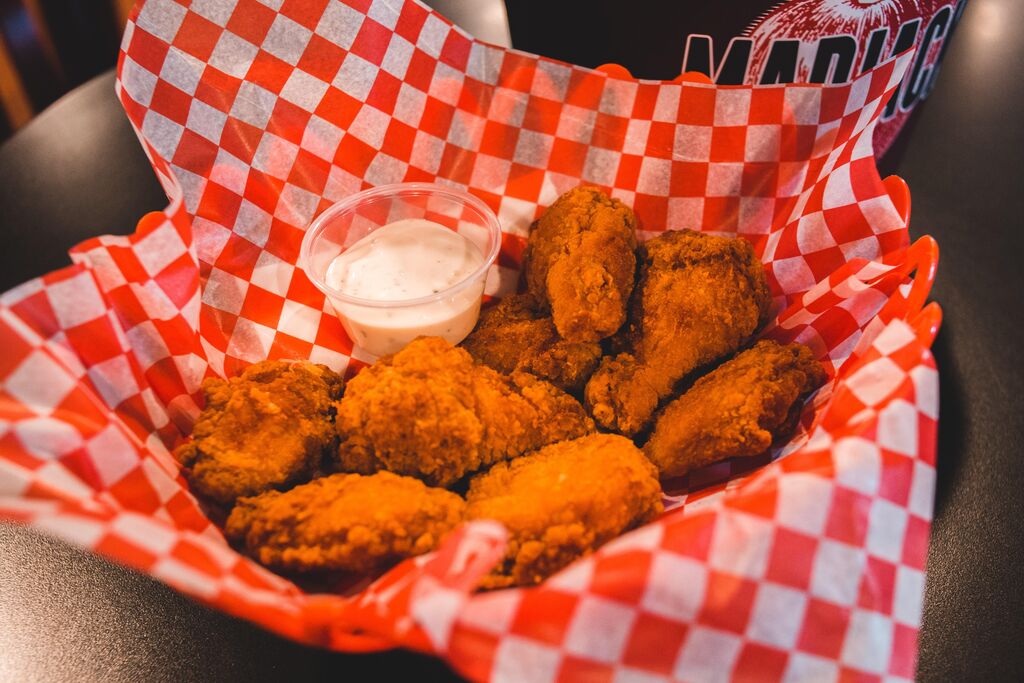 No-one – and we seriously mean no-one – loves fried chicken more than the Tropic Now crew.
We've tried all the varieties in all the places.
Fast food, Korean, Japanese, buttermilk, Nashville-style ... and we're not gonna lie, we pretty much adored them all.
So, we feel particularly qualified to bring you this ultimate guide to the best fried chicken in Cairns.
We've listed the best of the best, in no particular order, but if we've missed your fave and you think it should be included, let us know by clicking here.
##ArticleBannerAd##
Tasty Road
Underneath the word "Chicken" on the menu at Tasty Road reads a line: "Korean Crispy Battered Chicken. Popular. Never Go Wrong."
And with that, we agree. Because you can't go wrong at Tasty Road, where the decor is unassuming and the wings, regardless of menu choice, and are packed with crunch, flavour and that highly crave-able stickiness.
Also, the side dishes are awesome and there are a couple of great Korean beers to wash it all down with.
GO THERE: Shop 2/80 Sheridan St, Cairns City
Taipans games at Cairns Convention Centre
We don't know who makes the fried chicken at the Cairns Convention Centre or how they make it, but we do know one thing: it's so. Damn. Good.
As soon as the halftime buzzer rings at any Taipans game, true chicken fans are already out of their seats and on their way to grab a plate of stuff from this innocuous food stall.
Adding wedges or any variety of sauces is up to you, just don't forget to grab plenty of napkins and a cold beer to wash it all down.
GO THERE: Check the Cairns Taipans fixture
Howlin' Jays
If your tastebuds are craving Nashville but your wallet is craving ... enough cash to pay next week's rent, don't worry.
You won't need to hop on a plane to get a little taste of the American south.
Howlin' Jays has been serving up crispy, juicy, perfectly spiced fried chicken to the Cairns masses since 2017 and shows no sign of slowing down.
We're particularly fond of the fried chicken and waffle offerings during weekends, and the overall good times vibes.
GO THERE: 1 Pier Point Rd, Cairns City
So Hangry
Would you like your karaage with hot chips or white rice?
That's just about the only thing you need to consider when ordering a serve of classic Japanese-style fried chicken from this iconic yellow food truck.
So Hangry is a regular at Tropic's foodie festival Meet Eat Repeat, and can be found at local markets, sporting events and other spots around town.
Ask for a little (actually a lot) of that Kewpie mayo drizzled over the top and you're sorted, full stop.
GO THERE: Check their Facebook page here for their weekly schedule.
The Chicken Shed
Fried chicken isn't only a lunch and dinner food, apparently.
At the Chicken Shed (with locations at Rusty's and Grafton Street), diners can satiate their cravings as early as 6:30am.
The said chicken can be ordered in a variety of ways, but we're fans of the anytime crispy sandwich, which simple comes with kimchi mayo, tomato and cheese.
Also check out the chicken rice bowl, which is piled high with sticky rice, glass noodles kimchi and a delicious sauce.
GO THERE: 43 Grafton Street, Cairns City
Moim
There's a lot more on the menu at this Korean-style eatery than just fried chicken, but it's hard to pass up a plate or three of the stuff when there's beer and soju in the mix.
Relatively traditional flavours vary from sweet chilli to cheese seasoning, but the creamy onion takes top prize for being the most unique and decadent of the bunch.
It's a bit of a hidden gem on Spence St – but probably not for long!
GO THERE: 1/59-61 Spence St, Cairns City
Pacifico Tiki Bar & Grill
$10 spicy buffalo wings with blue cheese sauce? We're sold.
This Parramatta Park eatery (conveniently located just around the corner from Tropic) doesn't skip on the flavour or portion size.
The wings go down a treat with their frozen maragaritas, or Pacifico's own craft lager and ginger beer.
GO THERE: 183 Bunda St, Parramatta Park