End of an era as Cairns Post building listed for sale
---
The historic Cairns Post building, where news has been produced for more than 110 years, is being sold off.
Vendor News Corporation is seeking expressions of interest for the Abbott Street property, which was built in the style of inter-war classical architecture and completed in 1908.
---
---
Agent Danny Betros from CBRE has told Tropic Now while it's not entirely heritage-protected, the building will remain standing regardless of who owns it.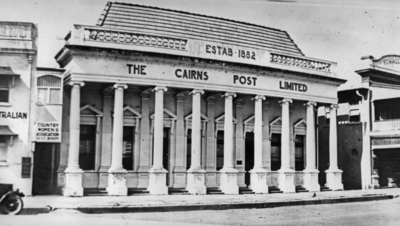 "It's not a Queensland heritage listing but no-one's going to knock it down, they'd have a fight on their hands if they did," he said.
"The front is of heritage significance.
"I don't think it's going away."
Mr Betros's previous sales include the similarly historic Bolands Centre and The Chambers building in Cairns.
"They're no big deal as long as the buyer recognises what their buying and what they're doing," he said.
"Behind the facade it needs modernising and refurbishment, which can be quite easily done.
"Structurally we believe it's quite sound."
The Bolands Centre sold for $23.5-million but Mr Betros wouldn't be drawn on what he believes the Cairns Post building will go for.
"I can't quote any prices at the moment," he said.
"I've got a list of people waiting for the information.
"I think it would fit in well with the cultural precinct and it would be good to see someone buy it and incorporate a community purpose."
In 2016 Cairns Regional Council purchased and then refurbished the city's historic Court House building, however Mayor Bob Manning told Tropic Now the newspaper building is not in its sights.
"Cairns Regional Council has no intention of buying the Cairns Post building," he said.
The property will officially hit the market in a few weeks with expressions of interest closing at the end of June.
Tropic Now has contacted the Cairns Post for comment.
news alert
sign up for your free weekly guide