Tropic's pick of the best eggplant dishes around Cairns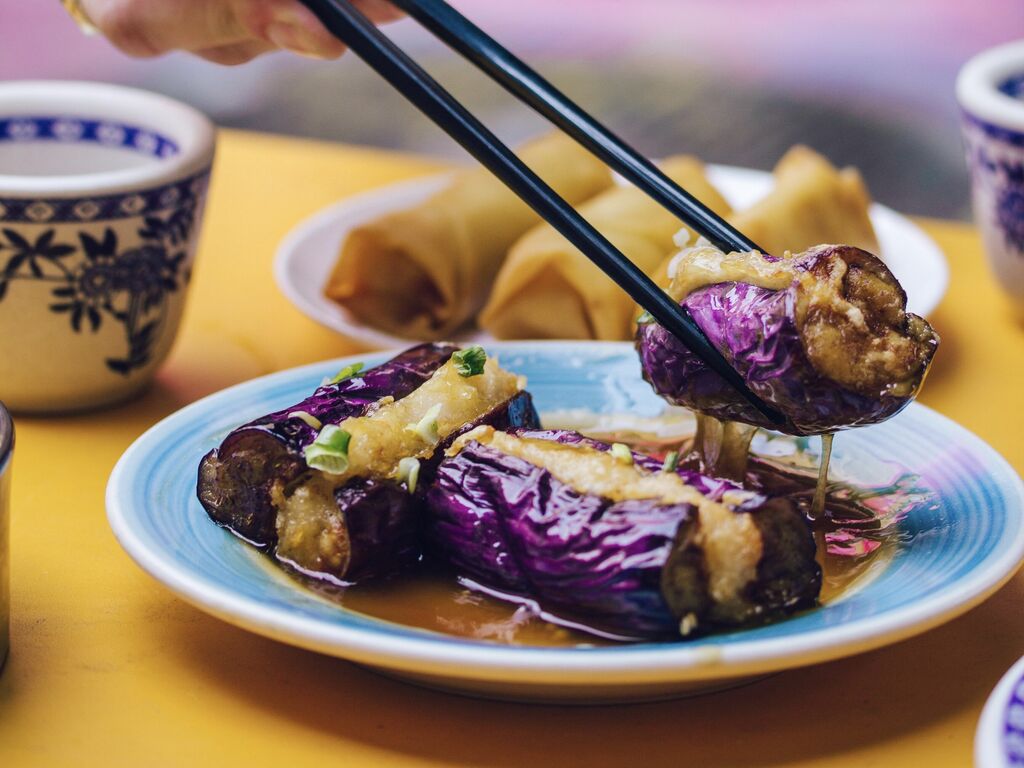 Eggplant. Aubergine. Brinjal. The baddest emoji around.
Whatever your relationship to this plump, purple fruit, eggplant has emerged as a hero in modern plant-based eating.
Matched with sugo and mozzarella in a classic Italian parmigiana or broken down into a garlic-y baba ganoush, eggplant is able to bend to our whims in a multitude of ways.
The Tropic team's undertaken the hard task of finding the very best of those ways in and around Cairns.
##BA##
Moussaka of eggplant with seared scallops, taramosalata, tomato and fennel salsa. So simple, yet so decadent.
Melt in your mouth textures, just like a moussaka should be, but with a fresh pop of fennel and lime.
Maman (French for mum and pronounced ma-mo) are experts in everything Mediterranean to Middle-Eastern food.
The menu features starters, small plates and mains, making it the perfect "order everything and share" destination.
Our only complaint is that this is a small plate dish.
We also recommend the broad bean spread with roasted garlic ricotta – paired with pita, of course.
GO THERE: 6 Grant St, Port Douglas
Nu Nu's yellow bean eggplant draws inspiration from the Japanese classic nasu dengaku, otherwise known as miso-glazed eggplant.
This dish sees the plant steamed into submission before being lathered in a rich, sweet and spicy relish.
After caramelising in a hot oven, the charred but soft halves are served alongside smoked eggplant purée (yes, more eggplant) and crowned with roasted sesame seeds, deep-fried chillies and crisped garlic.
This dish is particularly excellent when shared among friends, but we think it's equally delicious consumed on one's own.
GO THERE: 1 Veivers Rd, Palm Cove
Is there a more perfect pairing than eggplant and labneh? Unlikely, but we're open to suggestions.
At Mama Coco, one of our city's best brunch haunts, you can find this beautiful collection of all the good stuff: eggplant, labneh, poached eggs, chilli, coriander, capsicum and cherry tomato sugo, topped with a za'atar flatbread.
This Middle-Eastern bowl of magic is a long-standing favourite on the cafe's largely rotating menu, and for good reason.
Mama Coco's coffee is excellent too.
GO THERE: 4/196 Mulgrave Rd, Westcourt
While they may not be 'main meals' – although we would strongly oppose the notion that a bowl of baba ganoush and pita isn't a nutritious dinner – it's worth mentioning the many other delightful iterations of eggplant around Cairns.
In the Rusty's shed you can find oozy Greek moussaka nearby Billy's Coffee, a spicy Sri Lankan eggplant curry at Cecil's, and of course, baba ganoush at Hasham's Dips.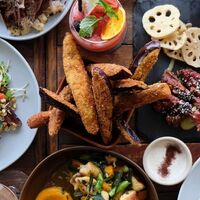 Every time we eat at NOA we can't go past the eggplant chips, coated in panko crumb, polenta and fennel seeds and served with raita.
Edge Hill is also home to another authentic nasu dengaku dish at Haruka, a hidden gem for Japanese food in Cairns.
Back in the city, Golden Boat serves prawn and eggplant rolls on the best yum cha menu in Cairns.
What's your favourite form of eggplant? How do you think this violet vessel of deliciousness is best treated? Let us know on Instagram.