Cyclone Kimi set to dodge Cairns, hit Hinchinbrook Island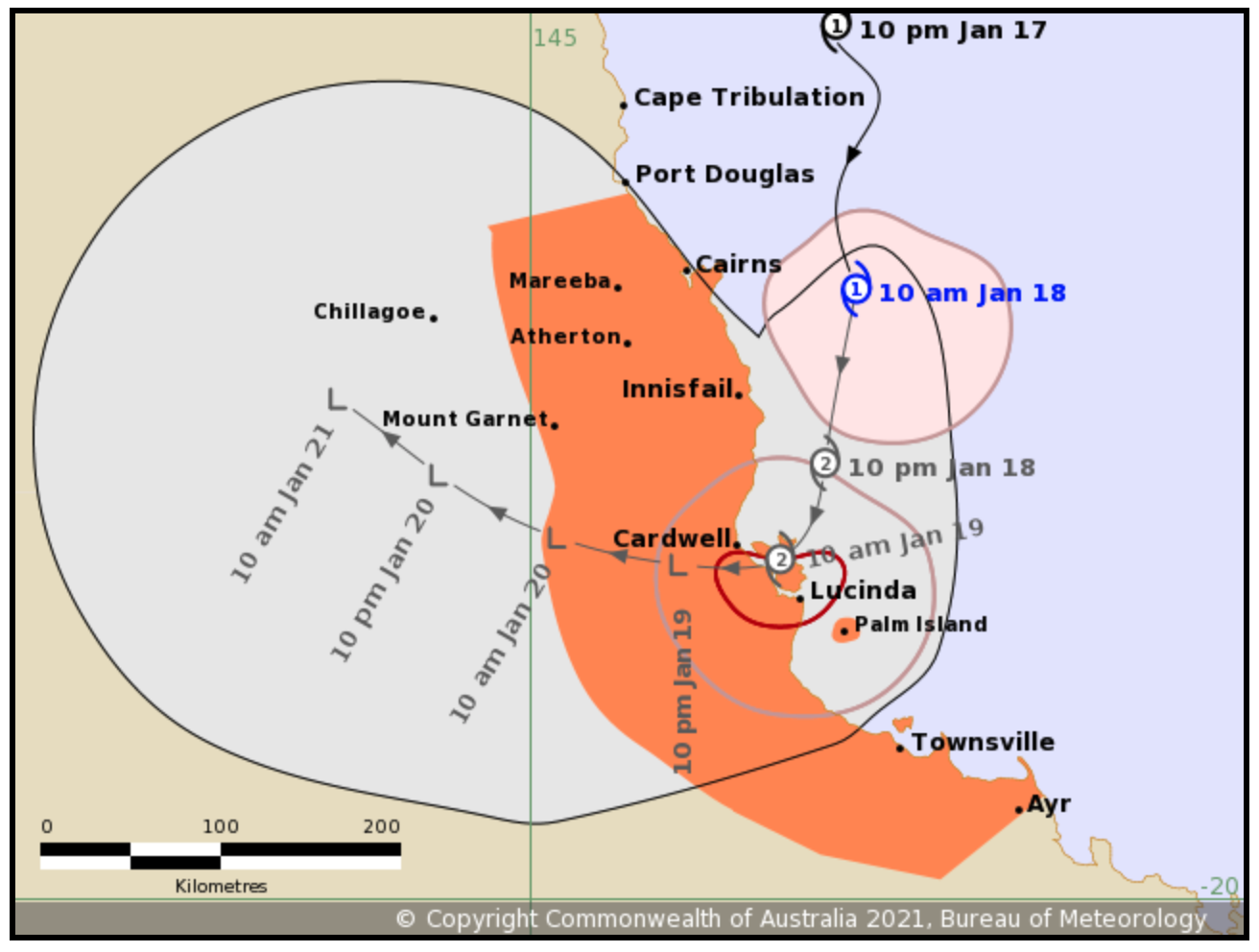 ---
Tropical Cyclone Kimi is currently moving slowly southwards, just off the Tropical North Queensland coast
Based on the current forecast track, the cyclone may cross the coast overnight or Tuesday morning between Innisfail and Lucinda, however "considerable uncertainty" remains with the crossing time and location.
The cyclone may intensify a little over the next 24 hours and could reach Category 2 before crossing.
---
---
The warning zone currently covers Port Douglas to Ayr.
People within this area should immediately commence or continue preparations, especially securing boats and property using available daylight hours.
---
BOM information as of 10:00am, January 18.
Intensity: Category 1. Sustained winds near the centre of 85 kilometres per hour with wind gusts to 120 kilometres per hour.
Location: 90 kilometres east of Cairns and 250 kilometres north of Townsville.
Movement: South at 12 kilometres per hour.
The next BOM Forecast Track Map will be issued by 2:00 pm today.
---
HAZARD WARNINGS
Destructive winds with gusts to 130 km/h may develop about coastal and island communities between Innisfail and Lucinda this evening or Tuesday morning as the core of the cyclone approaches.
Gales with gusts to 120km/h could develop later today about coastal and island communities between Port Douglas and Lucinda. Gales may also extend southwards to Townsville and Ayr on Tuesday depending on the movement of the cyclone.
Heavy rainfall with the potential to produce flash flooding and major river flooding is expected to affect coastal and adjacent inland areas between Cairns and Townsville tonight and on Tuesday. A Flood Watch is current for this area; refer to that product for more detail.
Abnormally high tides are likely today as the cyclone approaches the coast. A storm tide is possible between Yarrabah and Lucinda, but the sea level should not exceed the highest tide of the year. Large waves are likely along the beachfront.
---
Cairns Central Shopping centre is now open today, after initally planning to close.
Cairns Botanic Gardens and the Arrow tracks have reopened after closing at 3pm yesterday.
While the brunt of the cyclone is expected to avoid Cairns, local residents are still urged to familiarise themselves with the Cairns Disaster Dashboard.
Bringing together information from Council, BOM, emergency services, utilities, road status updates, and traffic and flood cams, it is a single point of reference for information and advice during a disaster.
Cairns Local Disaster Management Group Chair Cr Terry James said the user-friendly dashboard allows residents to keep themselves informed during a natural disaster.
"During an emergency the dashboard is updated in real time with things like road closures, power outages and notifications of any shelters that may be opened," Cr James said.
The Cairns Botanic Gardens and the Arrow tracks on Mt Whitfield are currently closed until further notice, while the Daintree Ferry will close from midnight tonight.