15-year-old carjacking suspect arrested over a series of violent robberies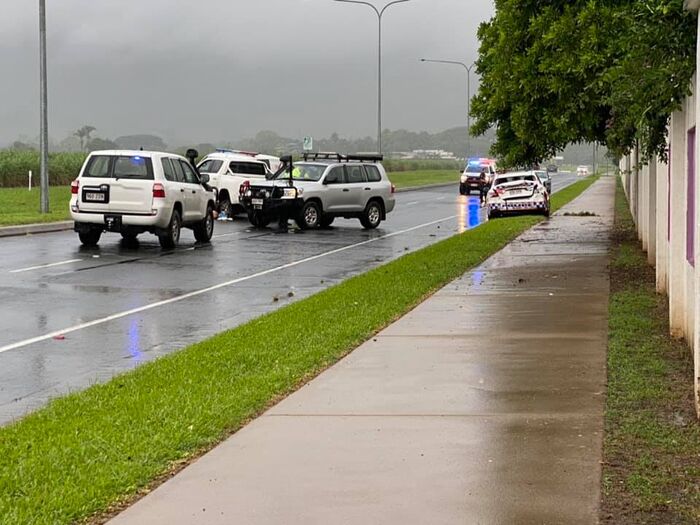 ---
Police have arrested and charged a 15-year-old Atherton boy with 22 offences.
The boy is accused of two carjacking incidents yesterday and a series of violent robberies earlier in the week.
It will be alleged the boy and another youth are responsible for a number of offences across Cairns and the Tablelands region, including multiple car thefts, driving a stolen vehicle around a Mareeba school grounds as children were on their morning break, and ramming a stolen vehicle into police cars.
Acting Detective Inspector Kevin Goan has described the offences as "extremely appalling".
"What is concerning to us is these attacks have been cowardly, these attacks have been focused on vulnerable persons," Officer Goan said.
"Women aged in their mid 70s and in their late 80s were the victims of these attacks."
---
---
JANUARY 26
Police say the 15-year-old Atherton boy was involved in the armed robbery of a Whitfield business on Tuesday morning, before fleeing the premises with cash, cigarettes and a charity tin.
JANUARY 27
It will be further alleged on Wednesday morning, the boy attended an Earlville shopping centre and approached a 49-year-old female, grabbed her handbag and fled with cash and several personal items.
Soon after police located the boy at an Ishmael Road unit complex, where it will be alleged he ran onto Ishmael Road and stopped several vehicles by running in front of them.
"The boy unsuccessfully attempted to open the doors on one vehicle before violently removing a man from a red Mitsubishi station wagon," a police spokesperson said.
"Over the following hours the boy was observed to be driving around the greater Cairns region at high speeds whilst cutting off other road users.
"It will be alleged the boy drove to a Hambleton Road business where he stole fuel before driving the vehicle to the Tablelands region."
At approximately 8pm that day, the suspect attended a Byrnes Street food business where police say another boy ran from the vehicle, approached a female victim and stole her handbag containing personal items, identification and a mobile phone.
A short time later the vehicle was abandoned and located by police in Atherton.
JANUARY 28
Yesterday, two boys are accused of entering an Elizabeth Street home in Atherton where they will be alleged to have approached an 89-year-old woman eating breakfast.
Police say the 15-year-old boy threatened the woman with a bladed edge weapon and a screwdriver, demanding vehicle keys. Unable to locate keys, the two boys fled the house.
It will then be alleged the pair approached a woman on Mabel Street, Atherton, where they violently stole her handbag and car keys.
The 15-year-old boy is accused of using the keys to steal the woman's vehicle, a Silver Holden Hatchback.
Police will allege the pair then attended a Louise Street food business, approached another woman and stole her handbag containing several identification cards and cash.
"Consistently evading police, the boys allegedly drove through the locked gates of a Mareeba school before driving around the school grounds whilst the children were on their morning break," a police spokesperson said.
"The boys allegedly then drove the vehicle to Kuranda where the vehicle was abandoned and later located by police.
"The boys have approached a 41-year-old woman on Meeroo Street before assaulting her and stealing the keys to a grey Honda station wagon.
"The boy allegedly stole the vehicle and drove it towards Cairns.
"It will be alleged the boy drove to a McLaughlin Road business where he approached a woman and stole her purse."
The boys then allegedly drove the vehicle to Cairns Central where they attempted to forcibly stop several vehicles before abandoning the Honda station wagon.
The boys are then accused of approaching a 47-year-old woman in her vehicle, a white Toyota utility, in the complex carpark.
It will be alleged one of the boys assaulted the woman before violently removing her from her vehicle and stealing it.
Police say the vehicle was driven from the shopping complex, destroying security gates.
The vehicle was pursued towards Edmonton where officers successfully deployed a tyre deflation device.
"The vehicle was blocked in, the offenders chose to drive at police, colliding with police vehicles," said Officer Goan.
"The vehicle was (then) rendered inoperable, and the offenders took off on foot.
"The Police Dog Unit was engaged and one of the offenders was tracked relatively quickly and taken into custody."
The 15-year-old boy has been charged with 22 offences including:
Five counts of armed robbery.
Three counts each of dangerous operation of a motor vehicle and stealing.
Two counts each of:
Attempted robbery
Stealing from a person
Unlawful entry to a vehicle
One count each of:
Entering a dwelling with intent
Obstructing police
Serious assault of a person over 60
Unlawful use of a motor vehicle
Wilful damage
The boy was denied bail and is scheduled to appear at Cairns Children's Court today.
Investigations are continuing to locate a 16-year-old boy of Aboriginal and Torres Strait Islander appearance, also alleged to be involved in yesterday's events.
If you have information for police, contact Policelink on 131 444.