"No meteorological explanation" for Cairns' eerie orange sky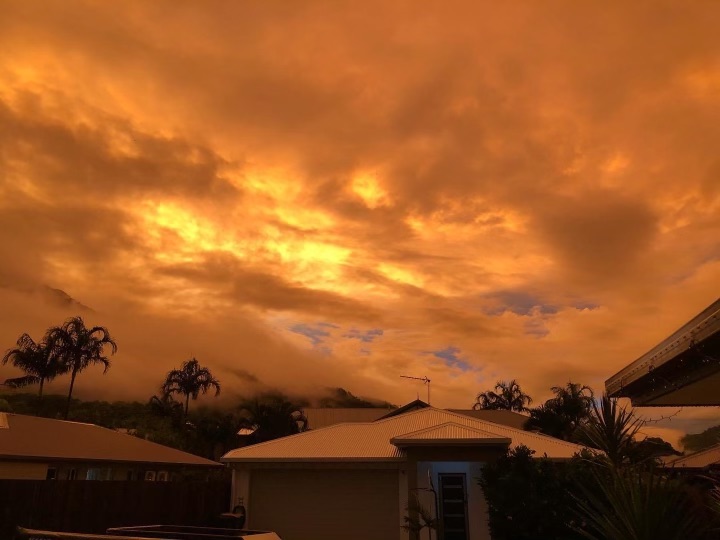 ---
Who could have missed the sunset yesterday?
At around 7pm yesterday, not long after Cairns recorded 70mm of rain in a one-hour period, the city was submerged in an intense orange glow.
Locals are saying they've never seen anything like it, but BOM meteorologist Pieter Claassen told Tropic there's "no meteorological explanation" for last night's vivid display of colour.
---
---
"With all the rainfall associated with ex-Tropical Cyclone Imogen this week, there's high level cloud and humidity," he said.
"The light really illuminated due to the moisture and all the water droplets in the air.
"It's a similar effect when there's a bushfire and lots of smoke particles in the air.
"Other than that, there's no meteorological explanation for the colour being so intense."
Pieter said Cairns can expect a similar level of rainfall today to yesterday's recordings of around 100mm.
Cairns Racecourse recorded 127mm in the 24 hours prior to 9am this morning, with much of that falling between 5-6pm.
Cairns Airport recorded 70mm between 5-6pm yesterday.
"While Cairns is out of the severe weather warning zone now, the rain won't really ease over the week," Pieter said.
"There'll be regular thunderstorm activity and potentially heavy falls in the evenings, and a chance of lighter showers around the coast in the mornings."
A final flood warning is in place for the Mulgrave and Russell Rivers.
Do you have any photos or videos of the crazy weather in Cairns this week? Share them on our Facebook post here.