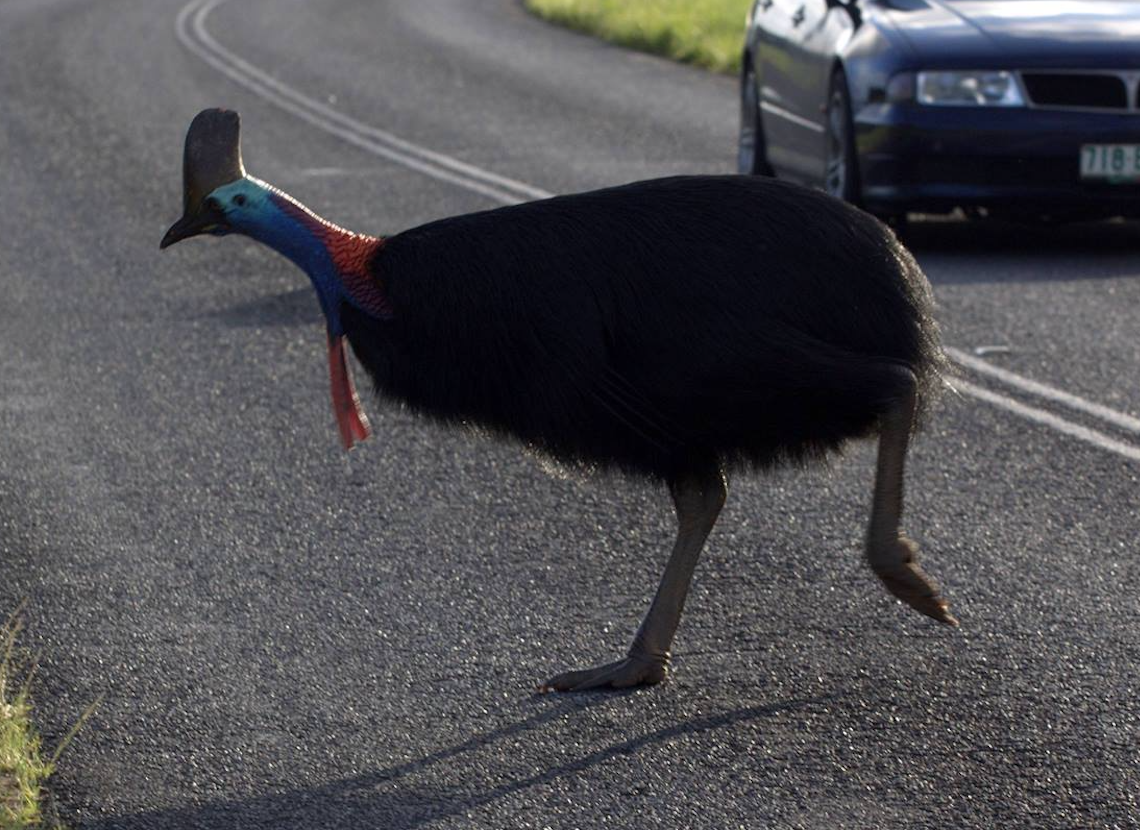 ##MainPoints##
A 'well-behaved' cassowary which left shoppers gobsmacked as it strolled through Innisfail's town centre has now returned to rainforest habitat.
However, experts are still scratching their heads as to why it entered such an urban area in the first place.
The adult bird casually wandered through the main streets on Friday, even crossing the road at a busy pedestrian crossing at one point.
Conservationist Liz Gallie of Mission Beach Cassowaries told Tropic Now it's still not known which direction the bird came from.
WATCH THE VIDEO BELOW
##ArticleBannerAd##
"Cassowaries live to around 50 years and once an adult they establish a range and stay there for life and that's why it's unusual," she said.
"It would have had to come over a bridge any which way and I don't know why it would have wandered that far into a built-up area.
"It could have been chased."
The good news is that wildlife officers are now keeping an eye on the bird and so far, it hasn't returned to town.
"From the video footage received the cassowary appeared to be in very good condition, and it was pleasing to see that the bird remained calm, displayed no aggressive behaviour, and did not approach people for food," a spokesperson for the Department of Environment and Science (DES) said.
##ArticlePullQuote##
"The cassowary was last sighted moving into a strip of vegetation in Innisfail beside the Johnstone River."
The Department has thanked people who took care to drive slowly and avoided approaching the cassowary.
"If you find yourself within close proximity of a cassowary do not approach it, back away slowly, making no sudden movements," the spokesperson said.
Ms Gallie also has advice for people who experience any similar future encounters.
"As long as no-one's feeding them and everyone's got their dogs restrained just let them go, keep out of their way," Ms Gallie said.
"But the big one is don't feed them!"
Over the past two years, 46 cassowaries have been killed or injured by vehicle strikes in Far North Queensland, which represents around one per cent of the total cassowary population in the Wet Tropics Region.
Sightings should be reported to DES by calling 1300 130 372.
Main points
An adult cassowary wandered through Innisfail's town centre on Friday
It was even spotted crossing a busy road at a pedestrian crossing
It's still not known where the cassowary came from or why it entered the urban area
DES even received reports of this 'well behaved' cassowary crossing one of Innisfail's busier streets at a zebra crossing