Tropic's choice of the best arancini in Cairns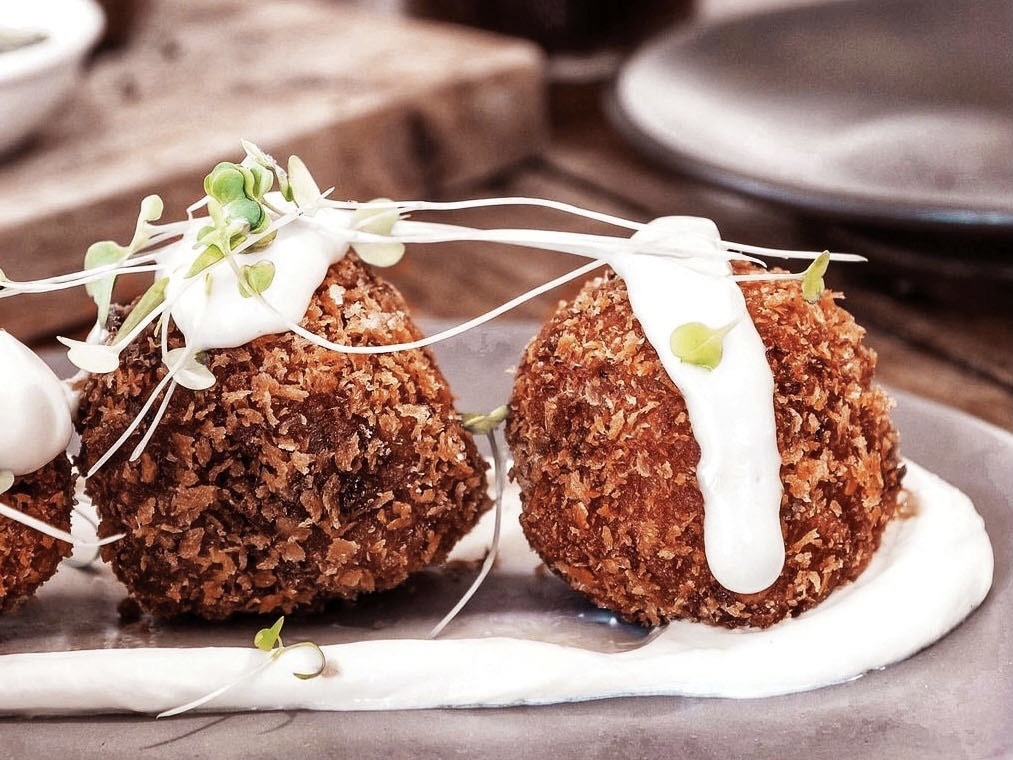 Soh Bae taste-tested her way around town to give us a run-down on the best arancini in Cairns.
Arancini is a traditional Italian dish from Sicily and is usually eaten on the feast day of St Lucia, December 13.
They are deep fried golden balls of rice with a crunchy breadcrumb coating and a centre of minced beef and mozzarella cheese oozing from the centre.
There are lots of filling variations such as mushroom, porcini, diced ham, or vegetarian.
The size and colour of arancini gives it the Italian name arancia or arancini, meaning small orange.
##BA##
Vitalia's in The Pier dishes out three styles of arancini: truffle, curry, and traditional with beef ragu, peas, Napoli sauce, and provolone cheese.
They're served as singular, palm-sized arancino – perfect for splitting open and seeing the happiness ooze out – except the truffle arancini, which comes in three delectable delights.
I wish I could bring these arancini home with me to eat every day.
GO THERE: Shop G/9 Pier Point Rd, Cairns City
Ozmosis Kitchen in Edge Hill serves up a truffle oil, smoked cheese, and forest mushroom arancini with basil aioli.
As soon as I took a bite, the intoxicating taste of truffle spread over me.
These arancini are so smooth, you wouldn't even know it was rice!
GO THERE: 1/116 Collins Ave, Edge Hill
Spoil yourself at Hopscotch with a serving of four porcini mushroom and walnut arancini.
I found a big difference when eating the arancini with the rocket and aioli garnish, instead of on its own.
The taste of the arancini is much richer with the sauce.
GO THERE: 532 Mulgrave Rd, Earlville
NOA's forest mushroom arancini with truffle aioli and shaved parmesan are perfectly plated for an Instagram shoot.
The deep-fried breadcrumbs on the outside are not greasy at all, super crispy and the inside rice was cooked to perfection – not too watery, not too hard, and awesomely creamy.
GO THERE: 1 Pyne St, Edge Hill
Another truffle arancini, but who's complaining?
Try out the tomato, mozzarella and truffle-loaded arancini from Coco Mojo's in Clifton Beach.
The smell of truffle excited me before I even took a bite of this decadent dish.
GO THERE: 14 Clifton Rd, Clifton Beach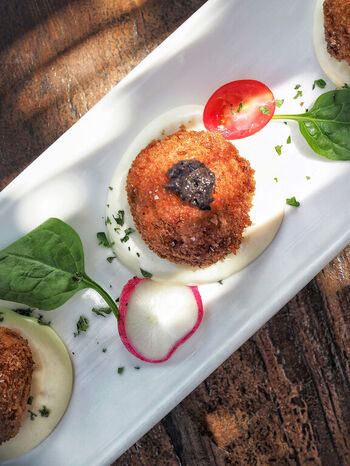 Since releasing this story in Tropic Magazine Issue 28, we've had a few locals let us know of some other great arancini makers around Cairns.
One impassioned Italian told us Hungry Nomad do the best, whether it's their oatmeal stout, bacon and cheddar flavour or beetroot, feta and mint. Keep an eye out for their food truck at Macalister's, Laneway or other events around the city.
Gyorgi's Delights at Rusty's Markets makes delicious vegetarian arancini, while Angelo's Fine Foods in Portsmith – our favourite Italian deli – stocks everything you need to create these crispy pockets of deliciousness at home.
Angelo's may have even shared Nonna's recipe in our latest issue.
Where have you found some amazing arancini? Let us know.