Cairns sisters join Patty Mills to make Daintree-inspired eco-cups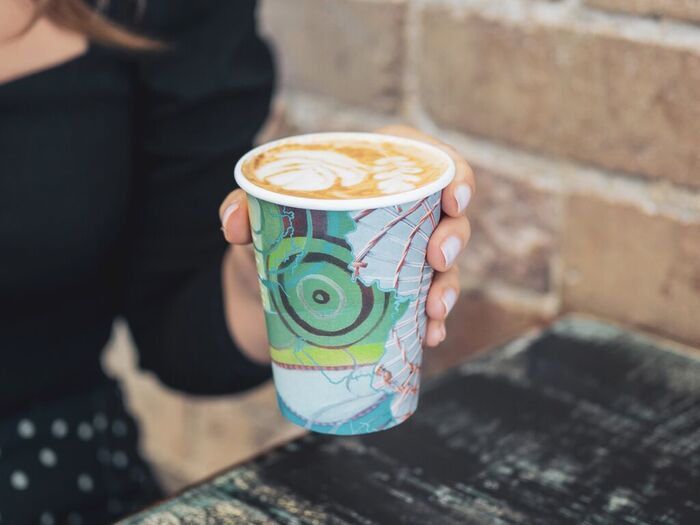 ---
Three-time Olympian and NBA star Patty Mills has joined Cairns-based artists, the Briscoe sisters, in creating a coffee cup to support Daintree rainforest preservation.
The design is part of a new international campaign Voices for the Rainforest, launched by Rainforest Rescue and BioPak.
Patty Mills and the Briscoe sisters are among a list of 18 globally-renowned artists and public figures part of the campaign, which aims to raise funds and awareness for the World heritage-listed area.
---
---
Kuku Yalanji artist Naurita Briscoe told Tropic Now the cups will reach coffee-drinkers across Australia, as well as New Zealand, Asia and Europe.
"It's my second time collaborating with Rainforest Rescue, but this time it's a worldwide campaign," she said.
"My sister Merindi Schrieber and I are Kuku Yalanji women from Mossman and Daintree.
"Our grandfather was born along Daintree and I was born along Mossman River.
"The artwork reflects our connection to bubu, which in our language is the land, and how strong our connection is with country.
"For Patty Mills, being over in America, it shows he's keeping his identity strong, no matter where he is.
"The weaving on the design is Marindi's art, handed down from Nannie Walker. She's carrying that on through.
"The cup also reflects the fibres we find in the rainforest, also part of our cultural identity.
"We want also to recognise that as the land is healing, we are healing. That's something we feel really strongly about."
Each cup, made entirely of plants and certified compostable, has a unique QR code inviting people to make a donation to the Voices for the Rainforest campaign.
Funds raised will go towards a new Rainforest Rescue nursery that will help grow 150,000 trees per year.