Cairns Taipans' last game at Snag Pit to showcase Indigenous cultures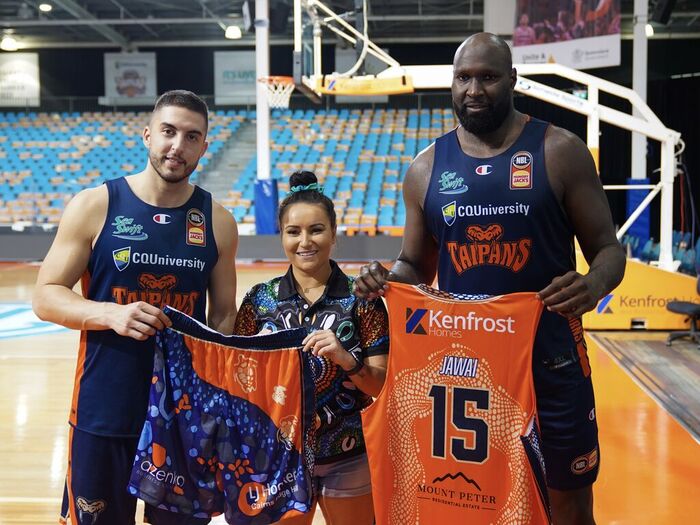 ---
Cairns Taipans are set to mark their last home game of the season – and last game in the Snag Pit – in a way that hits home for many players and supporters.
Opening the NBA's Indigenous round tonight, the Orange Army will don a special jersey designed by Kaiadilt artist and former Cairns local, Rhianne Williams.
The Taipans will host the Bullets tonight, Wednesday 26 May, from 7:30pm at the Pop-Up Arena.
---
---
Rhianne Williams, who's supported the CQUniversity Cairns Taipans for more than 15 years, told Tropic Now the inspiration behind her design, ngankirri (one mob).
"I am a descendent of the Kaiadilt people of Bentinck Island, part of the group of Islands in the South Wellesley Islands in the Gulf of Carpentaria," she said.
"I grew up in the small isolated Indigenous community of Mornington Island with my Mum and Dad and our extended Kaiadilt family before moving to Cairns to finish my schooling.
"My sister and I started painting and sharing our stories and teachings from our grandmother "Riningati" who we have named our art after.
"I have created a design that recognises and acknowledges four key [Cairns Taipans] Indigenous players – Tim Duggan, Deba George, Kerry Williams and Nathan Jawai – but also reflects all our Indigenous players across North Queensland and their cultural heritage.
"The tracks leading out from the centre of the jersey is a representation of the players and their connection with their respective communities outside of Cairns.
"The circle symbolises a meeting place where the players come and go to share their talents and love for the sport.
"The turtles are a representation of their families, their supporters and the symbolic meaning of longevity in many cultures.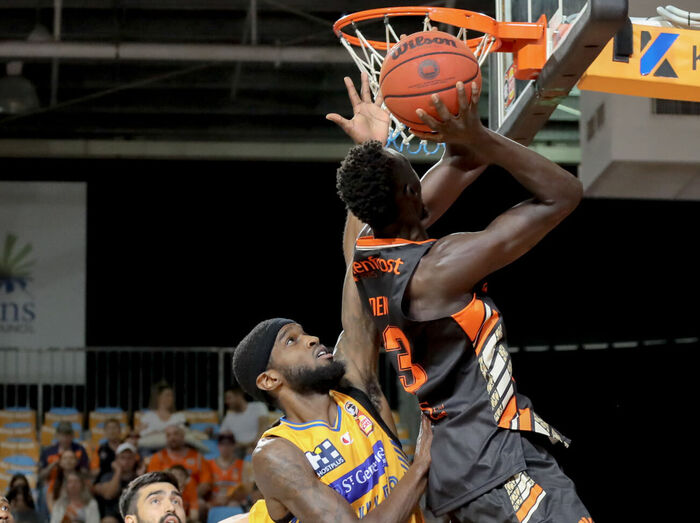 "The blue hues showcase our Great Barrier Reef, as one of the natural wonders in the world and located in our backyard.
"I want to bring a focus to the importance of us all taking care of our country, our land, our water and our cultural heritage.
"On the back, I have created the snake to not only remind our opponents of our lethal bite, but also to represent the team's growth in our community."
Taipans coach Mike Kelly said the new jerseys are a tribute to the many Indigenous players and supporters in Cairns.
"Nate is so proud of his family and culture that for us it's not just a week here or there, it's all season long that we're hearing about it and learning about it," he said.
"It's good to be at home again after a week away, for the last one of the season, so super excited to play Brisbane here at the Snag Pit.
"They're super talented, really high energy and offensive-minded, so we need to slow them down as much as we can."
Buy tickets to tonight's match here. A limited run of jerseys and shorts will be available to purchase at the game.
Player game-worn jerseys will also be auctioned after the game with proceeds going to the Taipans Indigenous Program (TIP).