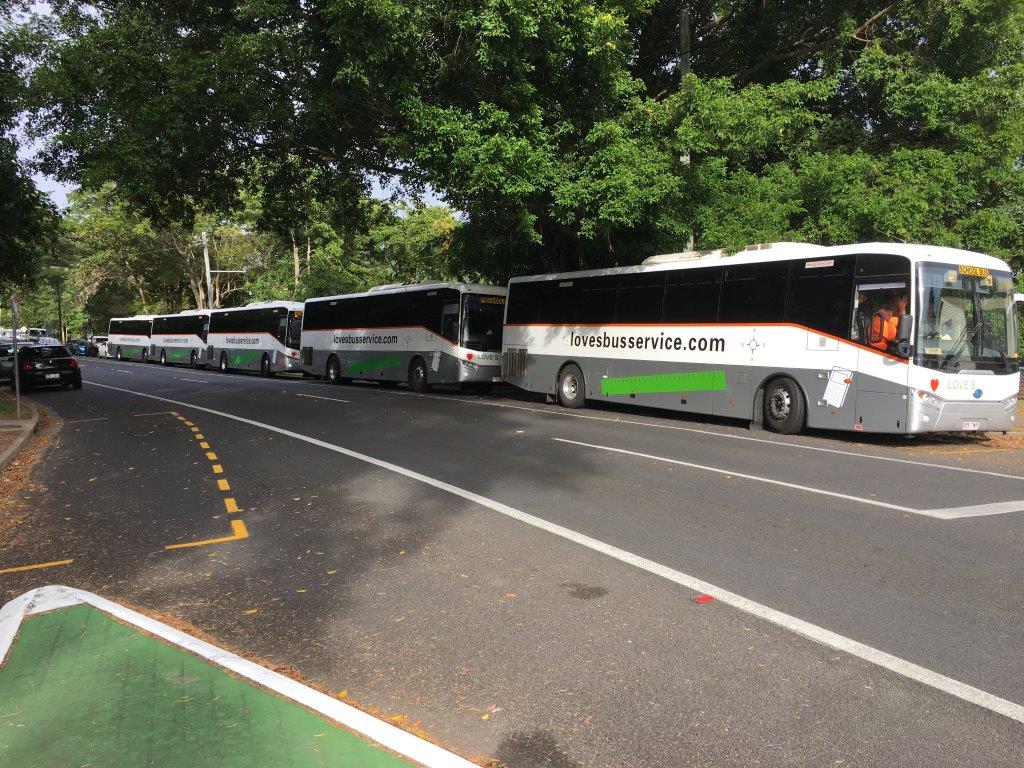 ##MP##
The Transport Workers Union (TWU) says bus drivers in Cairns could hold more industrial action if a stoppage tomorrow doesn't break a deadlock in negotiations over pay.
Sunbus and Love's Bus owner Kinetic has cancelled all services, including school runs, after union members voted to strike for 24 hours.
The TWU is calling for pay rises in line with increases in the Consumer Price Index (CPI), which stood at 3.8 per cent for the 202/21 financial year.
Instead, it says members have been offered raises of 1.75%, 3.25%, 1.75% and 1.75% over four years.
##BA##
A TWU spokesperson told Tropic Now they'd originally agreed to take non-disruptive action, including wearing protest paraphernalia, but were forced to walk off the job when they were told they'd be locked out of depots and have their pay docked.
TWU QLD/NSW Branch Secretary Richard Olsen said cancelling all services wasn't necessary.
He's calling on the State Government-contracted company to come back to the table.
"Sunbus is being ridiculous in their response by cancelling all services, and it's time for the State Government to step in and make sure their contractors are doing the right thing by their employees and the communities they're supposed to serve," he said.
"Bus drivers carry our most precious cargo – people.
"These drivers deserve a fair pay offer, not a pay cut.
##PQ##
Mr Olsen is warning that industrial action could continue into Christmas if Sunbus doesn't re-negotiate.
In a statement, Kinetic North Queensland General Manager Andrew Park said suspending all services tomorrow was the only option.
"Without a clear understanding of how many members will participate in this action, we are unable to safely guarantee reliable services," he said.
"As such, we are left with no alternative other than to suspend all Sunbus and Love's school bus services.
"We understand this will have a significant impact on the community and we apologise sincerely in advance."
Mr Park said the pay offer is among many concessions the company has made.
"We have agreed to 56 of the claims put forward by the TWU and other bargaining representatives and we are offering a generous wage increase which is among the best in Queensland," he said.
"It has become clear that the TWU are trying to align the expiry of as many Enterprise Agreements within Queensland as they can, to pave the way for state-wide industrial action which could cause mass disruptions to the public transport system."
"It is now impacting on our passengers, and we have no desire to engage in protracted negotiations."
PUBLIC TRANSPORT
INDUSTRIAL RELATIONS
Main points
Sunbus has cancelled all Cairns services, including Love's Bus school routes, in response to strike action
TWU members want pay increases in line with CPI - more than what Sunbus has offered
The union has warned of further industrial action
To be negotiating for eight months and not to budge at all - that's not what I'd call bargaining in good faith.