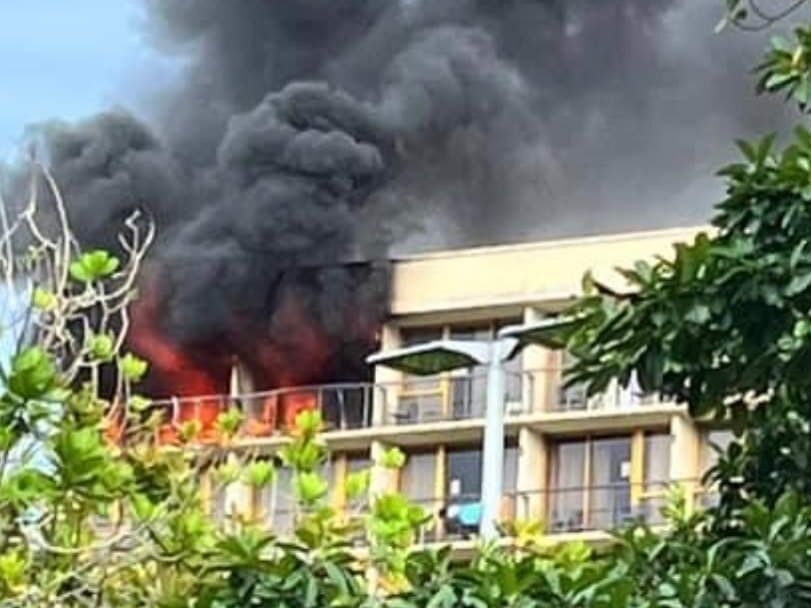 ##MP##
A woman charged with deliberately lighting a fire while in quarantine at the Pacific Hotel in Cairns has been denied bail.
Tessie Ann Merrypor appeared in the Cairns Magistrates Court via video link today charged with arson and wilful damage.
The 31-year-old woman and her children aged 10 and 11 had been in mandatory quarantine at the hotel since arriving from Melbourne on Friday.
Ms Merrypor's alleged to have lit the fire under her hotel bed on Sunday morning, destroying two rooms on the hotel's top level and leading to a major evacuation of more than 160 quarantining guests.
##BA##
From a watch house cell, Ms Merrypor waved to tearful members of her family in the courtroom.
Police Prosecutor Sergeant Amy Rennie told the court the alleged offending is an "extremely serious" example of arson.
"One of the considerations especially is the risk it posed to other members of the public, and also the level of damage," she said.
"The defendant also placed her two children at risk when she allegedly lit the fire and then fled.
"This also comes after previous behaviour that was outlined in the affidavit of trying to leave the COVID hotel and the damage of the door when she left.
##PQ##
"In my submission [Ms Merrypor] is very likely to be convicted of this offence, taking into account at this stage it is a very strong Crown case."
Sergeant Rennie said police estimations of damages are only "conservative" at this stage of the investigation.
While arson carries a maximum sentence of life imprisonment, the prosecutor presented a historic case of similar charges in which the defendant was sentenced to a head sentence of five years.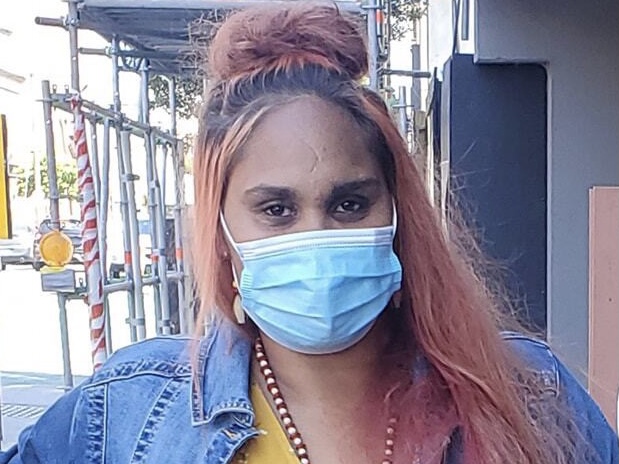 In applying for bail on behalf of his client, defence solicitor Joseph Rahim recommended that she remain in quarantine in the watch house until the end of her quarantine period.
"The only thing she talks about is the love of her children," he said.
"She is beside herself with respect to how her children are coping without her.
"In 31 years she hasn't committed a single offence or been charged of any offence – why would she commit them now?
"Her character, her associations, her home environment, her background – there's nothing to question, there's never been an issue."
The court heard mental health services assessed Ms Merrypor yesterday and today.
"She's willing to participate in any program that they see fit," Mr Rahim said.
"She presents extremely well, she engages, provides answers to questions.
"The report certainly does give me confidence."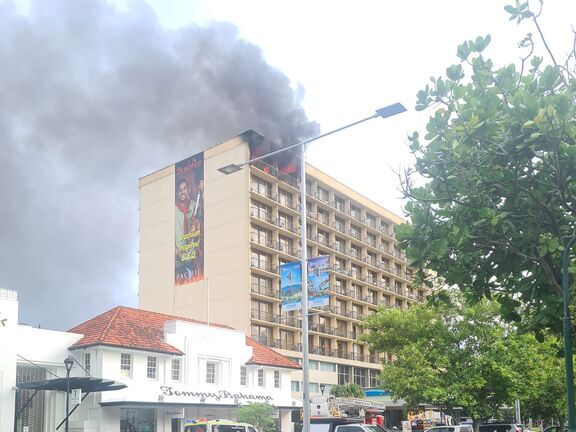 Speaking directly to the defendant, Magistrate Bevan Hughes denied the application.
"Granting bail to you Ms Merrypor would mean returning you to [hotel] quarantine," he said.
"My concern there is that increases the risk of reoffending because it's the very environment where the offences are alleged to have been committed.
"The bail affidavit refers to you being a long-term abuser of alcohol, showing a flippant attitude about your alleged actions.
"That concerns me because it also increases the risk of reoffending."
Ms Merrypor then asked the Magistrate if she could be held in a lower floor of a quarantine facility if granted bail.
##PQ2##
The defendant's plea was quickly cut short at Mr Rahim's request.
"The offence of arson is serious and as Mr Rahim – your solicitor – pointed out, carries a maximum sentence of life imprisonment," Magistrate Hughes said.
"Although they are only allegations at this stage the circumstances of the offending are concerning.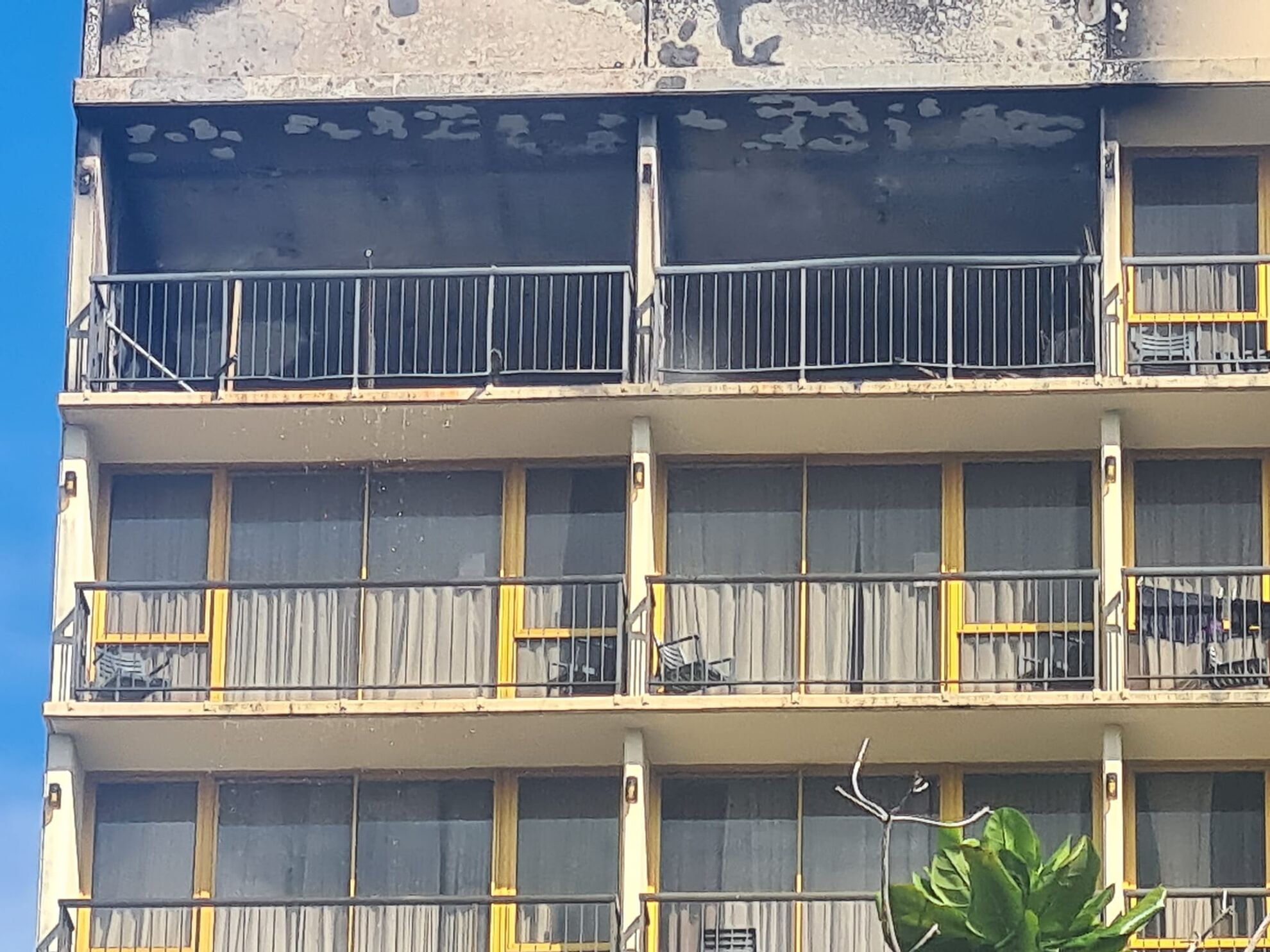 "If proven they show a disregard for life and property including staff, guests, your children and yourself.
"The results could have been catastrophic.
"In addition the increased COVID risk due to evacuating over 160 guests in quarantine.
"I find that there is an unacceptable risk that if released on bail you would commit an offence or endanger the community.
"Because of the strength of the Crown case and the prospect of imprisonment if you are convicted, I consider this risk outweighs any time in custody pending the hearing."
Ms Merrypor's matter was adjourned to 19 January 2022, with a brief of evidence due the day prior.
Main points
Tessie Ann Merrypor has been denied bail on one count each of arson and wilful damage
Cairns Magistrates Court today heard the 31-year-old mother is alleged to have lit a fire in the Pacific Hotel while quarantining with her children
Her matter was adjourned to a committal hearing on 19 January
The objection material outlined a lack of remorse and regret, that she wanted to get out of hotel quarantine, that she laughed and was flippant with her actions.
I was stuck in a box and I couldn't get out.