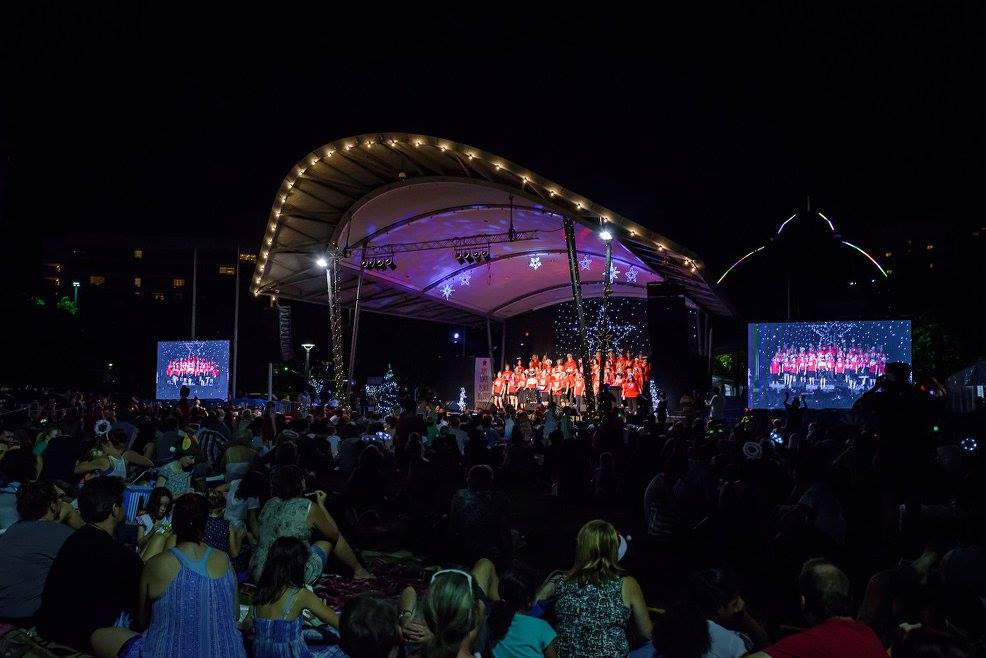 ##MP##
Cairns Regional Council has confirmed there will be no Carols by Candlelight concert in Fogarty Park this year, with entertainment once again being broadcast online.
The Council has cited uncertainty about COVID-19 restrictions for the decision at a time when planning needed to begin.
Today, the Cairns State High School choir travelled to Palm Cove to record its performance for the movie.
SEE THE VIDEO BELOW
##BA##
Cairns Regional Council CEO Mica Martin said last year's film reached an audience of 34,000 people across the globe.
##PQ##
"This followed the very successful 2020 Carols in Cairns movie, an 80-minute showcase of music and dance performed by Cairns locals against the backdrop of iconic Far North locations ... with the format promoting not just our local talent but the region as a tourism destination," she said.
"As the country moves towards living with COVID and restrictions on gatherings unlikely, we are expecting that a more traditional Carols by Candlelight event will return for Christmas 2022."
This year's Christmas Carols in Cairns will feature 28 local acts from school choirs to retirement home residents.
It will be screened on 19 December.
In a normal year, the Carols By Candlelight concert doubles as the major fundraising opportunity for the Mayor's Christmas Cheer Appeal.
Mica Martin told Tropic Now other events have helped to raise money this year and the community's Christmas spirit remains strong.
"While Council's in-person event won't go ahead this year, we are supporting a number of community-run events through grant funding, giving residents a chance to celebrate with their friends and family," Ms Martin said.
"Council has so far raised more than $78,000 towards providing hampers for residents who need some extra support over Christmas."
You can watch the Carols in Cairns movie from 19 December on Cairns Regional Council's YouTube channel.
COVID-19
EVENTS
CHRISTMAS
Main points
There will be no Carols by Candlelight in Fogarty Park this year
For the second time, entertainment will be broadcast online
Cairns Regional Council said the decision was made during ongoing uncertainty over COVID-19 restrictions
The decision to proceed with an online Carols event was made by Councillors earlier this year when there was still ongoing certainty about COVID-19 restrictions.