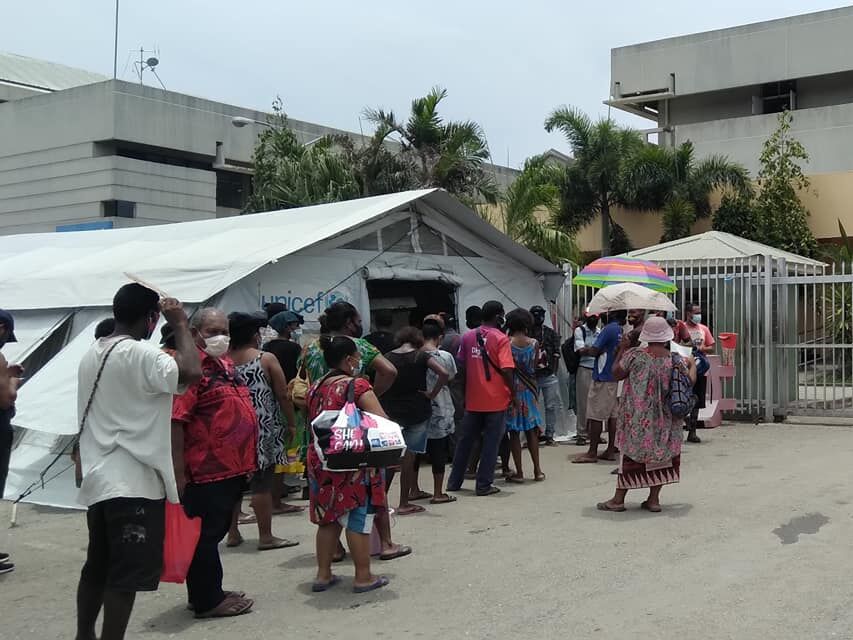 ##MP##
Australia's nearest neighbour, Papua New Guinea, is once again in a COVID-19 crisis, with bodies being piled up in hospital morgues as 82 per cent of COVID-19 tests return positive to the Delta variant.
Non-essential services in Port Moresby, Lae, Mt Hagen and Goroka have been scaled down to deal with rapidly growing cases.
A spokesperson for Port Moresby General Hospital said the facility needs immediate support.
##BA##
"People are dying without reaching the hospital," they said.
"Our mortuary recorded 50 deaths on admission on Monday, 40 deaths on admission on Tuesday and 30 deaths on admission Wednesday.
"The morgue is filled, with bodies packed on top of one another.
"Three more refrigerated containers have been installed to store dead bodies, but this is not enough.
"Some bodies were left outside for days because we just don't have space."
A mass burial of 200 bodies is being undertaken to free up space.
The hospital is also reporting its AUSTMAT (Australian Medical Assistance Team) triage tent, Emergency Department, Isolation Ward and COVID Ward are all full, with beds in other sections including the maternity wing allocated to COVID-19 patients.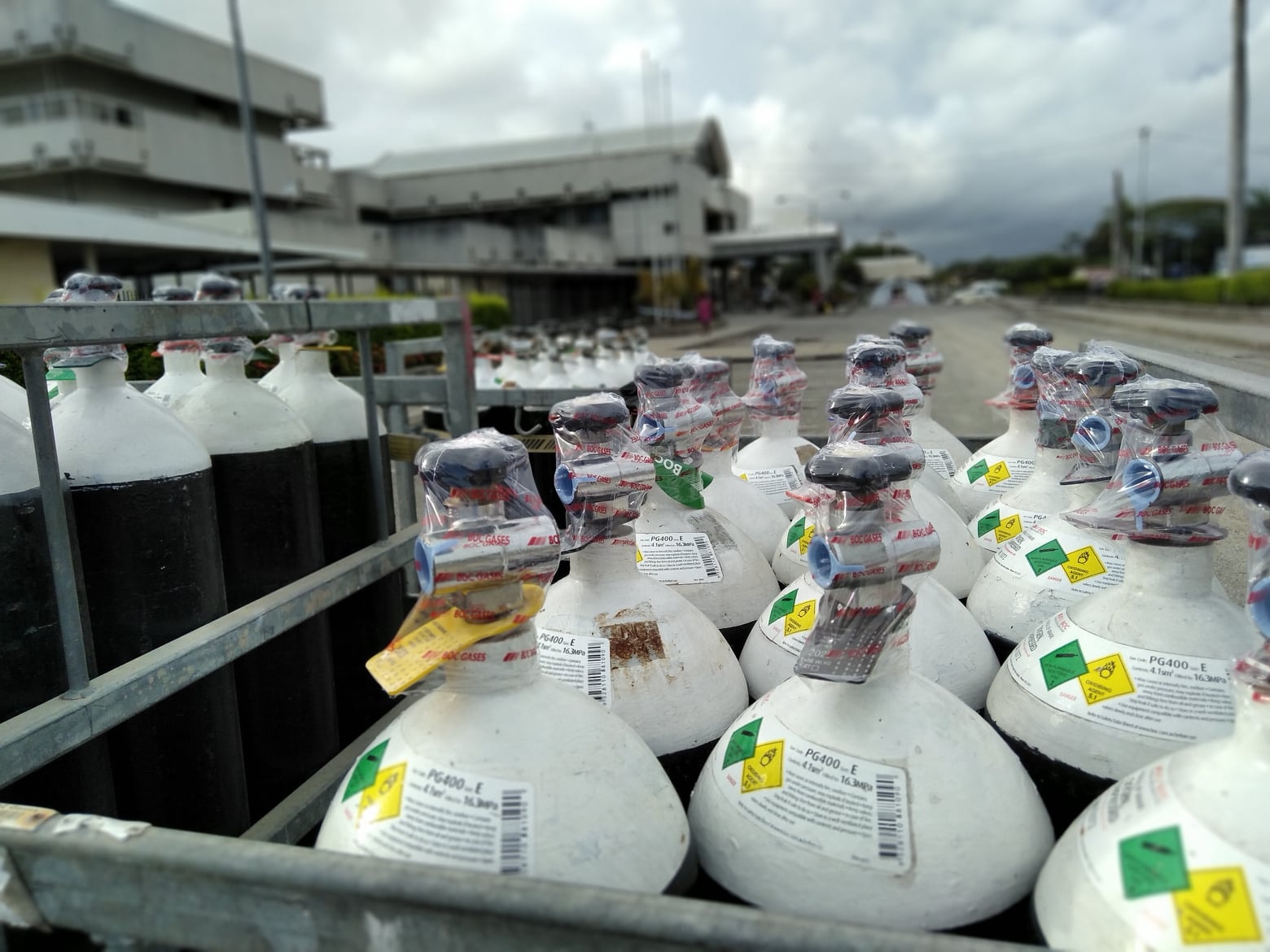 Almost 100 staff members have also been infected and are in home isolation.
"We are faced with a crisis where COVID patients are presenting in large numbers with shortness of breath requiring manpower to assist," the spokesperson said.
"The few staff left are overworked and fatigued and we need to recruit more staff urgently.
##PQ##
"Unlike our previous two waves, we are witnessing too many senseless deaths of young Papua New Guineans in their prime, with many more unvaccinated being admitted with severe illness."
The hospital is losing further staff to PNG's other provinces, as an emergency medical team is sent around the country.
In Goroka, oxygen supplies are almost depleted, body bags have run out and the morgue is full, while ANGAU Memorial Provincial Hospital in PNG's second largest city of Lae has set up a treatment site at Sir Ignatius Kilage Stadium.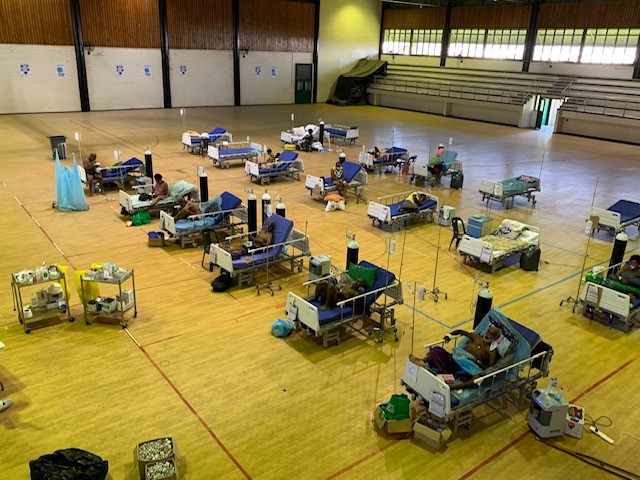 Jonathan Pryke, the Director of the Pacific Islands Program with the Lowy Institute, said vaccination rates in Papua New Guinea remain low, and what little testing is taking place paints a bleak picture.
"Of the 1,848 tests conducted across the country of more than nine million people between September 27 and October 3, 82 per cent tested positive," he said.
"Seven out of 10 people presenting at Port Moresby's largest hospital with symptoms are now testing positive.
##PQ2##
"Clearly, this is a recipe for catastrophe and indeed PNG's health system is already on the edge of a crisis."
"As its nearest neighbour, dear historical friend and most important bilateral partner, Australia has an interest and responsibility to do everything it can to help PNG avert disaster."
Australia's response
Another AUSMAT team was sent to the capital on Saturday.
The Department of Foreign Affairs and Trade has also sent vaccines, testing kits, and direct funding for health initiatives as part of its Papua New Guinea COVID-19 response.
A DFAT spokesperson wasn't available to speak to Tropic Now, however Member for Leichhardt Warren Entsch said the island of Daru on the PNG side of the Torres Strait also has high case numbers.
"This is what's been worrying me immensely," he said.
"60 per cent of all the trade store business on Saibai Island came from the treaty* villages before the pandemic.
"They are now being forced to go to Daru for supplies like fuel, rice, flour and oil and that is a major concern.
"However, the people in the treaty villages have been extraordinarily successful in getting double vaccinations – it was a very significant uptake.
"That was done through a ranger training program carried out by Cairns-based INLOC, backed by the Reef and Rainforest Research Centre and the Australian Government."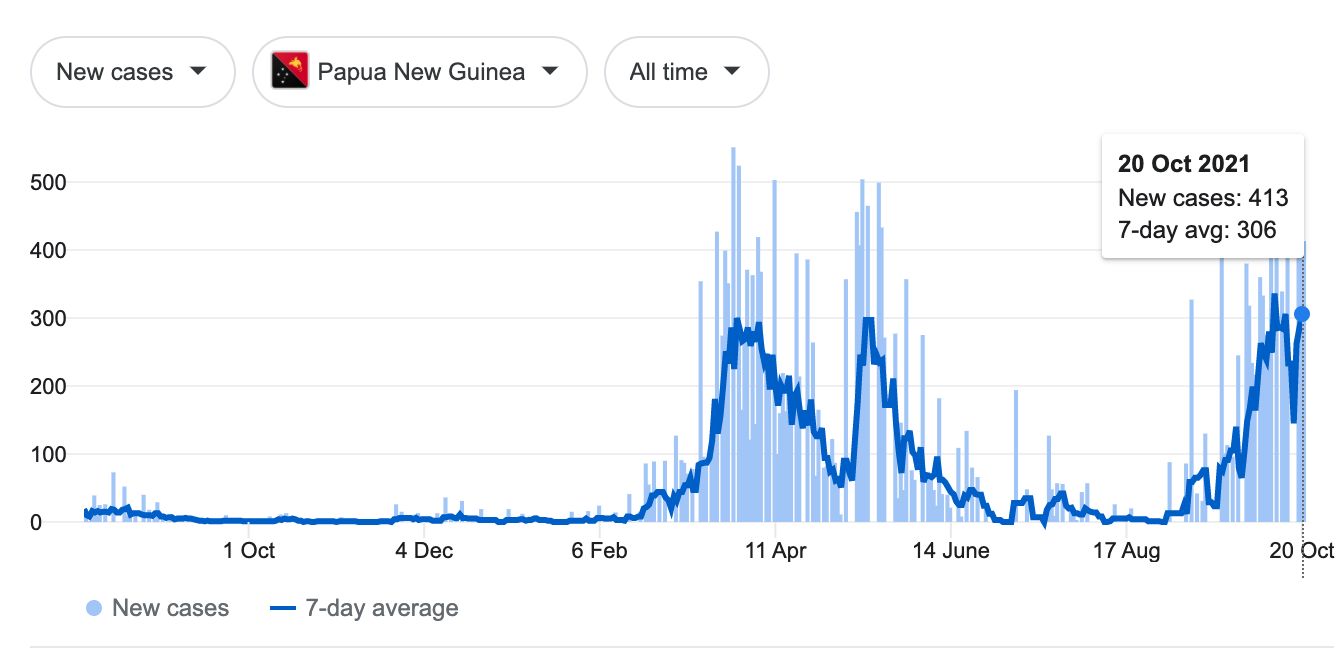 Mr Entsch said his main concern for the treaty villagers is the lack of food.
"DFAT keeps telling me they don't need help in relation to food but they do," he said.
"To go fishing, they need fuel.
"They are so desperate, so this would help both the Western Province villagers and mitigate the COVID-19 risk to those on Boigu and Saibai Islands in the Torres Strait."
*The Torres Strait Treaty provides a framework for the management of the common border area in the Torres Strait for those on the Australian side and those on the PNG side. Prior to COVID-19, people who lived in treaty villages could freely interact and trade across border lines.
Main points
Hospitals in Papua New Guinea are struggling to cope with a third wave of COVID-19
Limited testing is revealing high percentages of people infected with Delta
PNG has a COVID-19 vaccination rate of less than 2% of the adult population
Our staff are facing unprecedented mental health challenges, as we witness death tolls never seen in the history of our hospital.
As of October 3, only 140,000 Papua New Guineans had received their first jab, slightly more than 1.5 per cent of the country's adult population.