Tropical homes built for tropical living praised at annual awards
With our building industry showing signs of life as tourism starts to fuel positive economic activity, this year's Master Builders Awards was an upbeat celebration.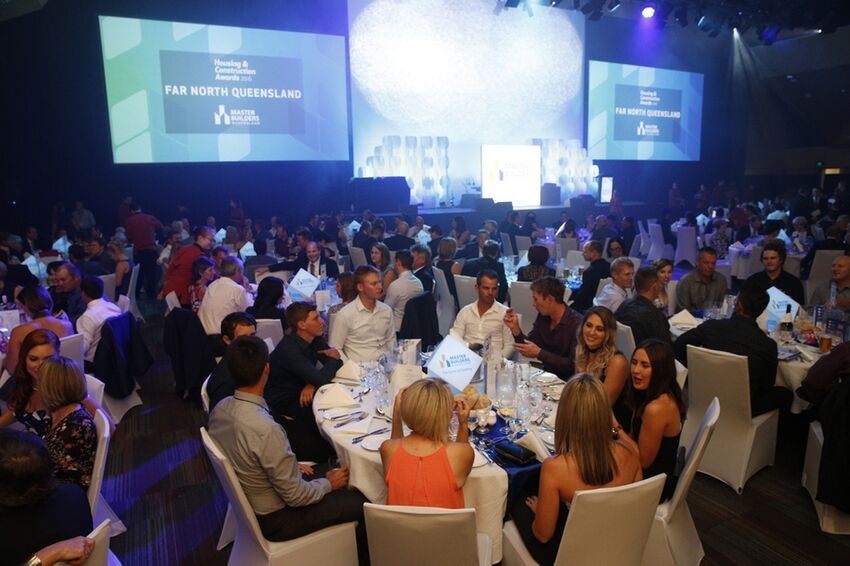 ---
Was there an extra sparkle in the grins of winners at this year's Master Builders Far North Queensland Housing and Construction Awards?
With building approvals steadily improving, record low vacancy rates set to fuel new home construction and tourism still booming, the annual building awards came at just the right time for an industry that has faced persistently tough times in recent years.
Major award winners at Saturday's gala affair at the Cairns Convention Centre were Ash Moseley Homes, Allaro Homes and F K Gardner and Sons.
Other big winners included MyStyle Homes with three awards, and Prime Constructions and Brendan Grant Homes with two each.
F K Gardner & Sons received the 2016 Far North Queensland Project of the Year for the Tjapukai Culture Centre Revitalisation, while the Far North Queensland House of the Year went to Ash Moseley Homes for their Marina Quay Project at Trinity Park.

Allaro Homes scored the Far North Queensland President's Award for the Allaro Display Home.
Local Master Builders boss Ron Bannah was thrilled to see the awards still attracting huge interest and entries after nearly 30 years.

"The standard we have seen this year is incredible and demonstrates the impeccable talent and expertise of our industry," Mr Bannah said.

"The Housing & Construction Awards provide an opportunity to recognise this talent, and it is great that after 29 years, they continue to be sought-after by the state's top builders and tradespeople."
---
Full list of Far North Queensland winners
Construction
Health Facilities up to $5 million – J Hutchison Pty Ltd T/A Hutchinson Builders
Education Facilities up to $5 million – Bryant (Qld) Pty Ltd
Education Facilities over $5 million – Hansen Yuncken Pty Ltd
Sporting Facilities up to $5 million – H P S (Qld) Pty Ltd
Community Service Facilities up to $5 million – Allan Sultana Constructions (Qld) Pty Ltd
Commercial Building up to $5 million – Prime Constructions (Qld) Pty Ltd
Commercial Building over $5 million – Prime Constructions (Qld) Pty Ltd
Residential Building (high-rise over 3 storeys) up to $20 million – Metrobuild Constructions Pty Ltd
Refurbishment/Renovation up to $2 million – M D Can-Do Construction Pty Ltd
Refurbishment/Renovation over $2 million – F K Gardner & Sons Pty Ltd
Housing
Display Home up to $250,000 – Value Homes (N Q) Pty Ltd
Display Home $251,000 - $300,000 – MyStyle Homes (Qld) Pty Ltd
Display Home $301,000-$350,000 – Allaro Homes Cairns Pty Ltd
Display Home $351,000-$400,000 – Lasspost Pty Ltd T/A Cairns Quality Homes
Display Home $401,000-$500,000 – MyStyle Homes (Qld) Pty Ltd
Individual Home up to $250,000 – Matt Greenwood Constructions Pty Ltd T/A Matt Greenwood Constructions
Individual Home $251,000-$350,000 – K N C B Pty ltd T/A Kenick Constructions
Individual Home $351,000-$450,000 – Ashlee Jones Homes Pty Ltd T/A Ashlee Jones Homes
Individual Home $451,000-$550,000 – James Nasser Constructions Pty Ltd
Individual Home $551,000-$650,000 – Brendan Grant Master Builders Pty Ltd T/A Brendan Grant Homes
Individual Home $651,000-750,000 – Ashlee Jones Homes Pty Ltd T/A Ashlee Jones Homes
Individual Home $751,000-$1.25 million – Brendan Grant Master Builders Pty Ltd T/A Brendan Grant Homes
Individual Home $1.26 million-$2 million – Moseley Holdings Pty Ltd T/A Ash Moseley Homes
Individual Home over $2 million – Moseley Holdings Pty Ltd T/A Ash Moseley Homes
Medium Density up to 3 storeys – 2 to 5 Dwellings – Allaro Homes Cairns Pty Ltd
Medium Density up to 3 Storeys – over 5 Dwellings – Richard Field Constructions Pty Ltd T/A Field Construct
Excellence in Sustainable Living – MyStyle Homes (Qld) Pty Ltd

Trade Contractor/Specialty
Best Residential Bathroom – Moseley Holdings Pty Ltd T/A Ash Moseley Homes
Best Residential Kitchen – Moseley Holdings Pty Ltd T/A Ash Moseley Homes
Best Residential Swimming Pool – Nathan Verri Pty Ltd

Individual
Apprentice of the Year – Robert Daniel Manly
Rising Star – David A McIntosh
Women in Building – Roslyn Smith
Residential Trade Contractor of the Year – Artizan Cabinets Pty Ltd
Commercial Trade Contractor of the Year – Anthony K Dunlea T/A Only Floors

Major
President's Award – Allaro Homes Cairns Pty Ltd
Project of the Year – F K Gardner & Sons Pty Ltd
House of the Year – Moseley Holdings Pty Ltd T/A Ash Moseley Homes