Cairns Post set to charge readers for online articles in paywall move
Local readers will soon have to pay for access to stories on the Cairns Post website as News Corporation puts up paywalls at its regional mastheads across Australia.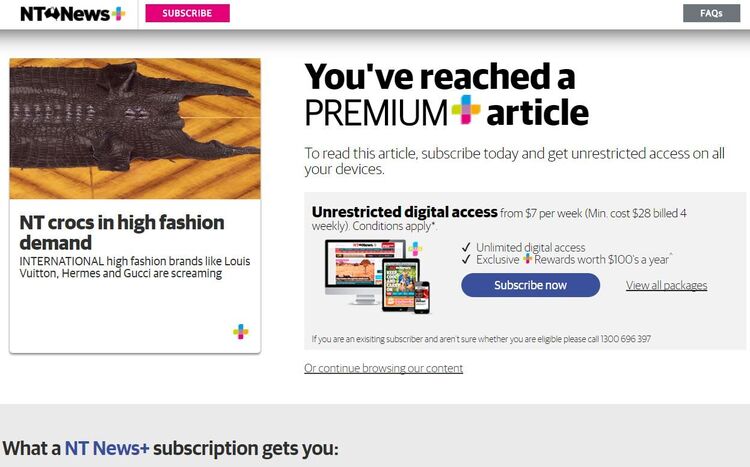 ---
Local readers will soon have to pay to read articles on The Cairns Post's website.
News Corporation recently announced it was putting up paywalls at six of its regional publications, including Cairns, Townsville, Geelong, Gold Coast, Hobart and Darwin.
The NT News last month became the first regional News Corp publication to introduce the new subscription system, charging readers for most of its online content.
News Corp Australia managing director metro and regional publishing Damian Eales confirmed The Cairns Post would be included in the new revenue strategy.
The cheapest subscription will cost around $365 per year and is expected to take effect in the next two weeks.
"Customer behaviour and news consumption is evolving and while print remains vitally important, people use multiple platforms to stay informed throughout the day," he said in a statement.
"We are committed to providing regional communities with quality local and national journalism and we believe our outstanding content is worth paying for online as well as offline."
The move will see more articles from outside of the Cairns region appearing on the site, with content from News Corp capital city newspapers such as the Daily Telegraph and Herald Sun included in the new subscriptions.
Tom Felle, a lecturer in News and Digital Journalism at the University of London, says newspapers must provide high-quality journalism for paywalls to work.
"For smaller players, the market remains challenging. Regional and local newspapers have little or no prospect of introducing successful paywall models," he wrote recently.
"Newspapers appealing to the middle classes and niche brands such as business titles, where content is exclusive and in demand, seem to be making paywalls work. For everyone else the future looks bleak."