The Cairns skyline plays host to progress
There is something going in the skies above Cairns and you don't have to look far to see it. Cranes are a true sign of progress.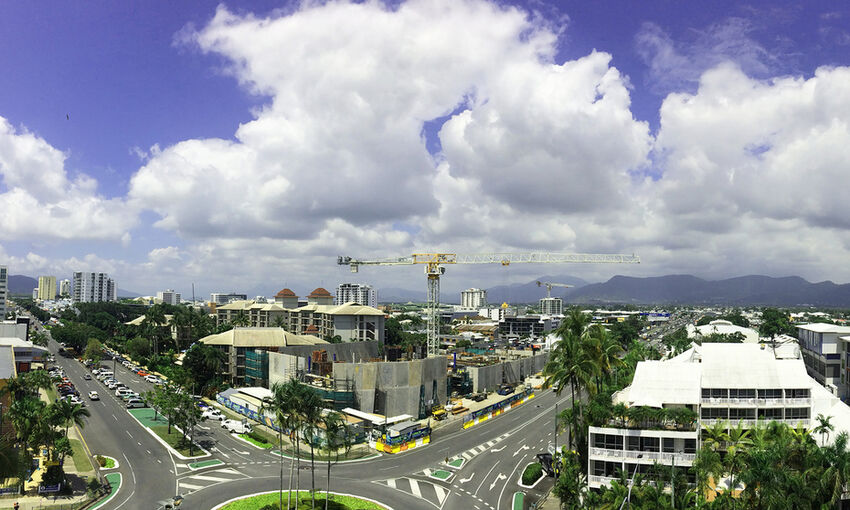 ---
For so long there has been no major construction in Cairns, certainly nothing to warrant the erection of tower cranes. Today there are four cranes gracing the Cairns skyline signifying a return to confidence in the city in terms of investment, construction and growth.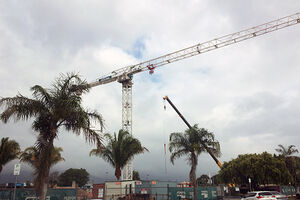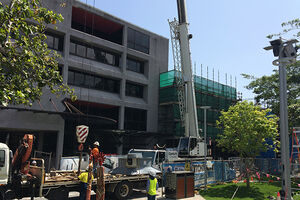 Major projects are in full swing in the commercial construction sector with the Cairns Aquarium, Cairns Performing Arts Centre (CPAC) and the School of Arts refurbishment.
The newly erected tower crane at the CPAC site is an impressive 45.5m tall and marks a significant milestone in the project as construction marches rapidly forward. Developed by Cairns Regional Council and scheduled for completion in early 2018, CPAC will include a 941-seat main theatre featuring balcony seating, a second 400-seat studio theatre, full-sized orchestra pit, dressing rooms, foyer, bar and amenities.

The Cairns Aquarium is on track to be completed in early 2017 and this week has commenced adding a second level of precast concrete slabs and it is now possible to comprehend the impressive scale of the building. The on-site crane is slightly smaller than the CPAC crane but makes for an equally impressive sight.

The $9 million refurbishment of the Cairns School of Arts building played host to a mobile crane this morning hoisting new mechanical equipment into place from Shield Street. The building will be extended on the Shields Street side to provide two full floors plus a mezzanine level to be utilised by the Cairns Historical Society. This new museum space will be in addition to that which the organisation has tenanted since 1980, allowing the museum to expand significantly.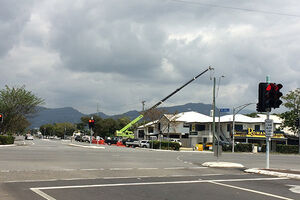 There is also a mobile crane hoisting plant into place on a construction site on Upward Street. Viewed together as you cast your eye across the Cairns skyline its hard to not feel as though Cairns is actually on the move.

Cranes have long been a benchmark of a cities growth with a national survey conducted twice per year by Rider Levett Bucknall (RLB) a global construction industry services company. The RLB Crane Index® reports on the number of cranes in major cities throughout Australia and breaks down the figures across different construction sectors. While Cairns does not feature in the survey currently it is possible that we will surpass Darwin (currently with 3 cranes in the residential sector) in the coming year with Nova City scheduled to commence in 2016.

Driving around the CBD of Cairns its hard not to feel buoyed by the construction activity and optimistic about the future of our city. Construction cranes are a very large indicator of confidence and progress and many regional towns and cities would be envious of our current skyline.
---