Trade mission grows TNQ's bid to be an emerging international study destination of choice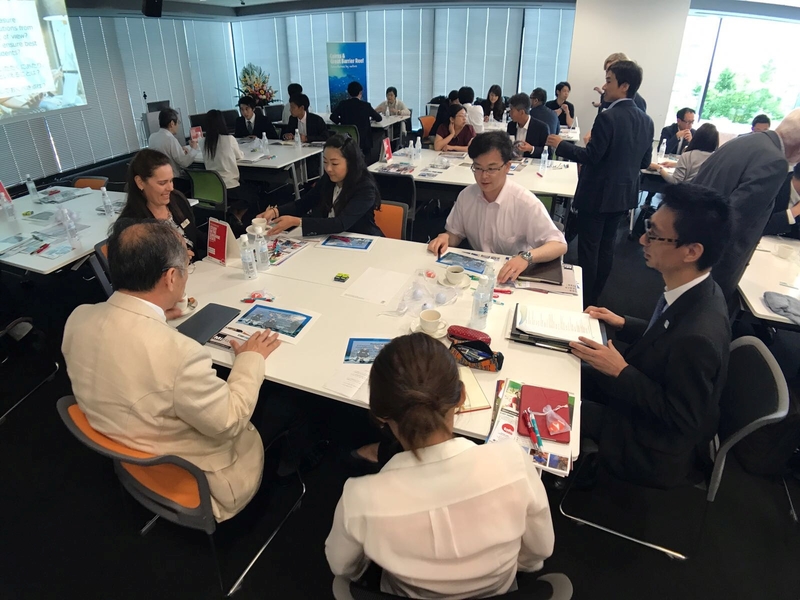 ---
A local delegation of education sector leaders has hailed a recent trade mission to Japan as an "exceptional" success, as part of the ongoing campaign to build the Tropical North's reputation as a world-class international education tourism destination.
TNQ has long been a popular tourist destination but local leaders believe the international education sector holds great growth potential. The trade mission was designed to forge closer relationships between vocational and tertiary institutions in Cairns and Japan.
The trade mission comes ahead of the International Education and Training Summit to be held in TNQ in May 2018.
International education brings in more than $150 million a year to the TNQ economy and directly employs about 1,050 people. Education leaders say the city is "well placed to become one of the city's leading economic drivers".
---
Study Cairns president Carol Doyle said the successful mission helped to highlight the long-term study options available in TNQ thanks to growth in capacity in the vocational training and education sectors in the past two years.
"Education agents, school principals and teachers who attended panel discussions and workshop sessions were enthusiastic after meeting face-to-face with education institutions and business operators from Cairns," she said.
She said the mission also provided opportunities to network and presented 'exceptional' leads for working with new Japanese partners.
Japanese students that had previously studied at English Language and Vocational Colleges in Cairns and worked as interns at TAFE North Queensland were important workshop guest speakers promoting Cairns as a city well-suited to Japanese students.
Cairns Regional Council Mayor Bob Manning said international tourism was important to the city's economy and the council was working to promote the city as a study and education tourism destination.
"Council is proud to support this delegation as part of our three-year funding agreement with Study Cairns, to further grow the relationships between our city's education providers and international students who wish to study here in Cairns," he said.
"Cairns is one of Australia's most popular choices for study tourism and international education is well placed to become one of our city's leading economic drivers.
"We already welcome almost 30,000 overseas learners, including 11,000 from Japan, each year.
"The Japanese market is seeking fresh options for students and Cairns is well placed to capitalise on its position as a leading tourism and hospitality training destination.
"A number of Cairns institutions offer excellent education tourism opportunities, combining outdoor education and experiential study experiences in a natural environment. Cairns is also known as a welcoming and multi-cultural regional city."
JAPAN TOURISM REBOUND
Japan has re-emerged as a major player for Cairns' tourism market, with 32,880 Japanese passengers arriving in TNQ from the Tokyo and Osaka routes in March 2017.
Cairns is the only Australian city with direct flights between Japan's two largest cities.