School gears up for Centenary Reunion Weekend events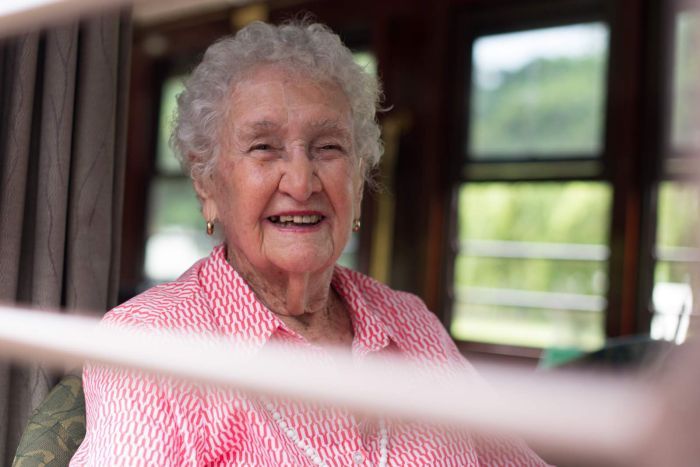 ---
One 100th birthday is cause enough for celebration, but Cairns State High School is celebrating two grand, old ladies this year.
As the school countdowns to next month's major celebrations to mark a centenary of education, former student Edna Taylor hit triple figures on August 25 and she is keen to head back for the Cairns State High Centenary Reunion Weekend on September 15 and 16.
One of three ambassadors for the school's celebrations, Mrs Taylor remembers education being much different back in the 1930s when she attended Cairns High as a 14-year-old, with the centenarian saying she always liked school but it was a "strict" environment.
---
---
"We had to wear long silk stockings with our uniforms," she said.
"Can you imagine that in the tropics? As soon as we got out the gate we rolled them down to our ankles."
Mrs Taylor attended Cairns State High for a year where she studied subjects including maths, English, commercial, typing and short-hand, before starting work at Boland's department store in Lake St initially over Christmas and then "being kept on".
And her experiences at school were not all about the classroom with Mrs Taylor also playing her first game of hockey at Cairns High and excelling in other sports, which she continues today as an avid lawn bowler.
Mrs Taylor's time at high school may have been fairly brief, but it paved the way for her son, daughter and two great-grandchildren to attend the school to continue what has become a great "family tradition".
Cairns High's executive principal Chris Zilm is looking forward to catching up with Mrs Taylor tomorrow to wish her a happy birthday and chat about her memories of the school and go through details of the reunion weekend.
"Edna feels it is an honour to be a Centenary Ambassador in the school's milestone year and is thrilled to be attending the upcoming events to celebrate with the school," he said.
The Cairns State High Centenary Reunion Weekend is the main focus for the 100 year celebrations and will feature an open day and Jazz Supper Club.
Tickets to centenary events can be purchased from the school, by phoning 4050 3042 or here.
For more information, please visit the Centenary Celebrations website.
The Cairns High Centenary Celebrations Facebook page is also a great way to keep up to date with events and to find some of your old school mates.
More information on the school's centenary events is available by clicking here.