Just some of the mouth-watering menus on offer at Meet Eat Repeat 3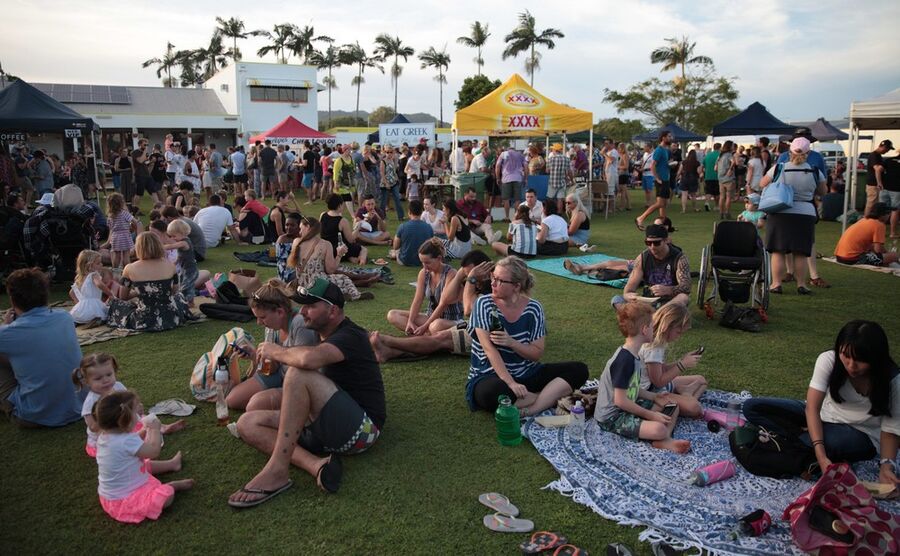 ---
When it comes to Meet Eat Repeat, the food is the headline act.
Well, apart from the live music, the bowls club drinks prices, NOA's new outdoor cocktail bar, the lawn games and the general good vibes at our favourite vintage venue...
But those other highlights aside, Meet Eat Repeat features some of the city's finest restaurants, cafes and food vans delivering something special.
So here then are just some of the menus on offer this Saturday, June 24. We'll announce more menus in the coming days.
OCHRE
Pork belly with Asian slaw and pineapple chilli jam
Deconstructed riberry banofee pie with macadamia crumb, dolce de leche, smoked Iridium rum and a side of caramalised banana and banana gelato

NOA

Oyster bar with a selection of accompaniments such as fresh lime, Bloody Mary mini squeeze bottles, salmon Caviar, Wakame and pickled ginger
Antipasto bar with cured meats, Australian and international cheeses, house marinated Olives, mustards, jams, Lavosh and freshly baked bread

SAMOSA HUB

Traditional Vegetable Samosa
Famous Lamb Samosa's
Paneer and Vegetable Spring Rolls
Chicken Tikka Spring Rolls
Hub Special: Vegetable Samosa with Chana Masala
Oh, and just a quick reminder about the sensational cocktail menu presented by NOA and TropicNow...
Red or White Sangria with fresh tropical fruits and elderflower liquor
NOA's Pimms Jug with all the trimmings
Coconut Almond Caprioska
'The Tropic'- Gin, passionfruit, pineapple juice and peach Schnapps, shaken with burnt pineapple
And all of that is in addition to our other food vendors - their menus will be revealed over coming days - including:
Mama Coco
Harvest
Chef Wolfgang's smoked BBQ
Sipping Duck
Apex Milk Bar
So Hangry Japanese fried chicken
George's Greek street food
Providore Amore's wood-fired pizzas
Richard's salt and pepper squid
Mojo Street Food
Designer Donuts
Dutch Delights
Industry One's Portsmith cafe and roastery
Paella Time
Don't forget, you'll also be able to kick back and enjoy live music from dynamic acoustic duo Nim & Dyce, who will perform three sets during the course of the afternoon and evening.
It all happens from 3pm this Saturday June 24 at the West Cairns Bowls Club.
Follow the MER Facebook page for more news and event details
---