50 must-try Cairns cheap eats for $15 or less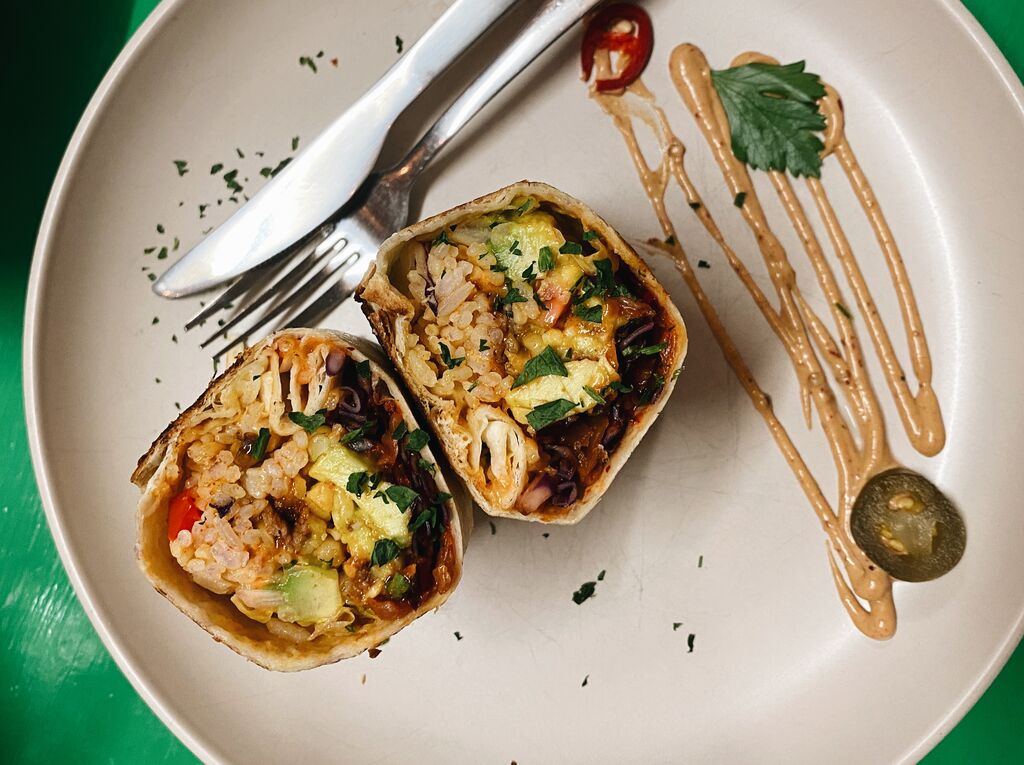 We'd be lying if we said 'cheap eats near me' didn't regularly appear in our search history ...
Luckily, Cairns has stacks of places to pick up a bargain bite.
From sweet to savoury, breakfast through to dinner – it's all made its way into Tropic Now's handy list of 50 cheap eats for $15 or less.
Oh, and bookmarking this page for future reference wouldn't be a bad idea either. Just sayin'.
##BA##
1. Korean Burrito at Calaveras Street = $14.90
A Korean Burrito, say what? But with bulgogi beef, kimchi-slaw, rice, gauc, jalapeno mayo, cheese and iceberg lettuce, we reckon it's definitely worth trying.
GO THERE: 39-49 Lake St, Cairns
2. Lime n Pepper calamari at The Pier Bar = $14.50
Take a seat overlooking the Esplanade and enjoy this seafood dish, complete with chips and a salad!

GO THERE: 1 Pier Point Rd, Cairns
3. Nasi goreng at Bagus Cafe = $11.90
Who doesn't love fried rice? Bagus Cafe do it best, trust us.

GO THERE: 149 The Esplanade, Cairns
4. Beef roti at Roti Shack = $12.50
Melt in your mouth taste of the Caribbean. Enough said.
GO THERE: Shop 4, 93 Lake St, Cairns
5. A pie from Meldrum's = around $7
This much-loved bakery on Grafton St has long been a favourite for those partial to a good pastry, with lots of varieties to choose from including a popular gluten free option.
GO THERE: 97 Grafton St, Cairns
6. Pumpkin and zucchini curry at Richard's Salt and Pepper = $15.00
Richard's famous for his goat curry, but this vegetarian option is also worth a whirl. Find this food van cooking up delicious curries from Wednesday to Sunday.
GO THERE: Holloways Beach Access Road, Holloways Beach
7. Cheesy Evo at Evo Burger = $12.90
A classic burger, with cheese, tomato, lettuce, red onion, mustard, ketchup, mayo, pickles, plus (of course) an Angus beef patty.
GO THERE: 105 Lake St, Cairns
8. Fried prawn curry at Bento Paradise = $13
A delicious savoury Japanese curry with rice and tempura fried prawns.
GO THERE: 99 Mulgrave Rd, Parramatta Park
9. Epicurean chicken at Bang and Grind = $11
On Turkish with bacon, salad, cheese and aioli. Mm-hmm.
GO THERE: 8/14 Spence St, Cairns
10. Lunch deal at Jambo Pastry = $10
The menu changes but it's all delicious traditional Filipino fare, served buffet style. Don't leave without trying the jackfruit ice cream.
GO THERE:1/180 English St, Manunda
11. Avocardio at Waffle On = $13
Homemade waffles served with some big brekkie flavours: smashed avo, scrambled eggs, bacon and spring onion.
GO THERE: 62 Shields St, Cairns
12. Spanish tapas at Three Wolves = $10
There's more than just fab cocktails at this laneway bar. Their $10 Spanish-style tapas dishes are also a must-try.
GO THERE: 32 Abbott St, Cairns
13. Bruschetta Pizza at Rattle n Hum = $15
A delicious combination of garlic oil, tomato, spanish onion, basil, mozzarella, balsamic glaze and parmesan on one wood-fire pizza!
GO THERE: 67 The Esplanade, Cairns
14. Greek sausages at Fetta's Greek Taverna = $10
Lightly spiced sausages with cooked onion, cucumber and chili sauce, served with pitta bread. A bargain at ten bucks.
GO THERE: 99 Grafton St, Cairns
15. Lunch special at Jade Chinese Restaurant = $10
One of the best value lunches in Cairns. Includes a meat seafood or vegetable dish with steamed or egg fried rice plus salad or soup of the day.
GO THERE: 313 Kamerunga Rd, Freshwater
16. Curries at Khin Khao = $8.90
Classic Thai red, green or Panang curry with your choice of meat, veggies or tofu.
GO THERE: 21 Aplin St, Cairns North
17. Quarter chook at Howlin' Jay's = $13
Nashville-style fried chicken with bread and pickles in a great location.
GO THERE: 1 Pierpoint Rd, Cairns
18. Poached eggs and sourdough toast at Caffiend = $9.90
Breakfast eggs don't get much better than this very cheerful combo.
GO THERE: 5/72-74 Grafton Street, Cairns
19. Beef stew at Pho Viet = $14.90
Think Vietnamese-style comfort food, with bread or rice noodles to boot!
GO THERE: Shop 5, 78 Abbott Street, Cairns
20. Bahn mi and iced coffee at Thi Thi Vietnamese = $10
One of our favourite office lunch runs. This deal's only available at Thi Thi's food bar on Grafton St when they're not at Rusty's.
GO THERE: 47-49 Grafton Street, Cairns City
21. Udon at Happy 4 10 = $12
Seafood, tempura, beef, veg and chicken noodle options. Too easy.
GO THERE: 82 Sheridan St, Cairns
22. Boss's Special at Chill Cafe = $15
This one is for the adventurous. Smashed avo, tomato, and vegemite on toasted Turkish bread with a poached egg as the cherry on top.
GO THERE: Shop 1/41 Williams Esplanade, Palm Cove
23. Lunch special at Goong = $9.95
A ten buck note gets you your choice of teriyaki chicken or tonkatsu pork with rice.
GO THERE: 16 Aplin St, Cairns City
24. Grilled fish and chips at Cock and Bull = $14.5
Enjoy freshly grilled fish, served with a side of hot chips and a garden salad.
GO THERE: 6 Grove St, Cairns
25. Cheesy pretzel at the Bavarian Beerhouse = $7.50
This tasty Bavarian treat is made in-house and also available with jalapenos for an extra $2. Nice!
GO THERE: 1/77 The Esplanade, Cairns
26. Chicken coconut soup at Café Thailand = $8.90
A winter warmer for the Tropics!
GO THERE: 7/93 The Esplanade, Cairns
27. Banana & walnut bread at NOA = $9
A 'best banana bread' award should be created just to be given to this dish.
GO THERE: 1 Pyne St, Edge Hill
28. Tropical spiced muesli at Nu Nu Restaurant = $12.00
Spiced pineapple and coconut cream soaked muesli, mango, fruit and toasted coconut. No further explanation needed.
GO THERE: 1 Veivers Road, Palm Cove
29. Bacon and egg roll at Ozmosis = $12.90
Enjoy the atmosphere as you eat a mouth-watering bacon and egg roll.
GO THERE: 1/116 Collins Ave, Edge Hill
30. Fishburger at Mobil on Spence = $7.50
Locally-caught Spanish mackerel for under eight dollars? Yes please!
GO THERE: 8/14 Spence Street, Cairns City
31. Falafel kebab at Hasham's Dips = $9
Everything you could wish for in a kebab. We also recommend you tack on a box of baklava.
GO THERE: Civic Shopping Centre, Cairns City
32. Chicken Katsu Curry Rice Bowl at Sushio Tokio = $9.80
This Smithfield hideaway boasts a variety of delicious curry rice bowls. The chicken katsu is just the tip of the iceberg.
GO THERE: 75 Captain Cook Hwy, Smithfield
33. Kurodama at Ganbaranba = $8.90
A pork broth with special garlic oil, infused for over two hours.
GO THERE: 7/12-20 Spence St, Cairns
34. Chicken Tikka at Indian Brothers Restaurant = $11.95
Sometimes it's hard to beat the classics, especially at this price.
GO THERE: 58 Lake Street, Cairns
35. Truffle and tofu toastie at Guyala Café = $14.90
Well balanced combination of mushroom, cashew and truffle pate, confit tofu with shiitake salt, gruyere and gouda, and soy pickled onions to finish.
GO THERE: 2 Smith St, Cairns North
36. Eggs benny wrap at Wharf One = $12
The breakfast classic, in a tasty wrap form.
GO THERE: Wharf Street, Cairns
37. Sand crab sliders at Dundees Waterfront Dining = $14.50
Enjoy the stunning view of the waterfront while you munch on a lightly toasted brioche slider roll filled with gem lettuce, avocado, semi-dried tomato, freshly-picked crab meat and lime mayo.
GO THERE: 1 Marlin Parade, Cairns
38. Ramen lunch deal at Ramen Street Cairns = $14.95
New ramen joint in Manunda with seriously delicious and authentic dishes. Amazing value with a bowl of ramen plus three free gyoza for their lunch deal.
GO THERE: Shop 2, 1 Jensen St, Manoora
39. Jabche with rice at Corea Corea = $13.90
Stir-fried beef, vermicelli and vegetables with Bulgogi sauce. A hearty meal for under $15.
GO THERE: Orchid Plaza, 32/58 Lake St, Cairns
40. Tempura Prawn Udon at Wara Sushi = $13.00
Japanese udon noodles in a delicious broth, served with tempura prawns.
GO THERE: Shop 144, 1-21 McLeod St, Cairns
41. Tom yum noodle soup with prawns at Café China = $14.90
Spicy, zesty and vibrant. Just like Cafe China's famous laksa (which is only a few dollars more) tom yum hits like something else.
GO THERE: 79 Mulgrave Rd, Parramatta Park
42. Dahl tadka at Punjabi Nights = $14.50
Traditional tempered dahl with garlic chillies, onions, tomatoes, curry leaves and mustard seeds. Chuck a few dollars on for naan – you won't regret it.
GO THERE: 229 Kamerunga Rd, Freshwater
43. Crispy mussels at Vivo = $14
A decent portion of lightly-battered mussels served with chilli aioli.
GO THERE: 49 Williams Esplanade, Palm Cove
44. Beer cheese dip at Hemingway's = $10
Served with pickled onion and grilled flatbread, this is one of Cairns' best plates to pair with a good brew.
GO THERE: Wharf St, Cairns City
45. Tacos at Muddy's Cafe = $14.50
Three super filling tacos, with your choice of chicken, pork, salt & pepper calamari, falafel or fish. Even better, they're just $10 a serve on Tuesdays!
GO THERE: 174 Esplanade, Cairns City
46. Soft shell crab steam buns at Ellis Beach Bar and Grill = $10
Tempura soft shell crab, Bao buns, cucumber pickles, XO sauce, and coriander for a tenner – and at one of the prettiest places in the Far North.
GO THERE: Lot 13 Captain Cook Hwy, Ellis Beach
47. Traditional panino at Angelo's Deli = $10.50
Prosciutto, pickled eggplant, capsicum, and olives with mozzarella on the crunchiest piece of pane. Ring to order ahead as Angelo's is well-frequented by people working in Portsmith.
GO THERE: Shed 1/81 Fearnley St, Portsmith
48. Pork larb at Imm Thai = $14.90
Spicy minced pork packed with traditional Thai flavours of lime, fish sauce, coriander and mint. And a good dose of chilli, of course.
GO THERE: 60 Abbott St, Cairns City
49. Margarita toastie at Newell Street Café, Tattooed Sailor = $10
House-made passata, flame-torched tasty cheese, and garlic on woodfired passata. The best toasties in Cairns, trust us.
GO THERE: Corner of Newell and Barry St, Bungalow
50. Sausage rolls at Mama Coco = $9.50
Served with a homemade tomato and pink peppercorn relish, this Filipino-style sausage roll is gargantuan-sized. And we're so here for it.
GO THERE: 4/196 Mulgrave Rd, Westcourt