Region records drop in tourism spending and domestic visitor numbers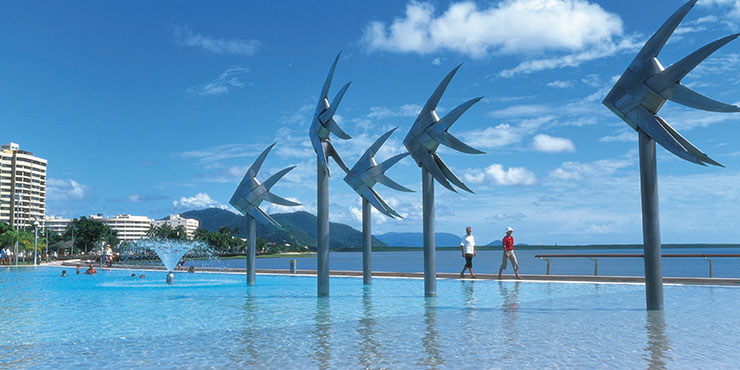 ---
There is more mixed news for TNQ's vital tourism industry with the latest data showing worrying trends in domestic visitor numbers and overall expenditure in the region's economy.
While record numbers of passengers, both domestic and international, are arriving at Cairns Airport, an analysis of the latest data from Tourism Research Australia shows that visitors spent almost $200 million less in TNQ over the past year to June 2017.
The analysis by economist Pete Faulkner also reveals that the number of domestic travellers visiting TNQ has also dropped to the lowest level since after cyclone Yasi hit the region in 2011. They are staying fewer nights in our region.
These worrying trends have come from an analysis of the June quarter National Visitor Survey data, with Mr Faulkner saying the strong growth recorded statewide and nationally was not reflected here in TNQ.
---
---
"Domestic visits nationally rose 5.2 per cent year on year and were up 6.2 per cent in Queensland," he said.
"However, TNQ saw a decline of 4 per cent. Of even greater concern is the fact that expenditure from those overnight visitors fell by 9.1 per cent.
"The average number of nights also fell from 5.11 nights a year ago to 4.89 nights now.
"TNQ now accounts for just 1.93 per cent of all Australian domestic overnight visits, its lowest share of the market since the post-Yasi period in 2011."
DECLINE IN INTERSTATE TRAVELLERS
A number of campaigns to attract domestic travellers to TNQ had been run in 2016-17 with Tourism Tropical North Queensland chief executive officer Pip Close saying there was good news with Queenslanders choosing to holiday at home while interstate visitation fell by 19.5 per cent.
"The number of Brisbane holidaymakers arriving in TNQ was up 42 per cent to 97,000 while intrastate holiday visitors remained stable at 515,000," she said.
"Melbourne holidaymakers increased by 6.4 per cent to 144,000, but our greatest market share loss was from Sydney with a 38.5 per cent fall in holiday visitors to 85,000.

"Visiting friends and relatives remained a vital part of our market with 25.4 per cent growth.

"Many of the domestic airline seats were filled by international passengers unable to access direct connections to Cairns.

"This strong demand for seats means airlines can focus on yield which pushes up the cost of domestic airfares to Cairns.

"We are competing with cheap Bali package deals and strong growth in the number of people travelling to New Zealand.

"There is also a boom in the cruise market which has become more affordable for Australian travellers."
Domestic day-trips bucked the trend and were up 2.6 per cent year on year with expenditure up 0.8 per year, but this sector accounts for just 12 per cent of total domestic expenditure in the region.
ONGOING TREND A CONCERN
The latest data comes after Mr Faulkner cautioned recently that a significant decline in domestic tourism and tourism expenditure in the region was having a broader impact across TNQ's economy.
"Overall total domestic expenditure (for both overnight and day trips) in TNQ fell 8 per cent in the year to June 2017," he said.
"With international expenditure in the region also falling slightly in June (down 0.4 per cent year on year), despite the solid pick-up in international tourist numbers, we see total visitor expenditure in the region falling by 5.6 per cent (or closer to 7.5 per cent in real terms) over the year.
"This is a reduction in visitor spending of almost $200 million over the past 12 months and would go a long way to explaining the seeming disconnect between the 'booming' tourism numbers being recorded and the reality on the ground for many operators in TNQ."

MORE VISITORS ARRIVING
Overall, total passengers at Cairns Airport during the year ending June 2017 grew by 5 per cent compared with the previous year to reach the 5.2 million mark with the airport's chief commercial officer aviation Paul McLean saying growth was recorded across all sectors.
"International passenger numbers increased 7.6 per cent for a total of 659,010 for the year," he said.
Across the state, the data shows domestic overnight visitor expenditure in Queensland increased 5.5 per cent to $15.4 billion, while domestic visitor numbers grew 6.2 per cent to a record high of 21.5 million to June 2017.
GOOD NEWS IN REGIONS
Tourism and Major Events Minister Kate Jones didn't comment on the TNQ figures, instead preferring to focus on the positive news out of most other regions across the state.
"Queensland continues to grow its national visitor numbers, hitting record highs for visitor spend and visitors' stay in the past year and injecting billions of dollars into our economy," Ms Jones said.
"Brisbane (15.5 per cent), the Gold Coast (4.1 per cent), Fraser Coast (21 per cent), Southern Queensland Country (19.6 per cent), Southern Great Barrier Reef (14 per cent), Mackay (30.3 per cent), Whitsundays (6.4 per cent) and Queensland's Outback (10.4 per cent) all saw major gains in visitor expenditure," she said.
To see the full Conus Trend data, click here,