Links with state HQ puts gridiron in TNQ on path to growth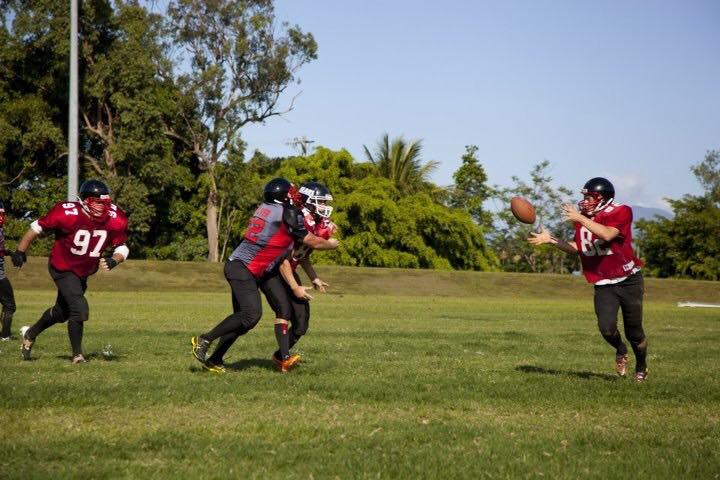 ---
The NFL is a global sporting phenomenon that's broadcast to a worldwide audience of billions of people.
Little wonder then, there's a dedicated group of people in TNQ who are working to shape a gridiron league in Cairns with big plans for men's, women's and youth teams.
In the past year, led by head coach David Tibbetts, the Cairns Gridiron Association has overhauled and upgraded "everything" from its infrastructure, to its committee, a stand-alone women's team and is now based at the Ivanhoes Football and Recreation Club at Smithfield.
And, after the first North Queensland Gridiron Summit in Cairns last month, everything is in place to see the hard work done at a local level take the next step with Tibbetts saying a plan was hatched to bring North Queensland under the umbrella of the sport's governing body in Queensland.
---
---
"Gridiron Queensland president Ben Sinapati, and the committees from Cairns, Townsville and Mackay came together and hashed out an entire restructure," he said.
"The North Queensland gridiron clubs are now directly affiliated with Gridiron Queensland.
"We are building relationships, we have access to funding, equipment, official processes as well as rules and regulations and pathways for our players to represent at a state and national level."
Although gridiron is still finding its place in TNQ's sports scene, Tibbetts said there was a "hell of a lot of talent" in the region and it was growing and becoming a professional sport which will provide a lot of opportunities for its players.
The men's team is currently in pre-season training and is gearing up for a round robin competition from mid-January to mid-March with teams from Townsville and Mackay.
The women's teams is also training hard and it is hoped they can "scrimmage" with a team from Griffith University in late 2018.
"There is a lot of interest from women in our club and once we get everything into gear and the infrastructure on the ground, that will continue to rise," he said.
"We have been training regularly now twice a week and I am impressed with the attitude and learning curve from the women.
"There is a big push to get more women involved and interest in women's teams in Townsville and Mackay."
Most of the men's team has a background in one of the popular Australian footy codes with Tibbetts saying gridiron is an "intricate sport that can be difficult to learn when you did not grow up playing it."
The men's team train on Thursday from 6pm to 8pm and Saturday from 9am to 11am.
The women's team train on Sunday from 6pm to 8pm and on Tuesday from 6pm to 8pm.
For more information on the Cairns Gridiron Association, click here.