Final preparations in full swing ahead of one-off show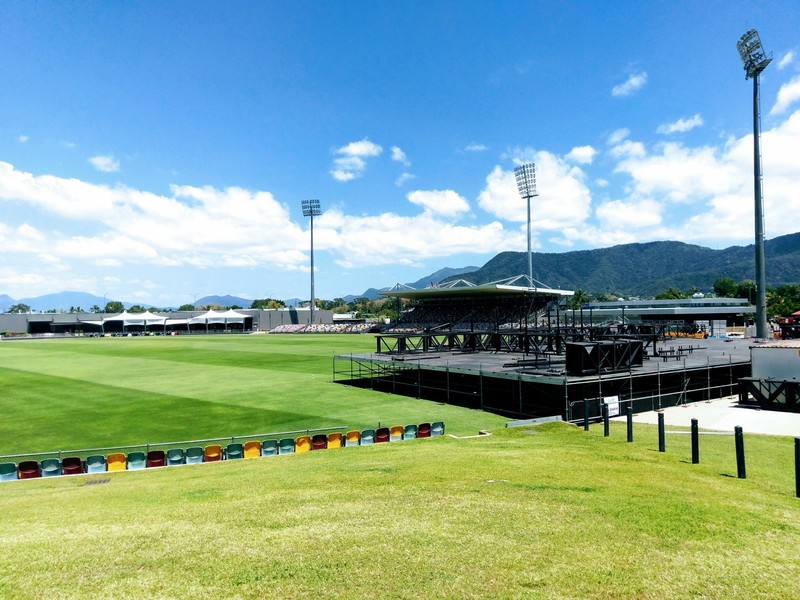 ---
The final countdown is on with the Rocket Man, Sir Elton John, set to blast off for a sold-out, one night only show at Cairns' Cazalys Stadium on Saturday night.
And with a crowd of 25,000 people expected to pack the stadium to see the international superstar for his Once in a Lifetime concert, city leaders are putting the logistics together to make sure everything goes according to plan.
From public transport, parking and road closures, a Cairns Regional Council spokesperson is reminding locals to be prepared for a few changes ahead of the gig.
"Motorists and concertgoers are reminded that changed traffic conditions will apply in the vicinity of the venue for the show," she said.
---
---
"Road closures and parking restrictions will be enforced between 1pm and mid and traffic delays are expected.
"Motorists are advised to avoid the area, if possible.
"Concert goers are advised to plan their trip in advance and use public transport.
"The council is offering a free park-and-ride bus service to help ticket holders get to the venue."
Here's what you need to know:
PUBLIC TRANSPORT / PARK-AND-RIDE SERVICE
Free shuttle buses will operate from the Lake St bus station and the Cairns Showgrounds from 4.20pm.
Free parking will be available at the Showgrounds via the Severin St entrance. The bus collection point will be on Scott St.
The Sunbus stop outside Cazalys on Mulgrave Road will be temporarily relocated to outside the Balaclava Veterinary Surgery at 378 Mulgrave Road.
Other bus services will be as per normal schedule and usual charges will apply.
Taxi ranks will operate from Mann St (for access to Gate 1) and Mulgrave Rd, (Gate 2).
ROAD CLOSSURES
Tills St will be closed to traffic between Mann St and Earl St, with local access retained at all times.
Access to Newell St from Mulgrave Road will be closed with alternative access via Lyons St.
Access to Mulgrave Road via Dalton St will be closed with alternative access via McCoombe St.
CONCERT PARKING
On-street parking will be temporarily removed at the following locations:
* Mulgrave Rd on the north between McCoombe St and Tills St
* Mulgrave Rd on the north outside spotlight shopping centre
* Dalton St on the east near the intersection of Mulgrave Rd
* Earl St between Tills St and Rose St
* Mann St between Tills St and Rose St
Limited parking will be available at the corner of Gatton and Tills St. A $10 fee applies and all proceeds will support grassroots AFL in Cairns.
Disabled parking will be available on Mulgrave Rd outside the venue.
Drop-off and pick-up areas will be provided on Earl St (Gate 1 access) and Dalton St (Gate 2).
AFL Cairns president Gary Young told News Corp the preparations for the concert were progressing well with a lot of trucks, workers and technicians based at the AFL ground to get things in order.
"It is going to look awesome, and as a city we should be proud that we can put on this kind of thing," he said.
For more information on getting to and from the concert and road closures, click here.