Punctures and earthworms emerge in big wet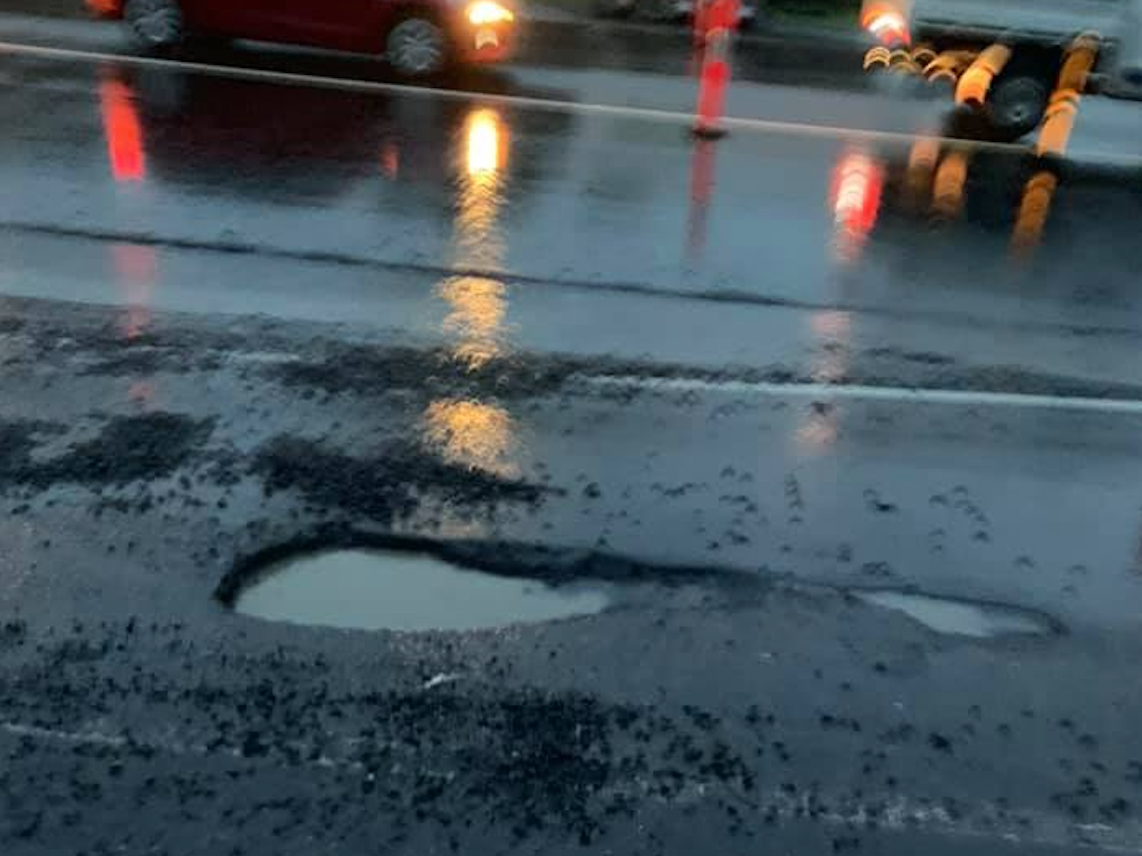 ---
The fallout from this week's heavy rainfall is becoming clearer, with residents reporting dozens of tyre punctures from potholes and earthworms heading indoors.
The sun is shining again after more than 600 millimetres – or triple the average April rainfall – came down in Cairns in four days.
---
---
The aftermath has included mechanical bills, in particular due to one rogue pothole that formed at the Caravonica roadworks site on the Captain Cook Highway.
Natalee Hatfield told Tropic Now she watched it all unfold yesterday morning from the nearby service station.
"I work across the road and we had heaps of people coming in using our air hose to pump their spare tyres up and changing them," she said.
"There were well over 20 cars that had pulled over on the right side of the road with their hazard lights on, changing either one or two of their tyres or coming into the servo to change tyres."
"There were some pretty unhappy people, not the best way to start your morning especially when you've busted two tyres and only have one spare."
Kane Perrett was among the unlucky ones and is concerned it took too long for the pothole to be covered over.
"It blew my tyres...and I will be chasing some form of reimbursement from TMR," he told Tropic Now.
"The hazard was reported at least seven hours prior."
A spokesperson for the Department of Transport and Main Roads told Tropic Now two potholes appeared during the rain event.
"Repairs to a pothole on the Captain Cook Highway, on the southern approach to the existing Avondale Creek bridge, were first carried out between 9am and 11am on Tuesday, 20 April 2021, after being observed by road crews," they said.=
"The pothole was monitored through the day.
"A second pothole was observed next to the patch the following morning.
"A road crew was dispatched immediately to carry out repairs.
"A track mat was installed over the repaired pothole to provide additional protection, given the ongoing wet weather."
Claim forms for reimbursement can be accessed by emailing [email protected]
Mark Schipanski, service Manager for MyCar Tyre and Auto Smithfield, says he's been flat out repairing punctures.
"We've had a few from the new pothole at Caravonica," he told Tropic Now.
"We're having to turn people away because we can't squeeze them in.
"But honestly, we're always busy with punctures."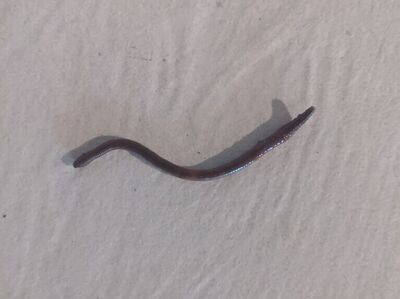 WHAT'S GOING ON WITH THE WORMS?
The other phenomenon resulting from the incessant rain has been an influx of earthworms into homes and patios.
Edge Hill resident Catherine Clarke said she was rescuing them from the walls of her home.
"They were crawling up my walls and drying and dying up there," she said.
"I was trying to get to them before they died or were attacked by ants or geckos."
"I ended up having to Karcher some of them off the wall."
---
FUN FACT: Vermiphagia is the act of eating worms (yum!)
---
Invertebrate zoologist Geoff Dyne told told Tropic Now the worms were probably coming up to breathe, but there could be other explanations.
"When they're surrounded by water they can't actually exhange oxygen across their body surface," he said.
"It all depends on the species and in urban areas of Cairns you have a mix of native and exotic species.
"The exotic species could be using the increased moisture to move around.
"They like to colonise areas outside of their existing range, particularly the active Asiatic ones, which can move across quite significant distances."
Dr Dyne said worms are blind, which could explain why some appear to be on kamikaze missions.
"They haven't got much of a sense of direction, it's all sensory, so sometimes they don't end up where they should be," he said.
"If the soils are completely saturated they try to get out of that situation but that might not help them in the long run if they find themselves stranded."
MORE RAIN TO COME
The forecast shows showers will stick around over the weekend, but there won't be a return to totals we saw earlier in the week.
In Cairns, up to 50 millimetres is expected across tomorrow and Saturday and a further 40ml on Sunday.
Almost 200 millimetres is expected in Innisfail from Friday to Sunday, while Atherton can expect no more than 40 millimetres over the same period.