Second accused teen carjacker caught hiding in cupboard, charged 34 offences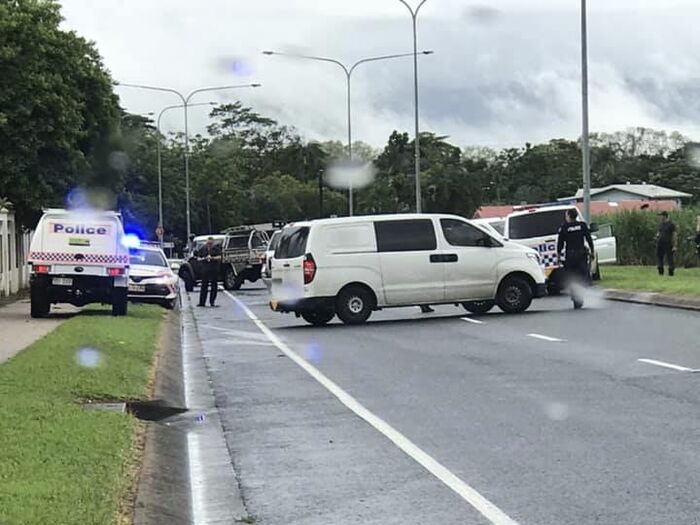 ---
A 16-year-old White Rock boy has been charged for 34 offences in relation to multiple robberies in Cairns, Mareeba, Atherton and Edmonton last week.
Police say the teenager had fled into cane fields after he and another youth, a 15-year-old Atherton boy, rammed a stolen ute into police cars in Edmonton on Thursday.
---
---
The 15-year-old was allegedly apprehended by a police dog at the scene, while the 16-year-old was found hiding in a cupboard in a Badilla Street home in Edmonton the following afternoon.
It's further alleged the boy attempted to run from police and assaulted officers during the arrest.
Police allege the pair committed a spate of violent robberies and carjackings last week, including threatening an 89-year-old Atherton woman with a screwdriver as she was having breakfast Thursday morning.
The boy has been charged with 34 offences including;
Three counts each of:
Robbery with violence in company
Dangerous operation of a motor vehicle
Attempted robbery
Five counts each of unlawful use of a motor vehicle
Burglary
Four counts of stealing
Two counts of obstructing police
One count each of:
Assaulting police
Serious assault of a person over the age of 60
Police have denied the 16-year-old's bail and he has been remanded in custody to next appear in the Cairns Children's Court in March.
Detective Acting Inspector Kev Goan has expressed his thanks to local residents.
"Police have worked extremely hard to apprehend these teens who preyed on a number of vulnerable people in our community," said Officer Goan.
"Our commitment to the community is unrelenting in our mission to prevent, disrupt, investigate and respond to crime in the Far North."
COMMUNITY RESPONSE
Local crimes and alerts groups on social media are inundated with comments on youth crime, while Cairns Crime and Justice Action Group is organising public rallies in Atherton and Mareeba following last week's events.
Questions are also being pointed at Member for Cairns Michael Healy after he made a Facebook post addressing the issue on Saturday.
"We know that there is a hard-core group of young offenders; 10% of young offenders who are responsible for about 44% of youth crime," he wrote.
"Regardless of what people "hear", the law supports incarceration.
"After successful lobbying by myself and other parliamentarians amendments were recently made to the Bail Act, where it states, a juvenile MUST be remanded in custody if they pose a risk to the community.
"Police can already arrest a young person on the spot, without a warrant, or if they are breaching their bail conditions.
"That young person is then taken into custody and will appear before the court, where the judge or magistrate has the authority to revoke bail and remand the young person in custody.
"The Courts in Cairns have experienced such an increase in their workload to the point that additional funds have been needed to ensure staffing levels can accommodate the demand.
"And as a result, we are spending hundreds of millions expanding youth detention facilities in both Townsville and Brisbane."
Mr Healy then went on to outline a number of programs in place to target social issues.
He has not yet responded to questions from Tropic Now.
Tablelands Regional Council Mayor, Rod Marti, has also been contacted for comment.