Human remains found in search for missing Cairns yachtie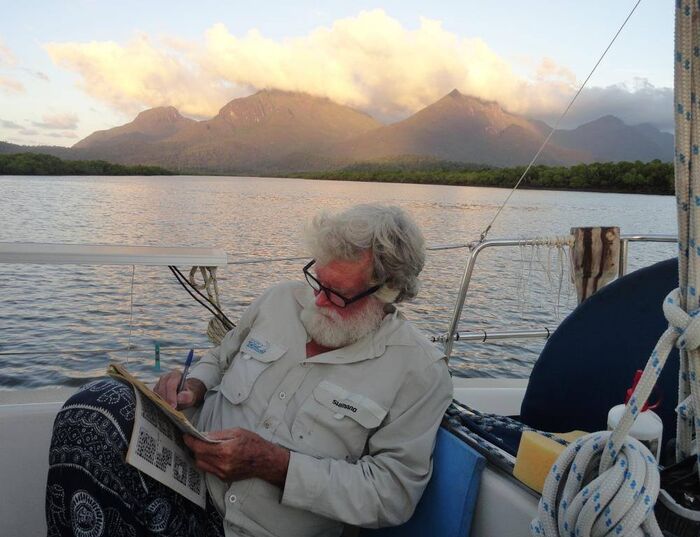 ---
TROPIC NOW BREAKING
UPDATE MON 9.00-AM
Police confirmed yesterday morning that human remains were found inside the 4.2 metre crocodile caught by DES officers on Saturday.
Investigations are continuing as officers prepare a report for the Coroner.
---
UPDATE SAT 5.45-PM
Department of Environment and Science (DES) wildlife officers have located a crocodile that's thought to be involved in the disappearance of Andy Heard.
A 4.2 metre crocodile was located this afternoon off Hinchinbrook Island near where the Mr Heard's vessel was found.
Officers say they have humanely euthanised the animal and transported it back to the mainland.
A necropsy will be conducted in due course.
"We would like to convey our deepest condolences to the family, and our thoughts are with them during this difficult time," a DES spokesperson said.
---
UPDATE SAT 10.35-AM
Police have confirmed human remains have been located at Hinchinbrook Island in their search for missing fisherman Andy Heard.
The 69-year-old was last seen around 3pm on Thursday and failed to return from fishing in Gayundah Creek.
Last night wildlife officers located what are believed to be human remains in the search area.
At this stage, police believe the remains are those of Mr Heard, however forensic testing will be required to confirm this.
DES Wildlife Officers are continuing their search for a crocodile.
One team is already at the site and a second crew will be there shortly.
The public is asked to report any crocodile sightings to DES immediately through the Qwildlife app. ­
---
UPDATE SAT 9-AM:
Police have not confirmed reports that human remains have been found during the search for a missing fisherman at Hinchinbrook Island.
State Member for Hinchinbrook, Nick Dametto, has made the claim in a post to social media.
"I would like to offer our deepest condolences to Erica Lang and Andrew (Andy's) family and friends during this devastating time," he said.
"It saddens to me to learn this morning that remains were found last night."
"Andy will be dearly missed and remembered as a top bloke."
A spokesman for Queensland Police has told Tropic Now the only update he could provide was that the search for Mr Heard resumed this morning.
---
UPDATE FRI 5.45-PM:
The missing fisherman has been named as Andy Heard – a long-time resident at the Cairns Cruising Yacht Squadron (CCYS).
CCYS's Ebonee Read said Mr Heard's son travelled to Cardwell overnight to assist with the search and support his father's partner, Erica Lang.
She said other members who are rallying to help Ms Lang sail the pair's yacht back to Cairns remain hopeful.
"We're trying to stay positive" Ms Read told Tropic Now.
"Everyone around here is sticking together.
"We're all having a drink for Andy today."
DES experts say it's "highly likely" a crocodile was involved in the man's disappearance after his tinny was found early this morning with significant damage.
A source told Tropic Now Mr Heard's tender was found with a huge chunk missing from its side and his fishing rod was found destroyed in mangroves.
The search is expected to continue well into the weekend.
---
EARLIER:
Police are continuing their search for a man missing after failing to return from a fishing trip in the Hinchinbrook Island area.
The 69-year-old went fishing around 3pm yesterday in Gayundah Creek and was expected back an hour later.
The only item that's been located is the man's upturned two metre boat in the early hours of this morning.
---
---
Police say the man's wife contacted police at around 8.30pm when he failed to return and was unable to be reached via radio.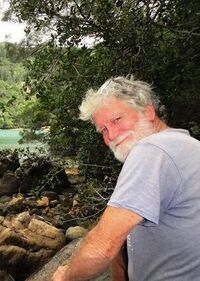 A search operation was immediately launched.
Police located a two-metre tinny at around 2.30am this morning fairly close to the shore.
Acting Inspector Andrew Cowie said the tender, which was attached to a mother vessel, was found with "significant damage".
"He was reasonably experienced … he was a boatie," Insp Cowie said.
"We have significant concerns due to the environmental conditions imposed by that area.
"As long as there's a chance that he's alive (the search) will continue."
Isp Cowie urged that anyone in the area keep an eye out for the missing man, particularly along the coastline.
"The only thing that he had with him is a radio ... as far as we can tell," Insp Cowie said.
"It's very important to remind people that when you do go out into a marine environment that you have your full safety complement.
"(This is) an EPIRB, flares and safety equipment that will assist you in survival under fairly harsh and extreme circumstances."
If you have information for police, contact Policelink.
MORE TO COME