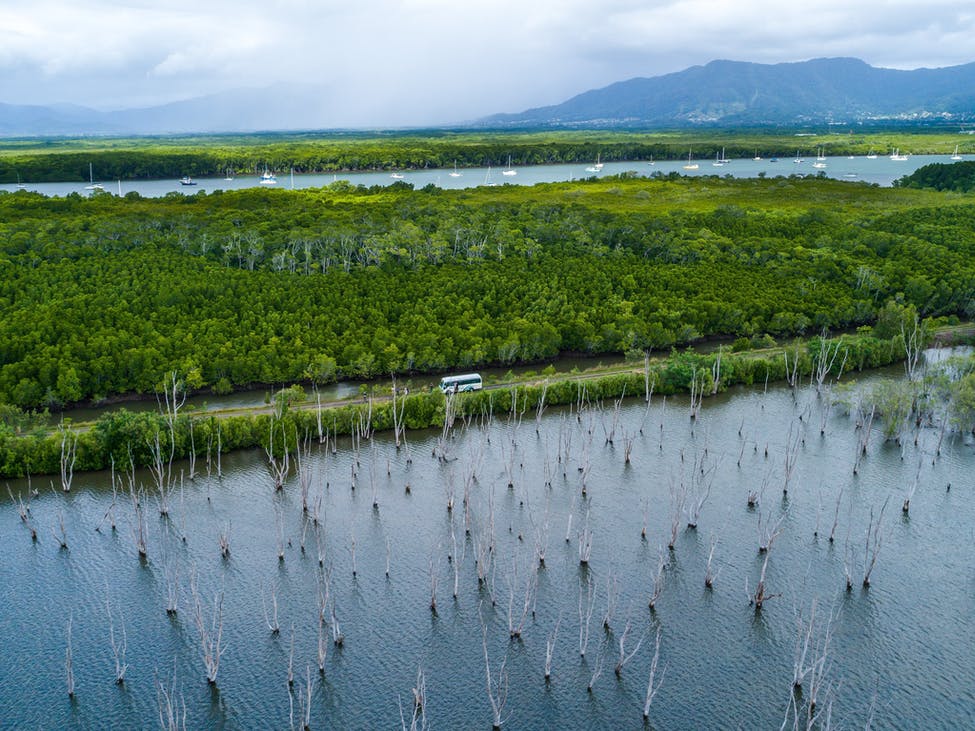 ##MainPoints##
Stage one of a bold $46-million Indigenous eco-tourism project, just a 10-minute boat ride from Cairns, is preparing to welcome its first visitors.
Mandingalbay Ancient Indigenous Tours is based at Hills Creek in East Trinity.
It's an initiative of the Mandingalbay Yindinji people, who are putting the final touches on their new 53-seater boat, a landing pontoon, arrivals shelter and amenities block ahead of a soft opening in August.
CHECK OUT THE VIDEO OF THE FULL DESIGN CONCEPT BELOW
##ArticleBannerAd##
Executive Director Dale Mundraby told Tropic Now the group already conducts tours and camping but the new infrastructure will open up new employment opportunities and experiences.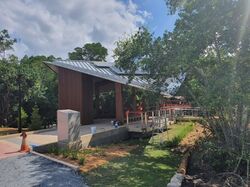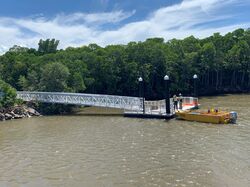 "It will attract additional training and development but also deliver product development so anything from sunset dinners to water tours, that sort of thing," Mr Mundraby said.
##PQ##
The organisation has partnered with Ochre restaurant to deliver bush tucker fine dining under the stars.
"You depart Cairns on a boat at 5pm, usually on a full moon, and glide along the water to East Trinity Reserve, where a bus will pick you up," Mr Mundraby said.
"We've infused bush tucker into the menu, working with the head chef from Ochre.
"There's also traditional storytelling, dancing and an international harpist as part of the entertainment."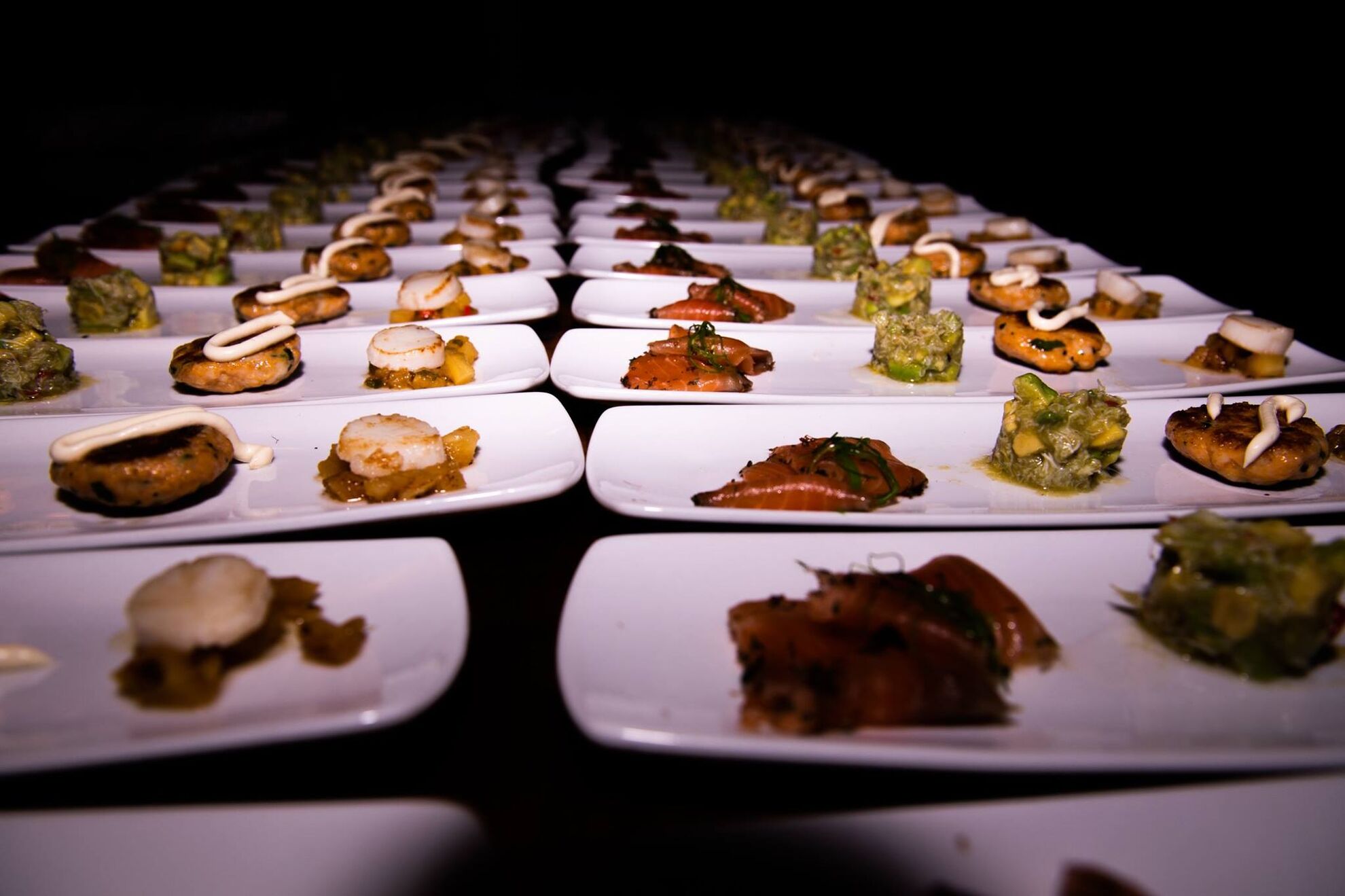 Citronella torches will keep any bugs at bay, while camp sites come fully equipped, with some uniquely North Queensland neighbours.
"In the camp area, which is also where we do our dinner, there is a perimeter fence to protect from resident crocodiles," Mr Mundraby said.
"In the nesting season you can hear them barking.
"The site is located right between saltwater and freshwater wetlands."
The tours take in the Mayi Bugun trail and include talks about traditional architecture, weapons, tools and bush foods, as well as educating people about a land restoration project.
"It used to be cane land and of course, that didn't work in this area but it degraded the land," Mr Mundraby explained.
"On the tour people will learn about the rehabilitation process, discover the Grey Peaks National Park and take part in a touch, feel and smell experience on the Mayi Bugun trail.
"Each of the plants could be for medicinal or edible use and there are different seasons so there are 24 individual plants to sample."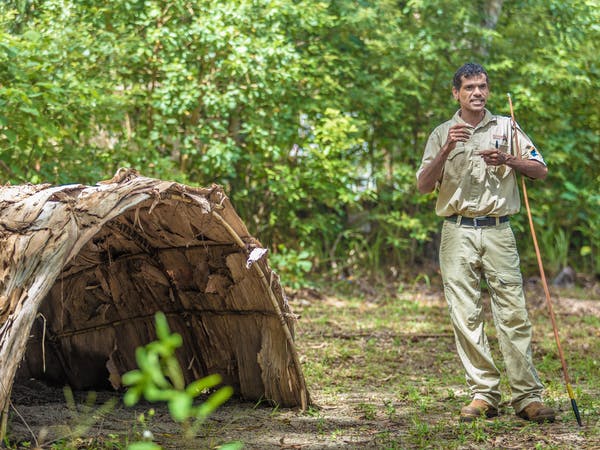 The buildings have been constructed by Cairns-based Hutchinson Builders along with local Indigenous trainees who now have qualifications in civil construction.
Mr Mundraby said the operation is fully self-sufficient, with all power and water off-grid.
"The structure is architecturally designed taking into account culture and the environment," he said.
"Even the gardens have been designed by a landscape architect to sit within the ecosystem, the mangroves, the wetlands.
"Five trainees are doing their cert II and there'll be an additional 11 positions to run the operations, so we've got capacity to have an ongoing ranger program."
The group is now seeking a further $43.8-million investment to complete the final five stages, with the towers and ziplines in the design considered high priority.
Bookings can be made via the Mandingalbay Ancient Indigenous Tours website.
Main points
Work on stage one of the Mandingalbay Ancient Indigenous Tour project is almost complete
A soft opening has been scheduled for August
The group is seeking more than $40-million to complete the other five stages
We've got the Deadly Dinner by Night, a three-hour eco tour, and overnight camping in the wetlands, which has already taken off through school groups.