Cairns passenger recounts hair-raising flight in yesterday's wild weather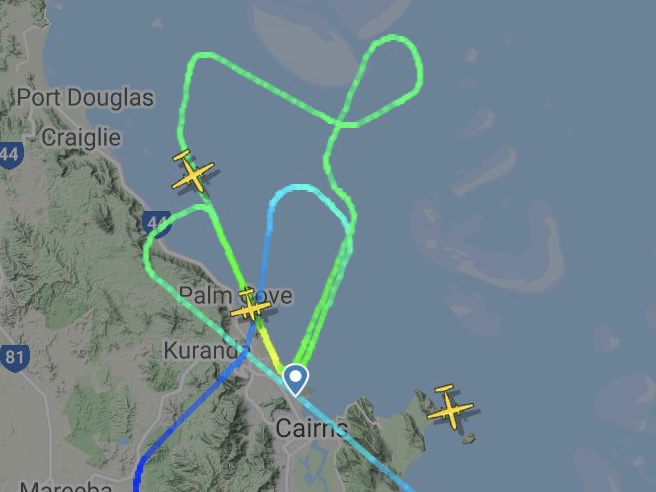 ---
A passenger onboard a flight that failed to land in Cairns yesterday has told Tropic Now of her terrifying ordeal.
Suzanne Hunter was flying on Jetstar flight JQ930 from Brisbane to Cairns yesterday afternoon, which was forced to divert to Townsville as a result of stormy weather.
Passengers were put up in Townsville hotels last night before being flown back to Brisbane to board another flight north.
---
---
Mrs Hunter said the flight, which failed to land in Cairns twice, was "very, very scary" for passengers onboard.
"We went in to land a couple of times and it was really, really bumpy," she said.
"The plane got down really close, we could see houses and roofs, but both times it powered up and shot back up.
"The second time was very, very scary ... some people were vomiting the whole time.
"It felt like it was going all over the place. It was pretty rough."
Mrs Hunter said the Jetstar crew were "really professional" at keeping passengers updated on the flight's path.
"The crew told us it was simply too dangerous to land in Cairns, and so the flight diverted to Townsville," she said.
"It was still a little bumpy coming into Townsville, but the crew were fantastic at keeping everybody informed."
After spending the night in Townsville, passengers are now being flown to Brisbane where they'll board another flight north.
The alternative flight is expected to arrive in Cairns around midnight tonight.
"Our teams had arranged buses as an alternative to get customers to Cairns last night, however due to road closures between Townsville and Cairns these services were cancelled," a Jetstar spokesperson said.
"All customers were provided with accommodation and meal vouchers last night in Townsville and the majority of customers will travel on an alternative flight today.
"We appreciate delays are frustrating and apologise to customers for the disruption to their travel plans but safety is our number one priority."
Cairns Airport is operating as per usual today.
"One flight into Cairns last night was cancelled as a precaution due to weather," a Cairns Airport spokesperson told Tropic Now.
"This has resulted in the cancellation of an outbound flight today.
"There are no other cancellations and we're continuing to monitor the situation."
The wild weather throughout Cairns is a result of Tropical Cyclone Niran, which is expected to continue tracking slowly away from the coast.
Around 37,000 homes across the region remain without power, as Ergon Energy crews work to repair around 150 fallen powerlines.