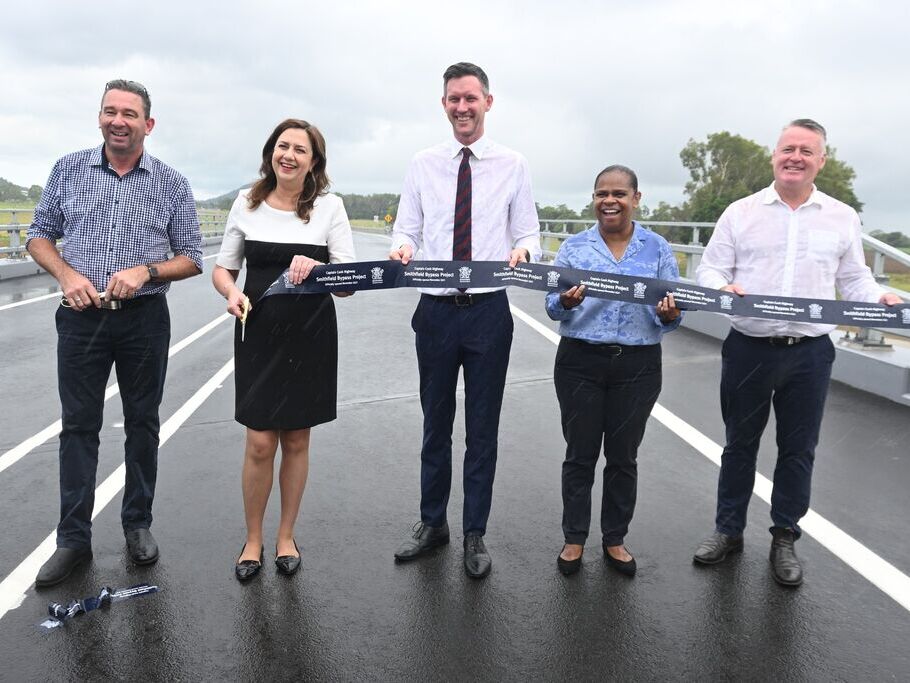 ##MP##
The $164 million Smithfield Bypass has officially opened today, three years after work began on the 3.8 kilometre stretch of road.
Aimed at reducing travel times by between three and 12 minutes, the road links an overpass at the McGregor Road roundabout at James Cook University with an intersection on the Captain Cook Highway at Caravonica.
Barron River MP Craig Crawford, who promised to build the bypass in the lead up to the 2017 election, took a drive along the northbound section with Transport Minister Mark Bailey this morning, before it was opened to general traffic.
WATCH THE VIDEO BELOW
##BA##
The Premier was also in town for the opening.
"I've looked at it like everyone else has, I've wondered what it would be like and here we are," Mr Crawford said.
##PQ##
"You'll have a choice – you can stay on the old road or you can move onto the bypass but my suggestion would be to give it a go."
The road is aimed at easing congestion caused by the 45,000 vehicles that previously used the Smithfield roundabout every day.
Mr Crawford predicts about half of those motorists will now use the bypass.
However, its opening coincides with the end of school for many students and therefore there's less traffic, so the real test is not expected until the 2022 school year.
The initial design was for a single lane bypass road to link up with the Yorkeys Knob intersection, which was changed in favour of the new design to save money for the thoroughfare to be upgraded to dual lanes.
Instead, the initial budget blew out by $12 million and it remains single lane each way.
The McGregor Road link is not open yet.
Mr Crawford said it won't be open until Cairns Regional Council completes its upgrade of the intersection near Campus Shopping Village.
CIVIL CONSTRUCTION
TRANSPORT
TOWN PLANNING
Main points
The Smithfield Bypass has opened three years after works began on the ground
20,000 to 25,000 motorists are expected to use it daily
The project has finished behind schedule and over budget
When you drive home from work this afternoon, you can come on this.