The best swimming spots across the Cairns region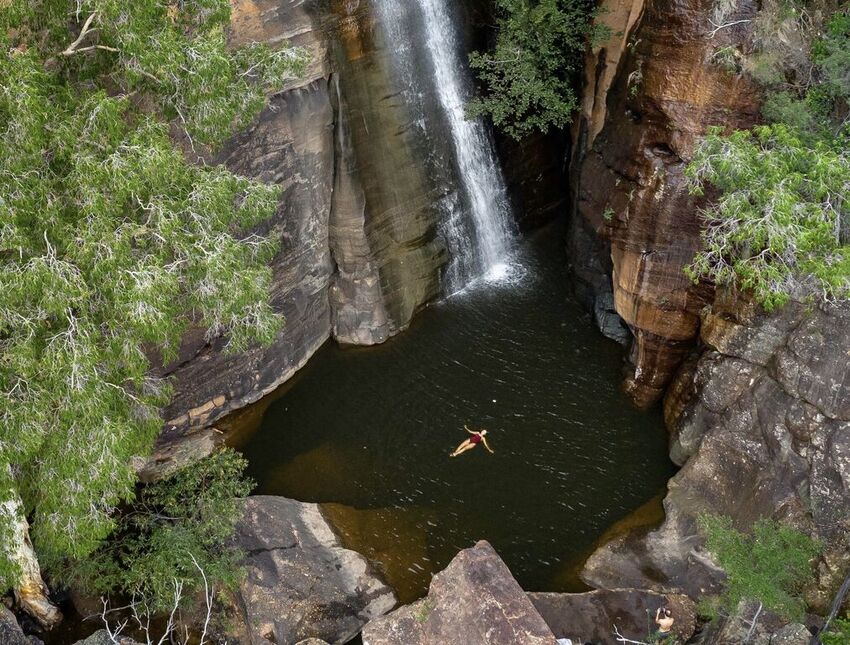 We've taken a trip and a dip around the Cairns region to uncover the best swimming spots – minus the crocs and stingers.
Well-known swimming holes like Crystal Cascades will be packed over the next few months, so we recommend jumping in the car and putting on a sturdy pair of shoes to venture out and discover some of the more difficult-to-reach spots.
Here's our guide to some of the best swimming holes in Cairns and Far North Queensland, in no particular order (because they're all beautiful spots to visit!).
##BA##
Fairy Falls
There are a few variations in terms of directions to this lovely waterfall and swimming hole near Crystal Cascades, with some describing it as a "secret" spot.
One travel blogger says: "Turn your back to the Crystal Cascades' car park, head into the forest where there is an opening between the trees. You must keep the creek on your right, climb over boulders until you reach the most beautiful tranquil deep plunge pool."
Yet another writes: "For an extra insider's tip, take the path at the top of the car park at Crystal Cascades and keep walking until you come to a private little area called Fairy Falls. It has a steep climb at the end but is well worth it."
Whichever you get there, Fairy Falls is an absolute gem of a waterfall swimming spot close to Cairns.
GO THERE: Lake Morris Road, Lamb Range
Goldfield Track to Goldsborough Valley
This one is definitely for the fit and adventurous.
If you've got a spare day over this festive season, it's definitely worth considering a hike along the 19km Goldfield Track that starts at the carpark at Babinda Boulder and makes its way to Goldsborough Valley.
The walking track follows an old miner's trail first trekked in the 1930s.
Most people walk the Goldfield Track one way, with a car pick up at the other end. Thankfully, there are wonderful swimming spots along the way.
According to the Wet Tropics Authority, there are swimming spots along the way in Babinda Creek, "delightful mountain streams" and the pools of the East Mulgrave River.
GO THERE: Wooroonooran National Park, Mulgrave River Forestry Rd, Goldsborough
Shannonvale Waterhole
Head north of Port Douglas and follow the signs to the Shannonvale Winery. At some point along that road will cross a creek, which is pretty much Shannonvale Waterhole.
There's a small parking area and the scenery is an absolute postcard.
Best of all, this spot is perfect for small kids. It's easy to access and get down into the water, the bottom is mostly sand and it's nice and shallow, depending on the rains.
GO THERE: Shannonvale Road
Alligator's Nest
Don't worry; there are no large reptiles with sharp teeth and a healthy appetite here, be they the American version or local saltwater variety.
Alligator's Nest near Tully was in fact named after the local scout group called 'Alligators'.
This beautiful spot features an excellent swimming hole and running streams, set against a rainforest backdrop bursting with palms, ferns and local wildlife like lizards and frogs.
There are picnic facilities including gas barbecues, picnic tables, and toilets, and it's easily accessible via two-wheel drive vehicles.
GO THERE: Walter Hill
Babinda Boulders
One of the most visually spectacular sites in the region, Babinda Boulders is one of our most frequented swimming spots.
Think emerald green, shaded pools surrounded by the sounds of the rainforest.
The path down to the cascade lookout spots – where taking a dip is strictly forbidden – is also accessible, as is the ramp down to the swimming area.
It also has a playground beside the carpark, and a picnic area.
The Boulders are at the foothills of the Bellenden Ker Range, about 60km south of Cairns.
GO THERE: The Boulders Road, Babinda
Waterfalls off the Tourist Track
While Millaa Millaa is one of Australia's most photographed waterfalls, there are a bunch of other picture-perfect falls on the Tablelands where the crowds aren't quite as jam packed.
Spots like Ellinjaa, Pepina and Zillie and others are featured on the Waterfall Circuit and provide remarkably beautiful settings for a cool dip and a picnic lunch.
The circuit begins near Millaa Millaa on the Palmerston Highway, and from there you can visit Zillie, Ellinjaa and Mungalli Falls.
On the way to Ravenshoe you can check out Souita and Pepina Falls. To finish the day you could drop in to Australia's widest waterfall - the Millstream Falls.
Also worth a visit ...
Davies Creek
Five Mile Swimming Hole
Hydro Dam Lakes
Syndicate Road Swim Hole
Murray Falls
Hartleys Creek
Let us know your favourite swimming spot and why it's so great.