Kids name turtles for remote rehab program
A turtle nesting hot spot damaged by rising sea levels is getting school kids involved.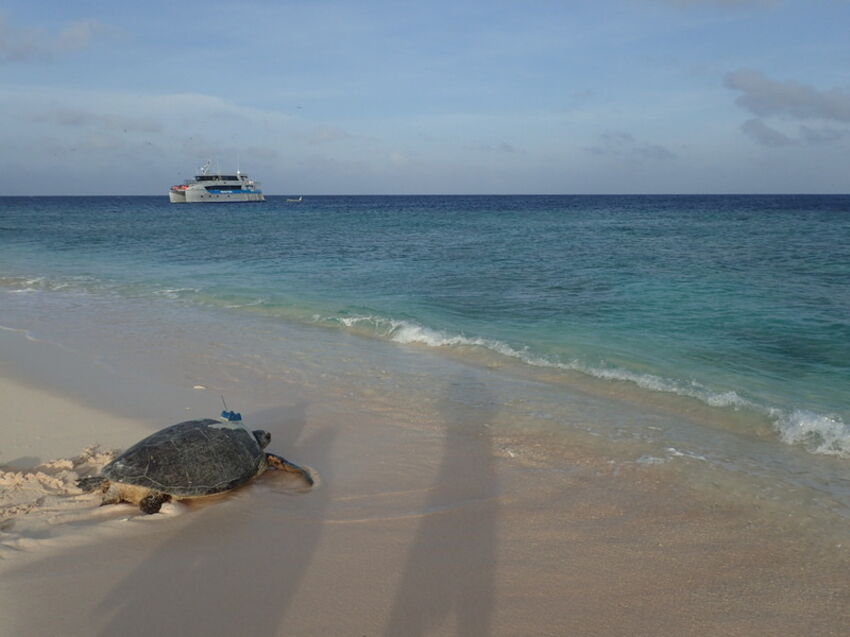 ---
Cape York and Torres Strait school children have named and will monitor two green sea turtles as part of a major turtle recovery program.

Raine Island, located 600 kilometres north of Cairns on the tip of the Great Barrier Reef, is a breeding ground for one of the world's largest populations of green turtles.

But authorities say rising sea levels, boat strikes and pollution have caused as thousands of turtles to die in recent years.
Great Barrier Reef Foundation Managing Director Anna Marsden says the turtles have been fitted with satellite tracking devices as part of the $8 million Raine Island Recovery Project.
"It's exciting to know that we can watch where each turtle goes throughout a whole nesting season and build on the history that researchers already have from previous sightings," Ms Marsden says.
"Scientists monitoring the program will be able to tell whenever and wherever they come up to lay their eggs and where they go in between nesting attempts.
"This will provide much-needed information to help the scientists protect these incredible creatures and help ensure the species' survival."
Lockhart River State School and students from the Torres Strait island of Mer named the turtles named Tokolou and Mertle.
Tokolou, the name chosen by students at Lockhart River State School, is the common language name for turtle used from the top of Cape York to Princess Charlotte Bay.
Mertle, chosen by students from Mer is a combination of Mer and turtle.
The Raine Island Recovery Project is a collaborative effort of the Queensland Government, BHP Billiton, traditional owners and the Great Barrier Foundation to protect the island's critical habitat.