Say hello to the vintage venue hosting the Meet Eat Repeat pop-up food event
This hidden gem in the centre of Cairns has flown under the radar for years, but recent renovations, old school charm and some amazing food has given the West Cairns Bowls Club a new lease of life.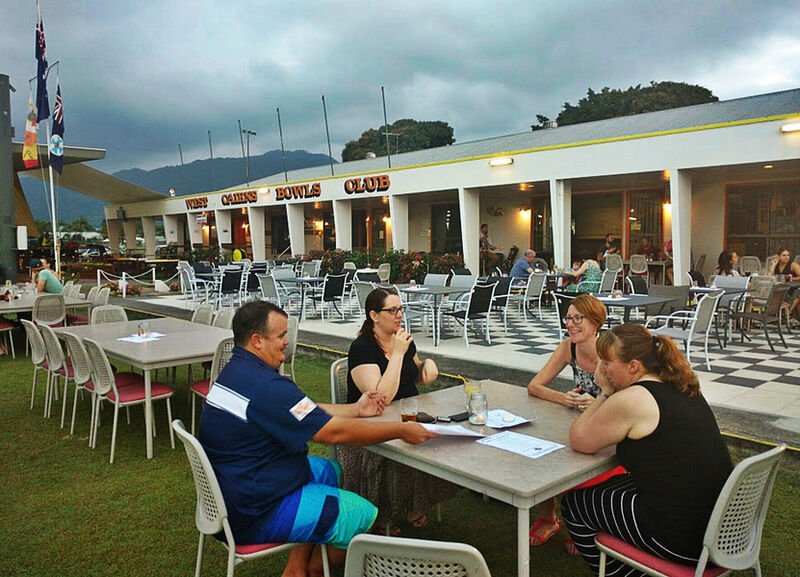 ---
They say it's just like your backyard, only bigger.
It's got cold beer, friendly service and lots of green space.
And it's about to host our very own pop-up event called Meet Eat Repeat.
Yes, it's the West Cairns Bowls Club on Gatton St, first opened in 1952 thanks to the vision of founding club president Mr. MP Winkworth and a small team of dedicated volunteers.
And while the facility has had some upgrades in recent times, the venue still retains its old-school charm and architectural touches of a bygone era.
Club manager Helen Allen is always upfront and on the go. She's passionate about the club, and pays tribute to her staff and volunteers at every opportunity.
Helen said the venue struggled to survive through some very lean years after the roof over its main bowling green collapsed back in 2006.
"People are amazed by the place once they get beyond our front hedge.
"But for a long time I think we had a situation where people were driving by and not driving in," Helen said.
"For so long a lot of people thought we had closed down because of the roof situation.
"But over time we've built the club back up, we've done some advertising and some renovations, and we've got Wolfgang our amazing chef."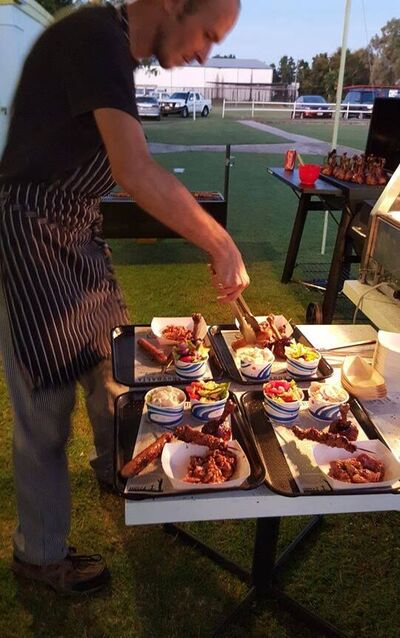 Chef Wolfgang from the club's West Cairns Bistro has been something of a revelation at the club.
His dedication to the art and science of smoking and barbecuing meats has gained a dedicated following, particularly the Wednesday night "BBQ Club" sessions.
For the first time in a long time, younger people who would not normally visit a bowls club are heading there in droves.
"The club and its army of volunteers has worked tirelessly over the past 18 months to rejuvenate and renovate this heritage club with its shabby-chic feel," Wolfgang said.
"This place very much lends itself to casual family dining, relaxed functions or simply a "cold one" at our friendly bar.
"At the West Cairns Bistro we're offering popular BBQ classics and creative contemporary dishes from various cuisines from around the world, using only charcoal and suitable local and imported timbers.
"The concept was inspired by some of our fondest memories, sitting around a fire with family and friends, roasting whole pork bellies "Assado style" and reflecting on our weeks gone by.
"Nothing compares to the feeling of enjoying a BBQ with mates in the great outdoors and we sought to deliver this very unique experience to our local customers.
"With 20 years of cooking experience and a group of helpful volunteers, we have managed to recreate exactly this feeling and we are keen to share it with a wider audience.
"We're very excited about hosting Meet Eat Repeat at our venue because we're keen to showcase and share this beautiful and friendly 'hidden gem behind the hedge' in the middle of Cairns."
---
Meet Eat Repeat is presented by TropicNow and yRepublic.

The event will be held from 3pm-7pm on Saturday 5 November at West Cairns Bowls Club, 216 Gatton St.

If you'd like more info about the event, please contact us here.

---