Ghassan Aboud talks future growth in Cairns to mark unveiling of his hotel brands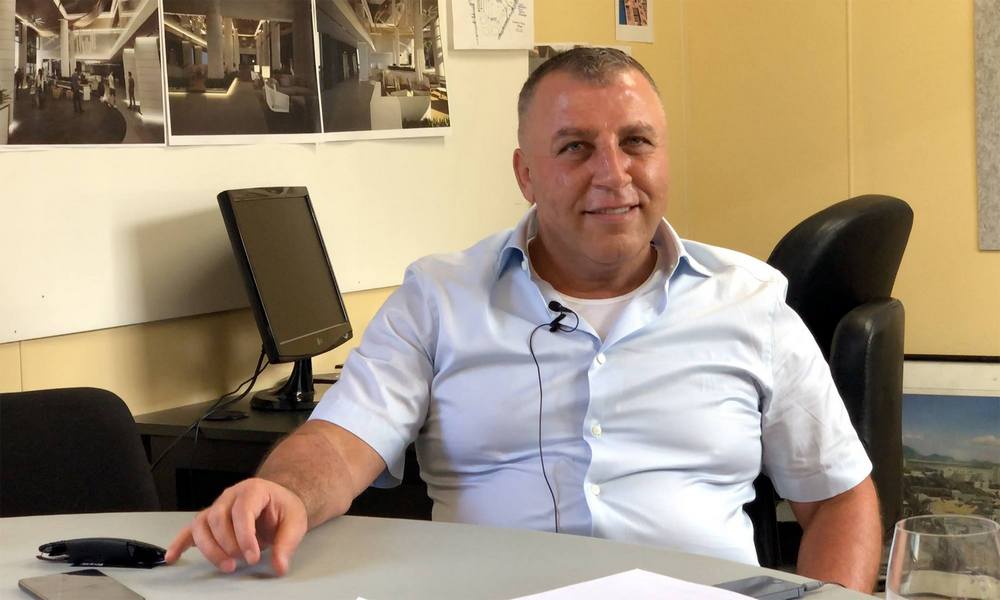 ---
Instead of asking "why Cairns?", Ghassan Aboud believes we should be asking "why not Cairns?"
In an interview with TropicNow this afternoon, Mr Aboud said he chose to invest $700 million in the Cairns region because the upside for growth was greater than any other destination in Australia, and many other tourism cities around the world.
The owner of Crystalbrook Collection is in the city for less than 24 hours to officially unveil the branding and names of his first three hotel developments in the CBD.
Looking relaxed and expressing passion for the future of Cairns as he spoke with TropicNow at the site office of his 137 The Esplanade construction site, Mr Aboud said a range of factors fuelled his investments in the city.
"Here in Cairns there's a chance to make my signature, there's a chance to make a good name for my family and my kids, and there's a chance to build a good business with a lot of wonderful partners," he told TropicNow.
"I get asked 100 times 'why Cairns' but why does everybody think Cairns is not too good or not nice and rich for tourism development?
"This is the question I would like to ask. Cairns already has very good elements for tourism, you have the rainforest, the Barrier Reef, nice tropical weather.
"Even if you compare between Cairns and places like Hawaii, you could spend a lot of money in those places and not get the elements which are already here.
"I'm not asking 'why Cairns', I'm asking why nobody has come to make hotels and new industries in this area 10 years ago. This is the real question.
"Over the next 10 years we know one of the biggest growth industries is tourism, not only in Australia but around the world.
"I hear that until now only 5% of Chinese people have a passport, so 95% haven't even visited Australia yet.
"This is a very good target for growth. You also have to look at the new developments of airplanes, which using technology will get faster and faster so that a trip from Europe to Cairns might only take 10 hours or so.
"We know that the city needs more hotel rooms to meet this demand."
CAIRNS BRINGS A SMILE
Mr Aboud said Cairns was the most welcoming and most encouraging place to do business of any city he considered for his hotel investments, including London, Barcelona, Sydney and Melbourne.
"Here in Cairns I feel as though the community is thirsty for business, they want someone to do something here," he said.
"The tourism departments, the council here, the business people, they all make me want to do partnerships and encourage me to do the next property and the next one after that.
"Frankly, when I arrived in Cairns I got a smile from ear to ear. I don't know why, but I had a very good feeling about Cairns.
"We looked at Barcelona, we looked at London, then after Brexit happened we visited Australia.
"We went to many cities here, but Cairns was the right place for us."
HOTEL NAMES AND BRANDS UNVEILED
Mr Aboud describes his projects in Cairns as his "babies", a $700 million group of new businesses that he and his team will grow and develop over time.
So it's fitting that the company has today unveiled the branding and names for three of its CBD hotels as if they were individual characters and personalities within a family.
Say hello to Riley, Bailey and Flynn – the first three hotels to be opened under the Crystalbrook Collection banner.
The three hotels range from the five-star "playful" Riley at 137 The Esplanade, the "thoughtful arty one" called Bailey at 163 Abbott St and the "wild child" to be known as Flynn at 85 The Esplanade.
Crystalbrook Collection CEO Mark Davie said all of its hotels would share the "Crystalbrook Collection DNA" but feature unique personalities.
"All of our hotels share an appreciation for modern luxury, they are environmentally conscious, locally immersed, curious and a little bit witty," Mr Davie said.
"However, we don't want our hotels to be constrained by traditional hotel formulas whereby they end up 'cookie-cutter' – looking the same, feeling the same, sounding the same."
"We like to compare Crystalbrook Collection to a family. Our hotels share the same parents but each has its own personality.
"As Crystalbrook grows with new hotels, this positioning allows us to develop more unique hotel characters and really embrace different audiences as well as the individual hotel's architecture, environment and neighbourhood. "
---
RILEY
137 The Esplanade, Cairns
Opening in 240 days, Riley offers the perfect great escape. Riley is a sophisticated character with a playful outlook on life and a passion for the resort lifestyle. The kind of character you'll find poolside in the sun or relaxing with the perfect herb infused cocktail at the bar.
Riley has a constant twinkle in the eye and is always up for a splash of fun.
Opening 1 August 2018
Five-star hotel featuring 311 suites and rooms
Four restaurants and bars including the rooftop tower bar 42 metres above sea level
1,037 square metre lagoon pool with private beach
Exquisite day spa and 24-hour fitness centre
Meeting spaces for up to 400 people
BAILEY
163 Abbott Street, Cairns
Considerate and thoughtful, Bailey is modern, innovative and has a true appreciation for all the arts. Bailey chooses the path less travelled. The type of character you'll find at the local farmer's market rather than a supermarket or exploring the latest exhibition at the museum rather than at a rock concert.
Bailey loves originality, individuality and attention to detail. Staying at Bailey's, you'll be sure to leave enchanted and enriched.
Opening mid 2019
Five-star hotel featuring 217 rooms
Five restaurants and bars including a signature Crystalbrook Station steakhouse and Parilla grill
24-hour fitness centre
Meeting spaces for up to 150 people
FLYNN
85 The Esplanade, Cairns
Clearly the wild child, Flynn, as the younger sibling to Riley and Bailey likes being at the centre of attention and has a bit of a tendency to show off. Flynn likes to let go a little and is friends with the best musician and DJs – yes, you'll be sure to see them around.
Flynn knows all the very best Instagram spots and how to strike that perfect pose. Staying with Flynn is a stimulating experience, prepare to be entertained.
Opening early 2020
Five-star hotel featuring 303 suites and rooms
Six restaurants and bars over three floors
Two glass swimming pools
Luxurious day spa and 24-hour fitness centre
Meeting spaces for up to 120 people
---