Big Cat sold in another major expansion move by national adventure tourism company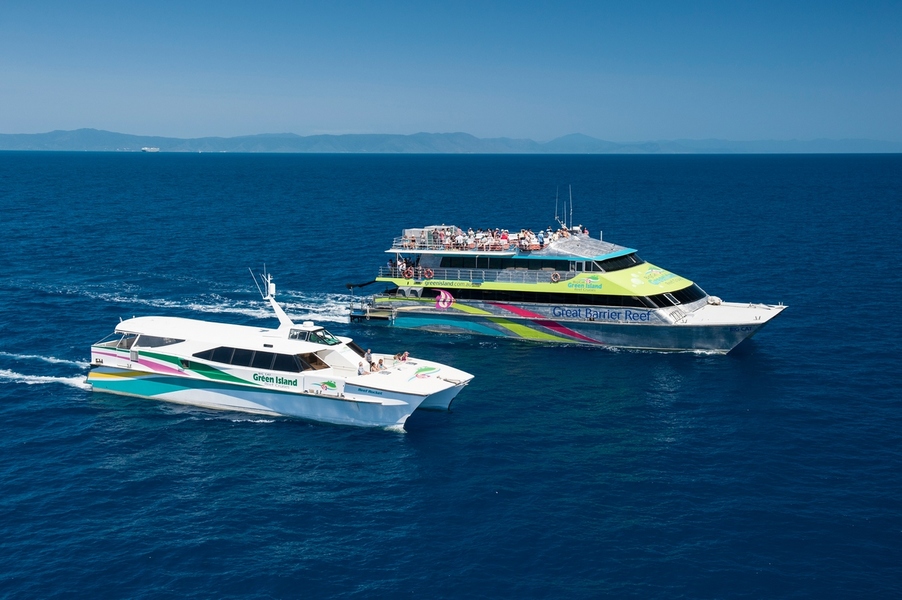 ---
The company behind some of the biggest tourism buy-outs in recent years has snapped up another iconic local brand.
Experience Co. Limited - previously Skydive The Beach - has just acquired Big Cat Green Island Reef Cruises and Tropical Journeys.
The move follows the company's recent purchases of GBR Helicopters, Reef Magic and Raging Thunder.
It also coincides with Experience Co's largest capital raising exercise since its launch, with the company seeking around $60 million through an accelerated non-renounceable entitlement offer, a mechanism to raise funds via existing shareholders.
WALLACE FAMILY HAPPY WITH SALE
Big Cat co-founders Jim and Jo Wallace - who first started running day trips to the reef for tourists in 1979 - told TropicNow they were thrilled to have sold the iconic operation to Experience Co.
"We just thought it was the right time for us after having a range of offers to buy the business over the years," Mr Wallace said.
"Once we got to know the team behind Experience Co, we just thought they were the ideal people to take over.
"The most important thing for is that they are very staff-orientated, which is what our business is about, and what tourism is about.
"They understand from the grass roots what it's all about. I think they will take Big Cat into bigger and better things, as they will with all of the other businesses they've bought.
"It may sound corny, but we will miss the staff because so many of them are good friends.
"We've just had an incredibly fun night recognising over 30 staff who have been with us for over 10 years, and we announced the sale that night as well, so it was quite a moving night."
Along with flagship brands Big Cat Green Island Reef Cruises and Tropical Journeys, the acquisition also adds a range of local tourism products to the company's portfolio, including Cairns Harbour and Sunset Tours, Calypso Snorkel and Dive, Aquarius Sailing and Daintree Tours.
ANTHONY RITTER: 'STRATEGIC MOVE'
Experience Co CEO Anthony Ritter said the latest acquisitions were a "strategic move" to continue the company's mission to become the world's largest and most respected adventure tourism company.
"While Experience Co's existing tourism offerings in Far North Queensland are growing from strength to strength, our newest string of acquisitions will help us position so many more world class experiences to both domestic and international customers who want see what the region and beyond has to offer," he said.
"From snorkelling or cruising along the Great Barrier Reef to tours of the lush Daintree rainforest, these are not to be missed experiences in Australia and we're excited to be able to showcase them as part of our growing tourism portfolio."
"Financially, these deals are to improve Experience Co's EBITDA in its first full year of ownership, being FY19, by AUD$11.1 million."
The Big Cat Green Island Reef Cruises and Tropical Journeys deals are set to be finalised on 13 December and 18 December 2017, respectively.
---